Twitter admitted it made an "error" after it suspended the official campaign press account of J.D. Vance, a Republican who plans to run for Senate in Ohio in next year's midterms. Vance accused the platform of election interference.
Vance took to Twitter, using his personal account, to complain about the suspension of his campaign account. The screenshot of the suspension notice does not specify what Twitter rules the campaign account violated.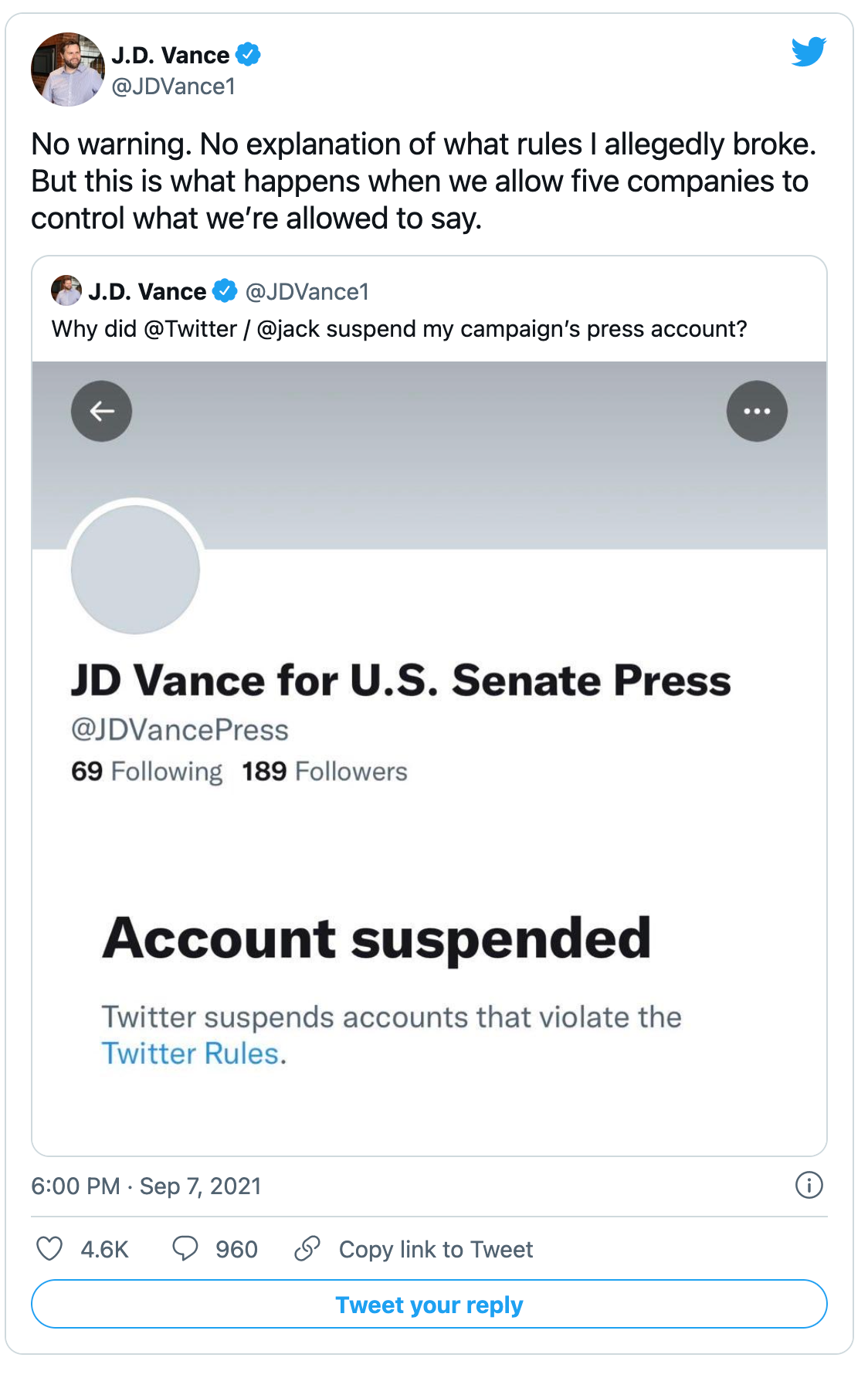 "No warning. No explanation of what rules I allegedly broke," wrote Vance. "But this is what happens when we allow five companies to control what we're allowed to say."
Speaking to Breitbart News, Vance accused Twitter of election interference.
"I'm a senate candidate in Ohio, and this was my campaign account," said Vance. "To me this is election interference—a multinational corporation making it harder for me to communicate with the people of Ohio."
Vance's main opponent Josh Mandel echoed the election interference accusation:
"It's up to Ohioans to choose Josh Mandel as their next Senator over Never-Trumper JD Vance — not tech oligarchs who think we are puppets they control. Vance's account must be restored and Twitter held accountable."
Vance, the author of the best-selling book Hillbilly Elegy, recently announced his intentions to run for senate, immediately getting the support of high-profile candidates such as Peter Thiel. He is a vocal critic of Big Tech's censorship bias, recently praising President Trump's lawsuit against Big Tech platforms.
"The account you referenced was suspended for violations of our impersonation policy in error," a Twitter spokesperson tells Reclaim The Net. "That enforcement has been reversed and the account has been reinstated."