Warcraft 3: Reforged has been one of the most disastrous recent game launches.
From day one, the game was slammed for its poor graphics, the lack of effort with some player models and skins, and the lack of features compared with the original Warcraft 3.
Just a few days into its launch, it set records and became the lowest-rated game of all time on review aggregator Metacritic.
And now a parody site which pokes fun at the game's launch has gone live.
The parody site, Warcraft 3: Refunded, mocks the game and its publisher Blizzard and highlights the many issues that have plagued the game since launch.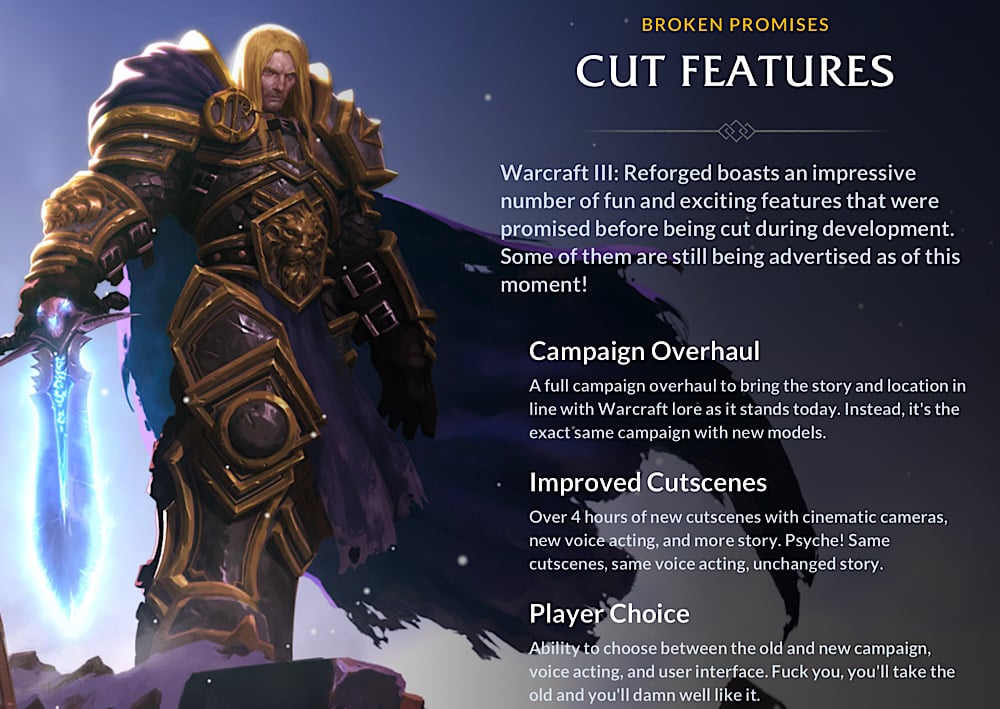 It describes Warcraft 3: Reforged as "a broken, dishonest, anti-consumer, glorified remaster" and makes fun of the game's missing features, "lackluster improvements," and Blizzard's updated modding policy which gives it complete ownership of any custom maps created by users.
Some of the specific disappointments that Warcraft 3: Refunded highlights include:
Blizzard showcasing more dynamic and interesting cutscenes in the Blizzcon 2018 trailer for Warcraft 3: Reforged but then cutting them from the final game
Blizzard forcing people who own the original Warcraft 3 to use the Warcraft 3: Reforged launcher which means they no longer have access to some features
The launch of this parody site comes as Blizzard finally appears to be responding to the mass criticism of the game although many fans are seeing this as too little, too late.
Several players are reporting that Blizzard has started to issue instant refunds to those that are unhappy with the game after it was initially accused of denying refunds to customers.
Warcraft 3: Reforged's developers also issued a public apology about the game's launch on its official forums earlier today and said they would be releasing some patches for the game soon.
But fans are slamming this apology and pointing out that the patches will do nothing to address the missing cutscenes that were advertised at Blizzcon 2018 and many of the game's other missing features.