End-to-end encrypted messaging app WhatsApp has started adding "Search the web" prompts to some messages as part of its efforts to curb the spread of "rumors, viral messages, and fake news."
These prompts will appear as a magnifying glass button next to messages that have been labeled by WhatsApp as being "at least five forwards away from its official sender" in Brazil, Italy, Ireland, Mexico, Spain, the UK, and the US.
Users that tap these prompts will then be encouraged to "search this on the web" to "find news results or other sources of information about content they have received."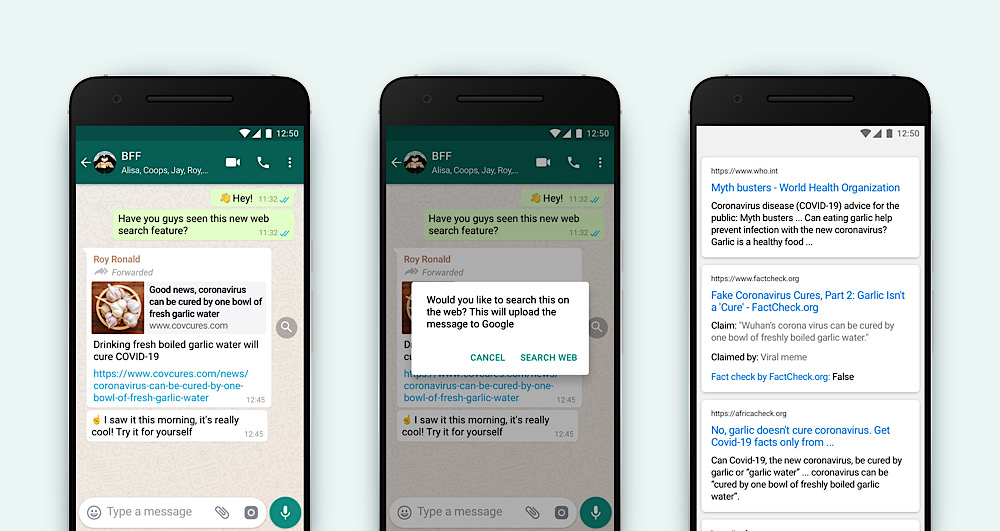 WhatsApp describes the new prompts as a "simple way to double check these messages."
This update is the latest of several changes WhatsApp has made as part of its efforts to crack down on "misinformation."
Since WhatsApp messages are end-to-end encrypted, WhatsApp and its parent company Facebook can't see the content of the messages. This means that the messages can't be flagged, removed, blocked, or censored in the same way that content on Facebook and Instagram is when tech giants deem it to be misinformation.
However, WhatsApp still limits all users to sharing messages with a maximum of five chats at one time. It also uses message metadata to further limit messages that are at least five forwards away from the original sender and only allows these messages to be forwarded to one chat at a time.
According to WhatsApp, the spreading of "highly forwarded" messages has dropped by at least 70% as a result of these limits.
Investor and philanthropist Bill Gates recently said that WhatsApp's encryption allows it to "not have any responsibility" for issues such as anti-vaccine content and remarked: "They have made sure they can't intervene on those things."
Meanwhile, the director of the BBC World Service Group, Jamie Angus, said that he was "very worried" about the end-to-end encryption in WhatsApp making it difficult for the BBC to search for and find "disinformation" on the platform.