The suicide of an employee on Facebook's campus last month of an employee is a problem that refuses to go away for the tech giant, with the events unfolding in its wake producing even more controversy.
And if there's anything we learned after Chen Qin jumped from the fourth-floor to his death, as former employees and insiders weighed in with their perspective – it's that Facebook would have very much preferred to move on as soon as possible, without addressing any underlying problems.
But the problem won't go away. After the death, first on internal Facebook groups and then in real-world vigils, employees started expressing their discontent, mostly with the way foreign employees, specifically the Chinese, are treated by the company, with many alleging bullying.
As if to add fuel to the fire, Facebook recently decided to fire Yi Yin, a Chinese programmer who took part in a Menlo Park vigil that turned into a protest on September 26.
Yin then took to social media to describe how he lost his job in a post on LinkedIn that attracted a lot of traffic. The story then got picked up by media and social platforms in mainland China, where outrage was expressed over Yin's alleged treatment. He also posted about his case on China's social media giant WeChat, further rising online tensions around the controversy.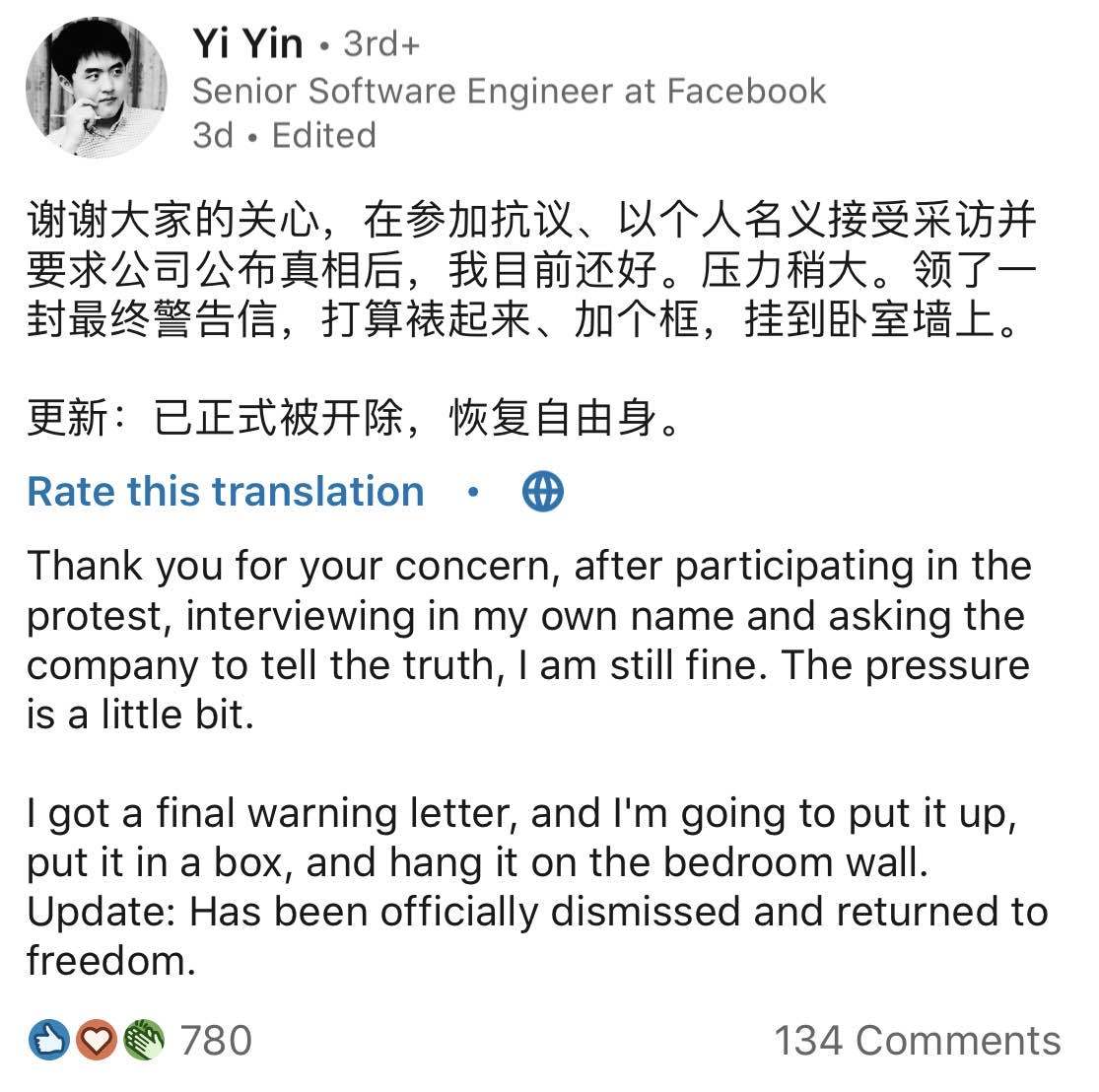 In a statement to Bloomberg, Yin said that shortly before he was fired Facebook demanded an end to his public comments related to the death of Chen Qin – "for privacy concerns."
All this comes at a low point in US-China relations, with an ongoing trade war and protests in Hong Kong reflecting strongly on the tech scene – and on the rhetoric of media and politicians on both sides.
Yin, meanwhile, continues to maintain that Facebook didn't inform him what rules he had broken to deserve termination, while Facebook would not offer any details in this regard – denying, however, that the programmer's participation in the protest was the reason.
The law firm Sanford Heisler Sharp, LLP is investigating the suicide and has asked people who have any information to contact Qiaojing Ella Zheng via email at [email protected] or phone at (415) 795-2020.