Antifa, a far left-wing organization active in the US, that many refer to as extremist and militant, is among the topics that are not to be questioned or criticized on YouTube, but also on another, smaller video site, Vimeo.
That's judging by the fact that a new documentary, entitled, Antifa: Rise of the Black flags, published by Citizen Journalism Network, was removed from both platforms soon after it was uploaded on Saturday – even though a trailer was still available on YouTube.
The reason given by Vimeo, considered by some as less prone to censorships and restrictions, but also less influential than YouTube, is that its users are not allowed to upload videos that show "extreme violence."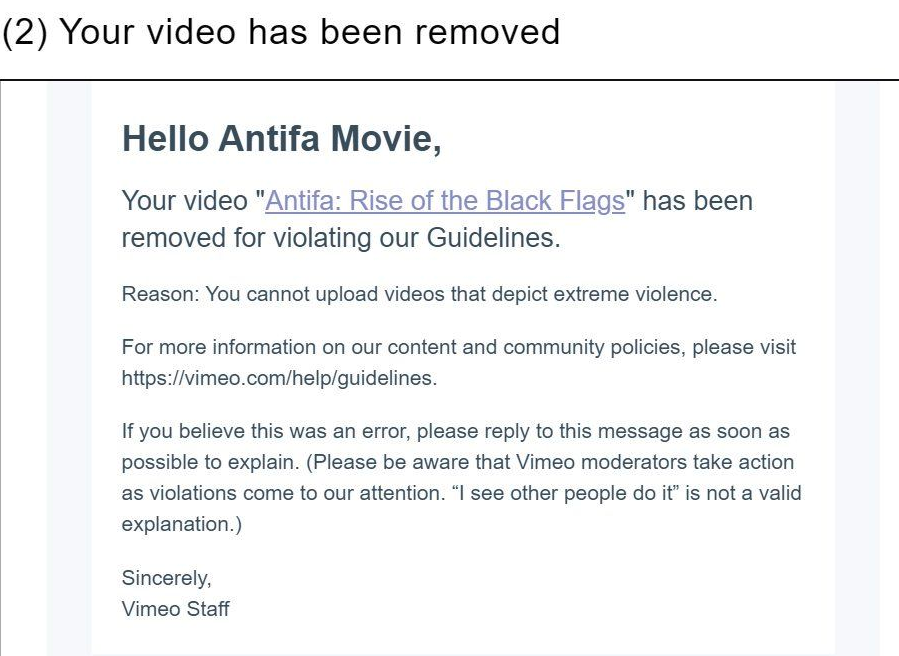 Judging by the reports, YouTube is yet to explain the reasoning behind its decision to remove the video but the reason given on the video page is that the video was… "too long." The documentary is around one hour long.
Mirrors of the video have so far been able to remain on the platform.
It would be hard if not impossible to make a documentary about a group routinely involved in protests that tend to turn into violence and incidents without including depicting violence, but in addition to that, the film's creator journalist and commentator Jack Posobiec says that no "extreme violence" was shown anyway, and that the reason given is merely an excuse to remove the video and hide this information from US public days ahead of the presidential election, in that way interfering with it.
The documentary looks at Antifa's rise in the wake of Donald Trump's election victory in 2016, through interviews with a variety of activists and journalists from across the spectrum, including former Antifa figures.
As for the scenes that were flagged as extremely violent, these clips came from verified news media, many available on YouTube where they are uploaded on large channels and remain there without receiving any strikes.
The documentary interviews Raheem Kassam, David Reaboi, and Libby Emmons, and looks at things like Antifa's links with militants in Syria who are considered to be terrorists, and also what Antifa called its "autonomous zone" in Seattle – something that many critics equated with insurgency at the time it was set up in June, at the height of BLM protests that Antifa supported.
The documentary is available free on other platforms.