Del Bigtree announced on Twitter that YouTube has deleted the channel of his alternative news network The Highwire, "without warning."
It may have been without warning, but it was no coincidence: the move came as social media giants are scrambling to remove a viral video showing physicians gathered in the America's Frontline Doctors group saying that hydroxychloroquine is an effective coronavirus drug, and that masks are not slowing the spread of the disease.
The video from the event received a massive audience with tens of millions of views before YouTube decided to delete it as "misinformation." Another reason may have been that it was promoted by President Trump, and one of his sons, whose Twitter accounts were censored for this in different ways.
The Highwire channel was reporting about the same event when Google's video behemoth decided to censor it, too.
Bigtree's channel had 211k subscribers, according to social media statistics-tracking site SocialBlade.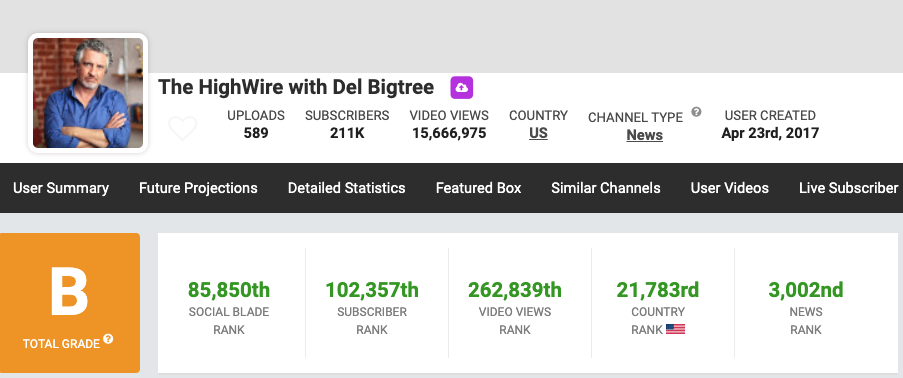 Bigtree directed his audience to the project's own website, where the broadcasts were still available.
This once again highlights that owning and controlling their own content, instead of entrusting it to social media giants accountable only to their own rules, might become the only viable way for independent creators to survive and thrive on the internet going forward. Building your business on a sleeping giant who can roll over and crush you with its haphazard policies was always a bad idea, but is these days fatal.
But for now, most are still at the mercy of their fickle overlords. Bigtree thought he might discuss YouTube censorship of his channel on Facebook – but that platform then decided to delete that video as well.
The reporter and activist is calling this "the cyber attack on truth" and "cyber tyranny," noting that the Highwire episode Facebook just removed had a record-breaking audience.
The network's followers on Twitter supported Bigtree's work, expressing hope that the archive of videos that YouTube doesn't want to show will be available on Highwire's own website.
Some offered insight not only into how Big Tech works, but also how humans work: they believe that the channel got censored because it was gaining in popularity – and predicted that this type of content will become more, not less interesting as it endures greater attempts to suppress it.