YouTube's crackdown on alternative media is continuing with several popular channels being suddenly demonetized in a new purge.
One of the channels that was recently stripped of its ability to earn ad revenue is SGTreport – an alternative media outlet that describes itself as "the corporate propaganda antidote" and has over 594,000 YouTube subscribers.
YouTube's message to SGTreport claimed that the channel was demonetized for producing "content that focuses on controversial issues and that is harmful to viewers."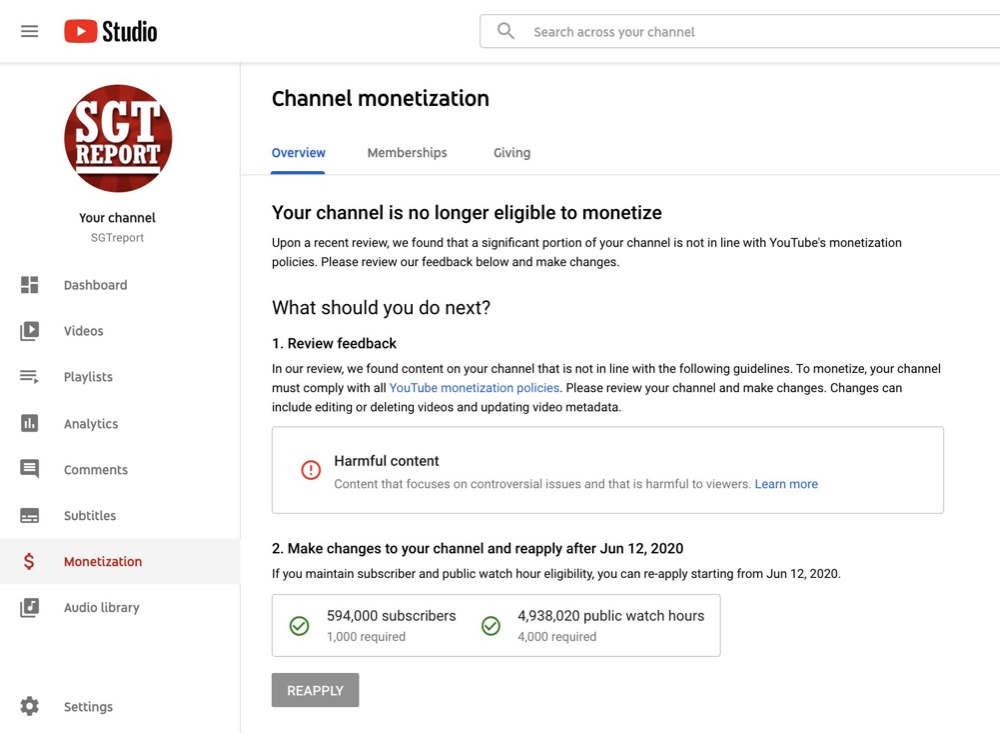 TRUreporting was another channel hit with a demonetization notice from YouTube.
The channel describes itself as an "alternative media source for open minded people" and has 189,000 YouTube subscribers.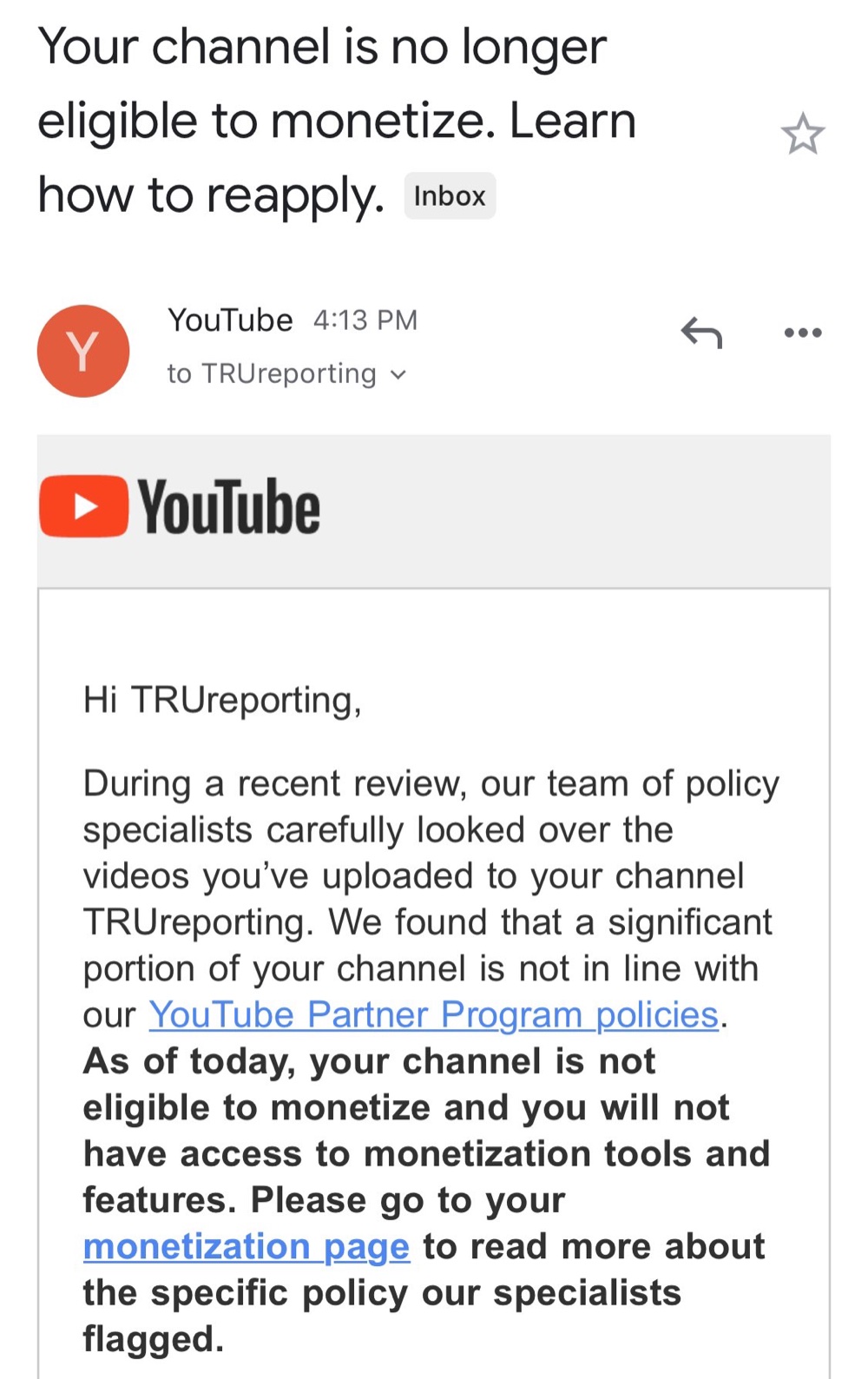 TRUreporting slammed YouTube for stripping the channel of its ability to monetize and tweeted: "I said nor did anything wrong. They took away my livelihood."
Sam Tripoli, host of the Tin Foil Hat podcast which does a deep dive into conspiracies, tweeted that his channel with more than 96,600 subscribers had also been "completely demonetized."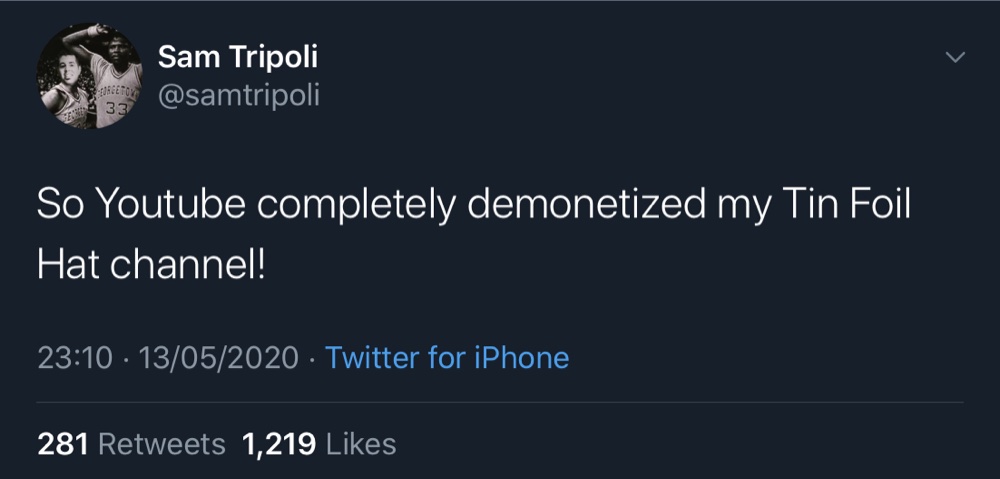 And the jsnip4 YouTube channel, which has over 87,000 subscribers and is home to Realist News, was also demonetized for "harmful content" and had one of its videos removed.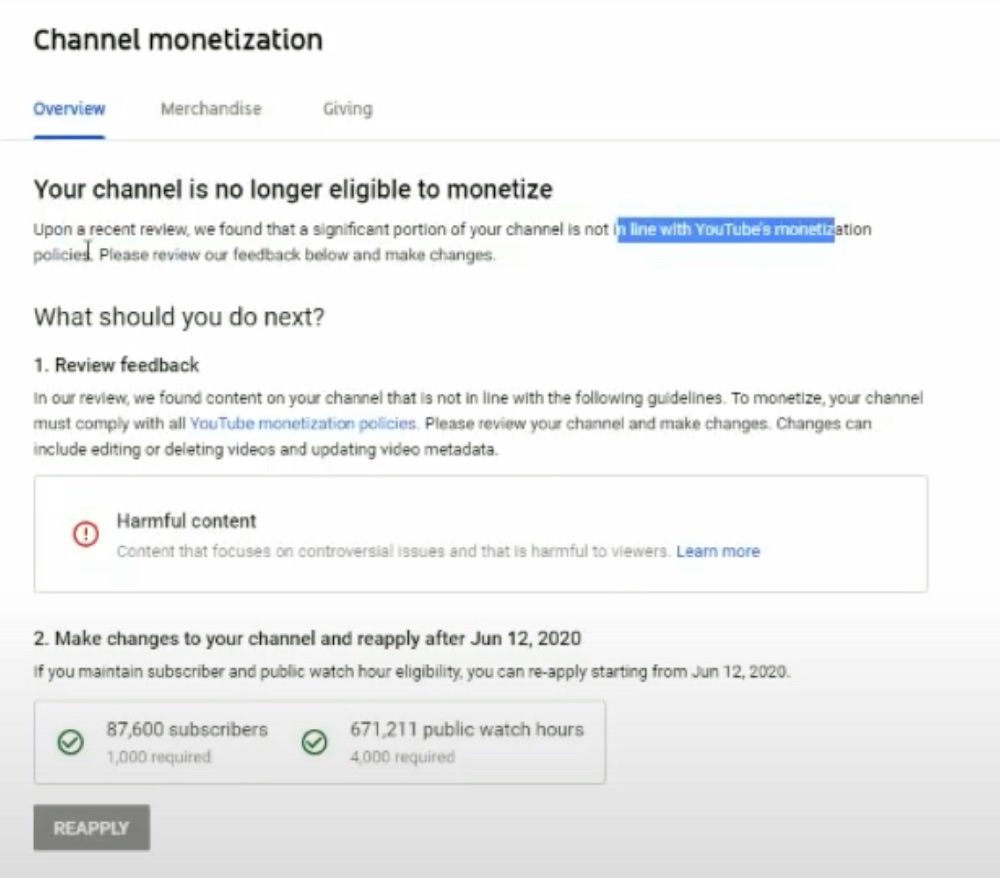 jsnip4 said that before YouTube stripped his ability to monetize, more than 5,000 of his videos were monetized.
He also blasted YouTube for describing his content as harmful and said his news stories are "exposing the lies of the so-called mainstream media" with "hard facts."
After being demonetized, jsnip4 announced that he will be leaving YouTube and uploading to BitChute, a YouTube alternative that supports free speech, going forward.
The demonetization of these channels comes as YouTube's recent changes have made it increasingly difficult for alternative media to give their perspective on the news and challenge the mainstream media.
YouTube CEO Susan Wojcicki recently announced that anything that goes against the World Health Organization (WHO) is a violation of YouTube policies.
YouTube's Chief Product Officer Neal Mohan also said in late April that creators "espousing" opinions "in their basement" can't provide context on the news.
In addition to introducing policies that make it harder for independent creators and alternative voices to cover the news, Wojcicki has also admitted that users don't like the "authoritative" mainstream media channels but YouTube boosts them anyway.