Today YouTube CEO Susan Wojcicki shared another stat that highlights how YouTube's changes are making it almost impossible for independent creators to get their content recommended in search.
"When people come to YouTube searching for coronavirus topics, on average 94 percent of the videos they see in the top 10 results come from high authority channels," Wojcicki wrote in her mid-year update to the YouTube community. "We think this is important progress, even as we keep working to bring that number higher."
To put this number in perspective, independent creators have just over a 1 in 20 chance of their videos about the coronavirus being shown in the top 10 search results but "high authority" mainstream media channels are almost 20x more likely to have their content recommended in these search results and YouTube is working to increase this disparity further.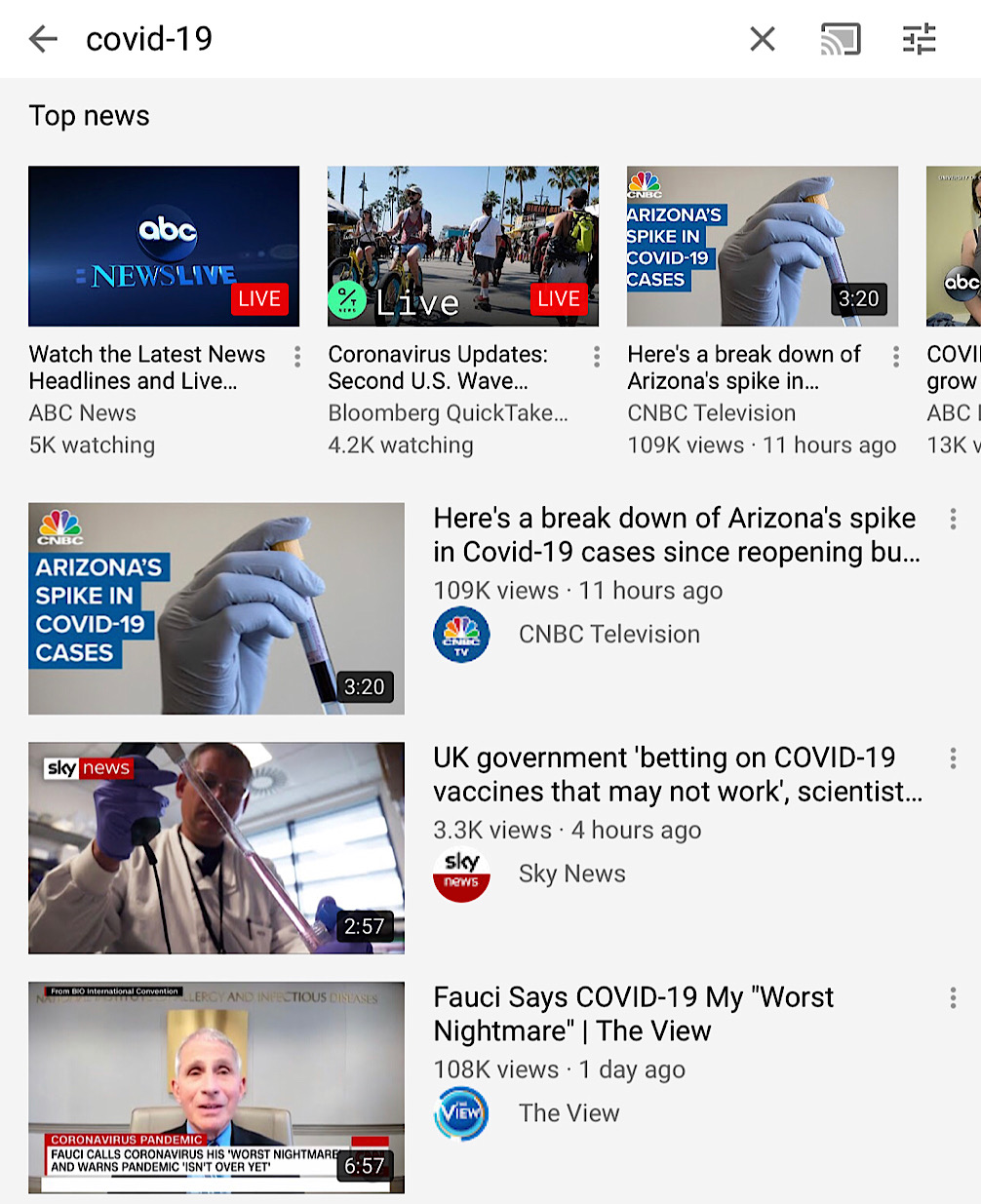 This statistic is the latest of many that highlights the extent to which mainstream media outlets are boosted on YouTube at the expense of independent creators.
Previous statistics have shown that "authoritative" mainstream media sources are 10x more likely to top search results for some news events and that these authoritative sources have seen a 75% increase in video views since the start of the year because of the preferential treatment YouTube gives them in search and recommendations.
These authoritative sources have also been given more than 10 billion views via the coronavirus news shelf – a section on the homepage that promotes mainstream media coverage of the coronavirus.
Beyond the statistics, Wojcicki's admission last month that users don't like "authoritative" mainstream media channels but YouTube boosts them anyway is another example of the favorable treatment these outlets receive.
In addition to being given preferential treatment by YouTube, Wojcicki has revealed that mainstream media coverage influences which censored videos get reinstated and that YouTube actually changed its recommendation algorithm in response to the mainstream media's radicalization theory.
This favorable treatment becomes even more apparent when you compare these statistics and Wojcicki's comments on the mainstream media to the way YouTube executives describe actual YouTubers covering the news.
Wojcicki has said that YouTubers won't even get recommended for breaking news while YouTube's Chief Product Officer Neal Mohan has stated that creators "espousing" opinions "in their basement" can't provide context on the news.