Bill Gates visited MOSIP (Modular Open Source Identity Platform) in Bangalore, India, according to a LinkedIn post MOSIP shared. The Bill and Melinda Gates Foundation has supported MOSIP's free-to-use digital ID platform.
"MOSIP is fortunate to have had the BMGF's support over many years, and we were honored to have this opportunity to showcase MOSIP's milestones, major achievements, and roadmaps to the team and their illustrious Founder," MOSIP wrote in the post.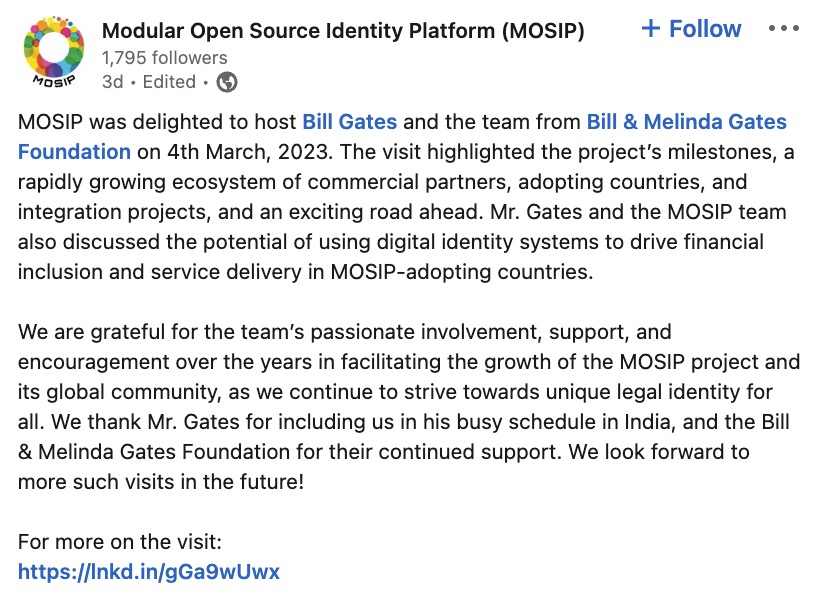 Among other things, Gates was updated on the progress of the ten countries that are adopting MOSIP. He also discussed with the team the potential for using digital ID programs to promote service delivery and financial inclusion.
Related: Tony Blair praises Estonia for its digital ID system, where babies are given a digital ID at birth
"As we head into a future where the need for robust, inclusive digital infrastructure has become increasingly apparent, his enthusiastic responses and questions provided much encouragement and food for thought," MOSIP added in the post.
MOSIP has registered over 80 million people and is looking to enter the Caribbean and Latin American market. It is also offering new products, like the Inji digital wallet.