Cydia is the most popular jailbreak iOS app store and the latest data is showing that it has experienced a 723% increase in web traffic over the last two months. The spike in traffic comes as Apple faces growing scrutiny over the way it allegedly uses the App Store to engage in anti-competive behavior. It also ironically suggests that Apple's practice of tightly controlling iOS for privacy and security is encouraging record numbers of people to use less private, less secure apps and app stores.
Traffic to cydia-app.com, one of the leading sources of information on Cydia, has increased from 65,000 monthly visits in March 2019 to 470,000 monthly visits in May 2019.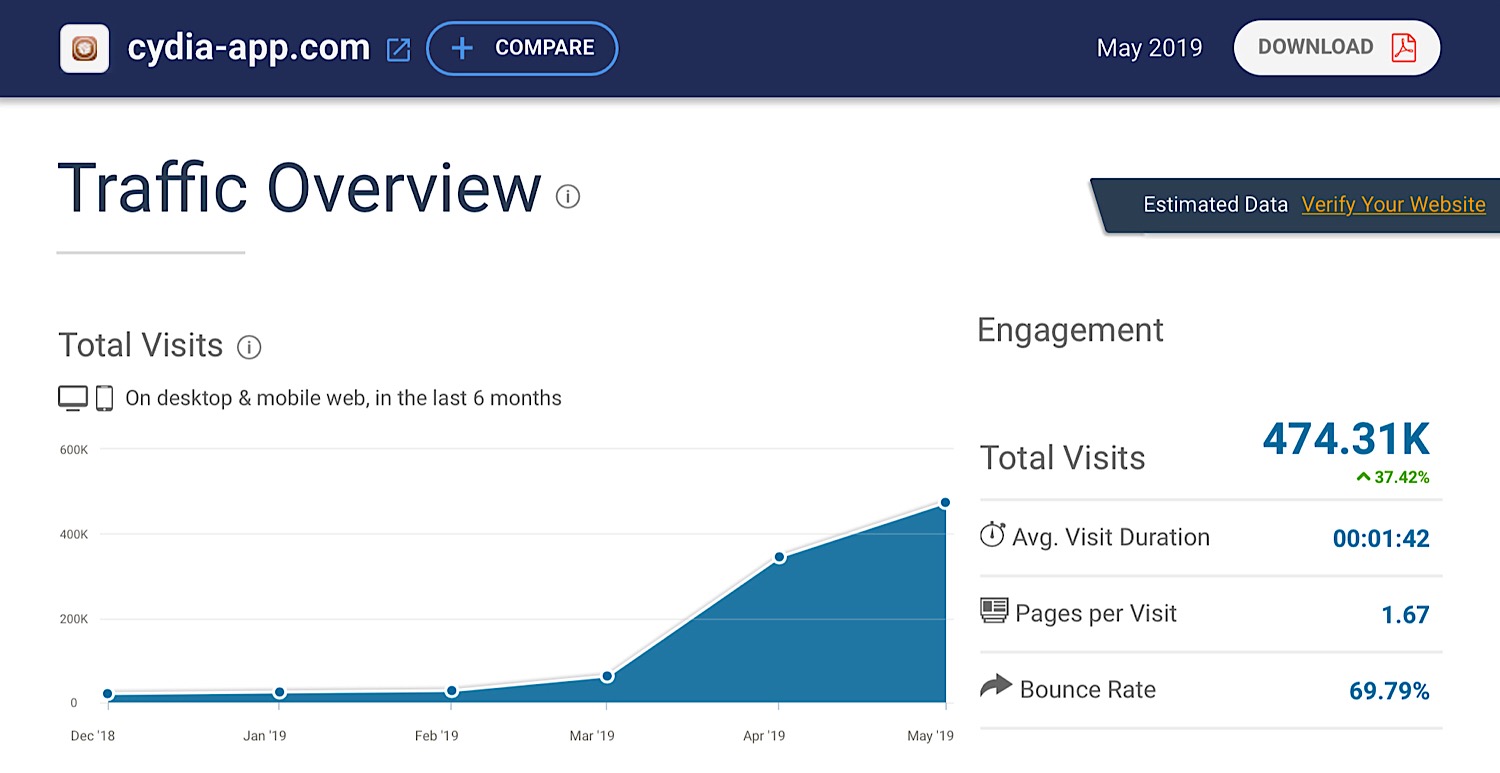 The huge surge in traffic to cydia-app.com has come during a period where Apple has faced numerous complaints about its alleged monopolistic control over the App Store and also banned popular apps from this store.
Here's a summary of how scrutiny of the App Store has ramped up at the same time as traffic to Cydia-app.com increasing:
March 2019
April 2019
May 2019
This suggests that the increased media attention on Apple's alleged App Store monopoly and anti-competitive practices is pushing more people towards Cydia which allows users to install banned iOS apps like the free speech social network Gab. It could be that the media attention is making more people aware of the way Apple blocks or restricts apps on iOS and encouraging them to try jailbreaking or sideloading with Cydia.
Jailbreaking is a process that allows users to remove the restrictions Apple places on iOS devices, install third-party apps, and add other functionality to the phone. Sideloading is a process that allows users to transfer and install specific third-party apps onto the device without jailbreaking.
While jailbreaking and sideloading give users more control over what they can put on their iPhone or iPad, these processes also have a number of disadvantages which include:
Jailbreaking voids the warranty for the device
Jailbreaking can make the device unstable or even break it completely
Both jailbreaking and sideloading create privacy and security risks
The last disadvantage is particularly notable since privacy and security are two of the main benefits Apple touts for its locked down iOS ecosystem and App Store.
By controlling the operating system (iOS) and App Store, Apple can regulate the permissions apps have on the device, limit their access to private user data, and prevent them from doing anything malicious. This is why iOS is considered to be one of the most secure mobile operating systems.
Additionally, Apple has strict requirements for apps on its App Store and reviews every app and update before it hits the store. This review process reduces the likelihood of privacy invading or insecure apps ending up on iOS devices.
Jailbreaking a device effectively breaks the security protections Apple builds into iOS devices through its tight control of the operating system and the App Store. This makes jailbroken devices more vulnerable to hackers, malicious programs, and viruses which can steal personal information from the device, damage the device, add spyware, and more.
Sideloading apps doesn't compromise device security to the same degree but it still involves installing apps which aren't always vetted to the same standard as those in the official App Store. As a result, sideloaded apps can still pose a potential security risk and lead to data loss, device damage, and other negative outcomes.
Overall this indicates that Apple locking down iOS devices to increase privacy and security is actually having the opposite effect and pushing users towards the less secure and less private solutions of jailbreaking and sideloading.
One thing that should be noted is that Apple doesn't always use the control it has over the App Store to enhance user privacy and security and there are numerous examples of it removing or blocking apps that contain content it finds objectionable.
Here are a few past examples of Apple rejecting apps based on their content rather than privacy or security concerns:
Blocking and removing apps in this way is another behavior by Apple that pushes users towards the less private, less secure processes of jailbreaking and sideloading because they want access to these banned apps. However, the increased media attention on App Store antitrust issues over the last three months seems to be the main factor since that's the period when cydia-app.com has seen a massive surge in traffic.
This month, Apple has faced even more scrutiny over its App Store with:
If the media attention is behind the increased web traffic to cydia-app.com, June 2019 is likely to be a record month for this third-party iOS app store which suggests more users than ever before will be jailbreaking and sideloading, despite the associated privacy and security concerns.
Free Tutorial: Our step-by-step guide to starting your own website for fun or profit