The annual meeting of the World Economic Forum (WEF) in Switzerland's Davos is here – a cabal, critics would say, of elected and unelected elites that either rule the world, or have a strong tendency to get there.
Security has always played a major role during these gatherings – images of snipers in camouflage gear on top of buildings in what would otherwise be a sleepy winter resort have been coming out of Davos for years.
This time, there's more than just physical security swirling around participants of an event that sums up the year-round work of the WEF to define the world for "the little people" – without bothering to ask "the little people" about it.
Officials and all others wanting access to a Davos event this week, and that includes journalists, must provide a negative PCR test (the WEF is obviously still holding out), and if they either fail the test or are in no mood to present one to the "authorities" – the chip in their biometric data-based passes get disabled.
Additionally, the Swiss police has been enlisted to check fingerprints outside the WEF venue.
The Davos event is almost inevitably accompanied by a variety of protests, but that has no impact on this gathering of elite politicians and corporations, and corporate media. This year, however, it seems that more independent journalists have decided to try their luck in reporting from "the scene of the crime."
They're telling us what was pretty much expected: high levels of security, both in terms of biometric screening and actual security personnel (checkpoints, thousands of regular and military police, and even soldiers).
And, independent journalists are not exactly welcome there. Some are reporting being stopped at one of the checkpoints set up in this warzone of its own making. At the same time, their corporate counterparts are, for some reason, trying to downplay just how heavily fortified the area is.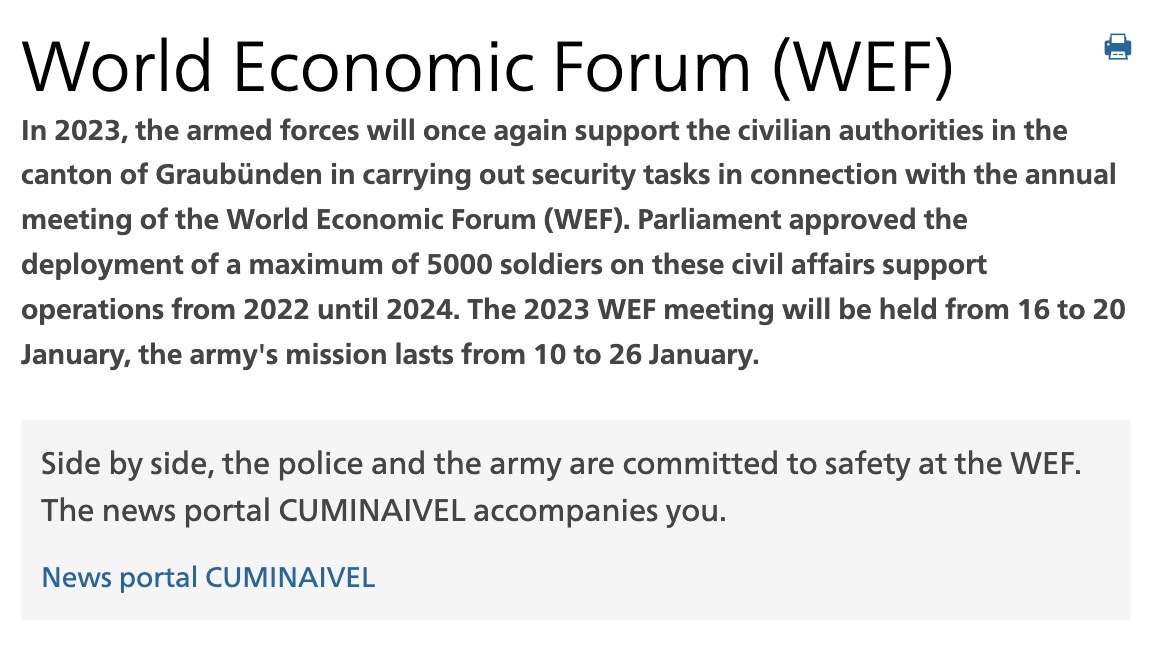 But proof is in the pudding: the Swiss Army states on its website that up to 5,000 soldiers have been approved by MPs to protect "these civil affairs support operations from 2022 until 2024."