Fox News host Tucker Carlson has blasted Facebook and Instagram for hiding his interview with the Chinese virologist and whistleblower Dr. Li-Meng Yan behind a "False Information" warning and accused the platforms of using the term "misinformation" to censor anything that makes health authorities look incompetent.
Dr. Yan fled China in April and says that she discovered evidence of China covering up the truth about the coronavirus during the early stages of the outbreak. This week, Dr. Yan and three other Chinese scientists published a paper where they present their evidence alleging that the coronavirus was created in a laboratory.
During her appearance on Carlson's show, Dr. Yan discussed the paper, said that scientists in China work with the Chinese Communist Party (CCP) to suppress the truth about the coronavirus, and accused the CCP of releasing the virus on the world intentionally.
Dr. Yan also talked about her work at the University of Hong Kong (HKU) School of Public Health, which is a World Health Organization (WHO) reference lab, and said that this allowed her to gather data from Chinese hospitals and the government during the early stages of the outbreak.
The interview gained over 970,000 views on Facebook and more than 750,000 views on Instagram within a day of being published.
But Facebook and Instagram have since flagged the interview with three fact-checks from January, February, and March. These fact-checks claim that the interview is pushing "baseless conspiracy theories" and insist that the coronavirus is "not man-made or engineered."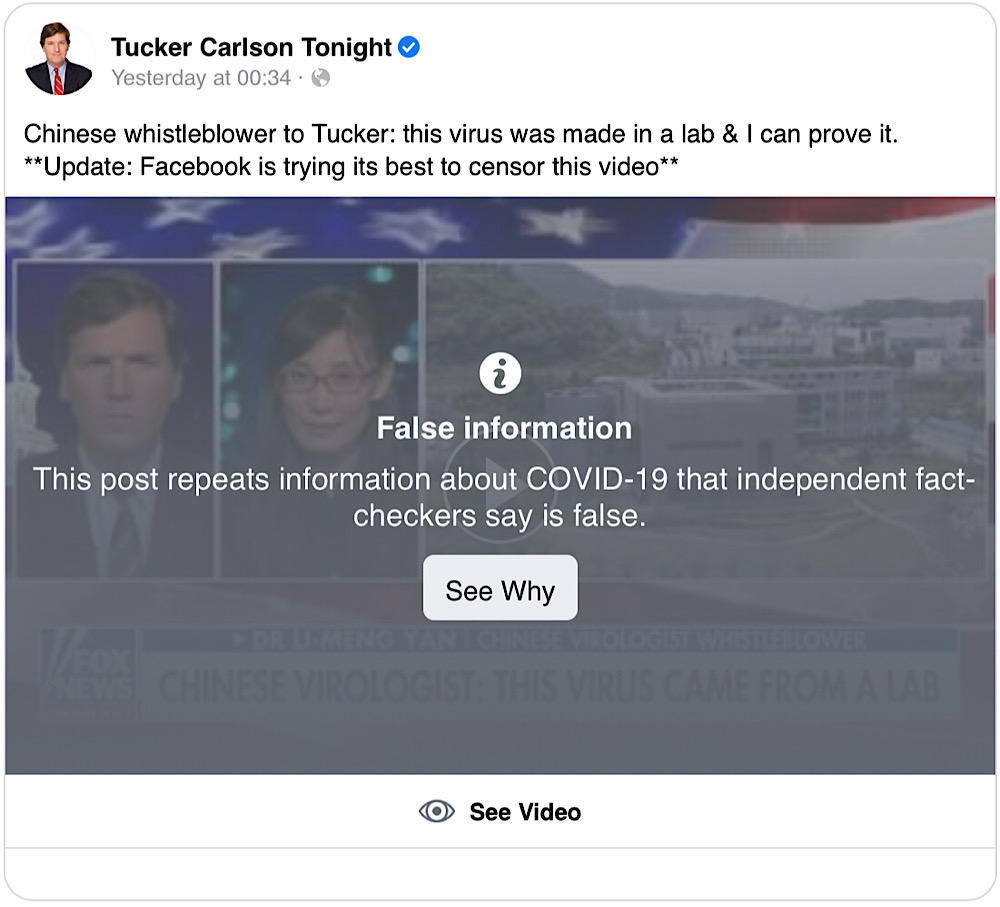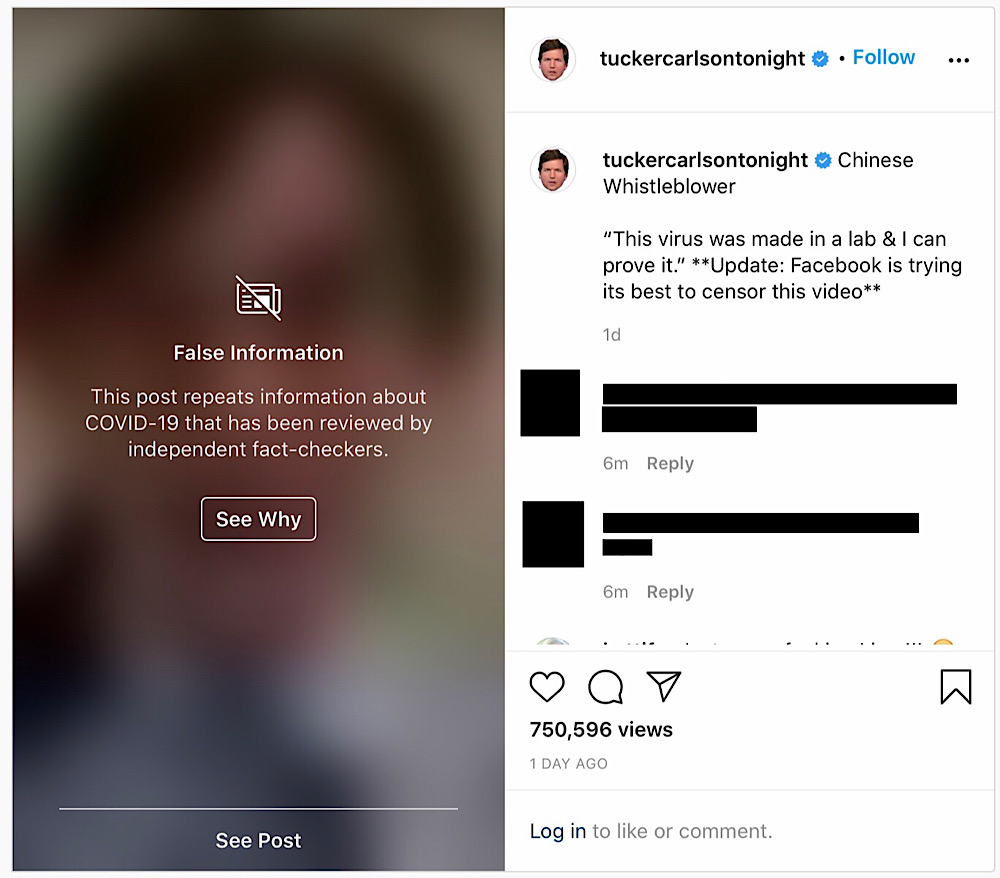 As a result of these fact-checks, the interview thumbnail is now blurred out and hidden behind a warning label that forces viewers to confirm that they want to see the post before they can watch the video.
According to Facebook CEO Mark Zuckerberg, these warning labels cut viewership of the post content by 95%.
Related: 🛡 The way Big Tech prescribes its version of the truth shares many parallels with China
Facebook's censorship of this Dr. Yan interview follows Twitter permanently suspending Dr. Yan on Tuesday. She joined Twitter on Sunday, sent her first tweet Monday, and was swiftly booted from the platform a day later.
Carlson slammed Big Tech's censorship of Dr. Yan and called out Facebook for the way it censors based on misinformation.
"What exactly, you may be wondering, constitutes misinformation? What's the definition of that?" Carlson said. "Well in practice, misinformation, according to Facebook, is anything that suggests our health authorities and Democratic politicians are incompetent. Also, anything that embarrasses Big Tech allies in the communist government of China."
Big Tech's censorship of Dr. Yan is reflective of its mass censorship of coronavirus content that doesn't align with its approved narrative on the virus. Suggesting that the coronavirus is man-made, advocating for the drug hydroxychloroquine, opposing masks and opposing lockdowns are some of the many other coronavirus positions that are routinely censored by the tech giants.
The censorship of Dr. Yan's interview via fact-checking also follows growing concerns over potential bias and conflict of interest among Facebook's fact-checkers.
In April, it was discovered that one of Facebook's supposedly independent fact-checkers who flagged an article as "false" for suggesting that the coronavirus may have originated in the Wuhan Institute of Virology was a former employee of the lab.
And in August, it was revealed that the Gates Foundation has provided millions of dollars in funding to Facebook's fact-checkers. In fact, the media company Gannet, which owns USA Today, has received $499,651 from the Gates Foundation and one of the three fact-checks applied to the Dr. Yan interview was from USA Today.