Facebook and Twitter have ramped up their censorship in recent months with many innocuous posts being taken down under their vague, subjective "hate speech" and "misinformation" rules.
Even President Trump has been subject to censorship on Twitter with several of his tweets being hidden behind a warning notice.
Amid this rising Big Tech censorship, there's been increased interest in alternatives to these social media giants and many of these alternatives have enjoyed significant growth because of their pro-free speech stances.
Here are three of the top Facebook and Twitter alternatives that support free speech on their platforms:
Gab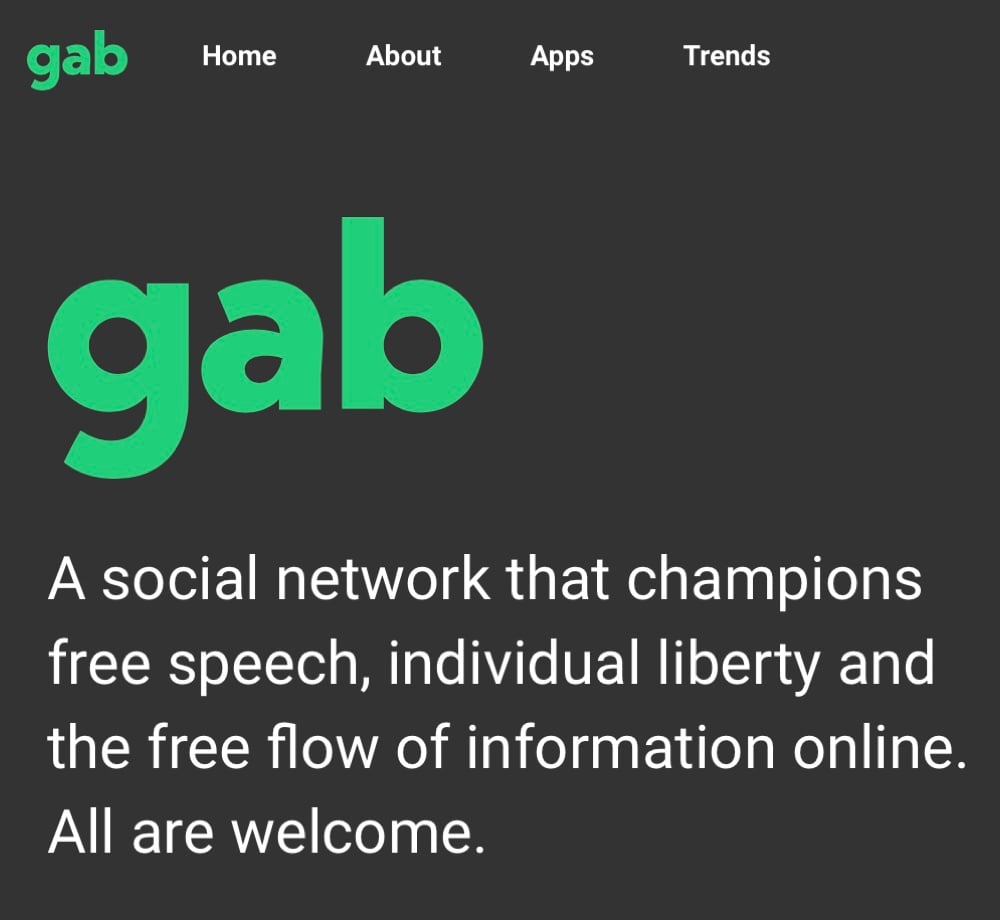 Free speech social network Gab launched in August 2016 as a private beta and opened up registrations to the public in May 2017.
Gab states that "any user's political speech that is protected by the First Amendment of the U.S. Constitution will be allowed on the site" and as a result, it doesn't censor legal speech under the guise of hate speech or misinformation.
This commitment to protecting speech that is often censored by other Big Tech platforms has resulted in Gab being heavily deplatformed at the app store, browser level, and payment processor level. Some of the many platforms and services that have banned Gab and its products include the Apple App Store, Google Play Store, Google Chrome Web Store, Firefox extensions gallery, the free and open-source Android app repository F-Droid, and payment processor Visa.
Despite the adversity, Gab has continued to grow and gets 4.5 million visits per month, according to web analytics service SimilarWeb.
Gab has many of the same features as Facebook and Twitter including a timeline that presents posts from the accounts you follow, a trending news section, groups, lists, recommended accounts to follow, and more.
Additional features such as post scheduling, getting verified, removing ads, creating groups, and larger video uploads can also be unlocked by upgrading to Gab Pro.
Gab has also launched several complementary alt-tech products since the release of its social network in 2016 including the Dissenter browser, news aggregator Gab Trends, and end-to-end encrypted chat app Gab Chat.
Additionally, Gab is open source which means that anyone can take the code and host their own Gab Social server with their own rules.
Minds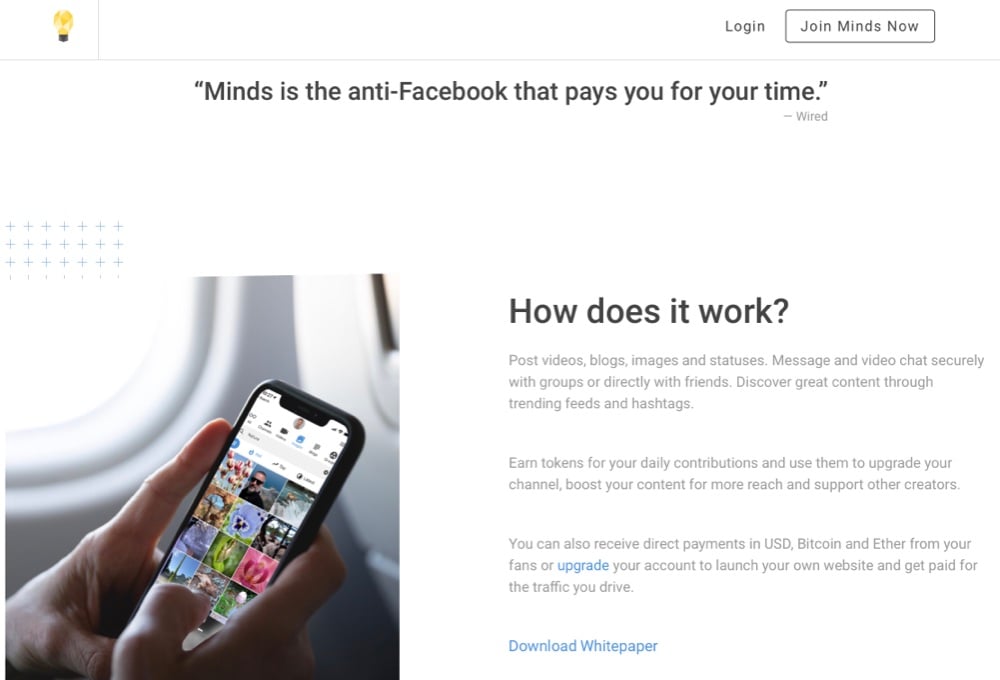 Minds is a free speech social network with a blockchain-based rewards system that was founded in February 2011, launched in alpha in 2012, and launched to the public in June 2015.
According to SimilarWeb, it gets over 1.2 million visits per month.
Minds' content policy is based on the First Amendment and is governed by a community jury that's designed to minimize bias and censorship. Its code and algorithms are also free and open-source for maximum transparency and accountability.
Its features include a feed that presents the latest posts from accounts that you follow, trending feeds and hashtags that highlight popular posts on Minds, groups, and more.
Minds also allows users to monetize and boost their content via the Ethereum-based Minds Token. Users can earn tokens for activity on the Minds network or purchase them directly and then use these tokens to promote their content or send tips to other creators.
Minds offers two premium upgrade options – Minds Plus and Minds Pro.
Minds Plus hides ads, allows users to get verified, and unlocks exclusive content. Minds Pro includes all the Minds Plus features and also gives users access to additional monetization features (which include getting paid for traffic and referrals and receiving tips and subscription payments from fans), more advanced customization features, the ability to connect custom domains and subdomains, the ability to create groups, and more.
Parler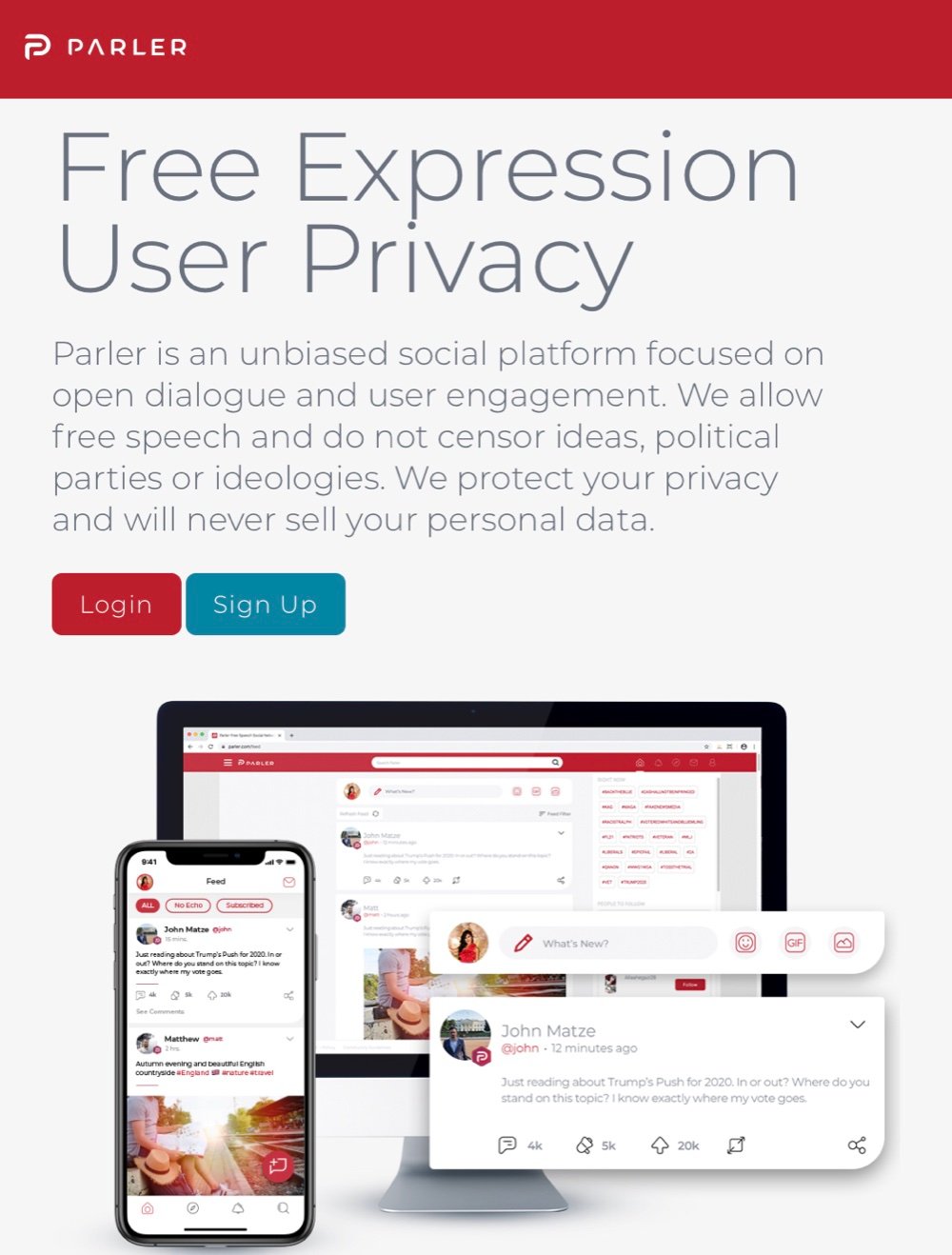 Parler was founded in August 2018 and has already passed 1.5 million users, according to its CEO John Matze, and receives 5.3 million monthly visits, according to SimilarWeb.
Parler's focus is on unbiased algorithms and free expression with its content moderation based on the US Federal Communications Commission (FCC) and Supreme Court decisions.
Its features including trending hashtags, a trending news section, recommended accounts to follow, and more.
The platform is one of the only alt-tech platforms that several members of the Trump campaign team have joined and President Trump has also suggested that he may join the site.