Judicial Watch has alleged that the CDC has collaborated with Facebook on COVID messaging and alleged "misinformation." The CDC and Facebook went after anyone who published any information that contradicted the CDC's statements.
We obtained a copy of the FOIA complaint for you here.
Judicial Watch announced that it had received 2,469 pages of new documents from the Centers for Disease Control and Prevention (CDC), revealing that Facebook worked closely with the CDC to control the COVID narrative and "misinformation" and that social media companies gave the CDC over $3.5 million in free advertising.
View the documents here.
These latest documents were obtained as part of a Freedom of Information Act (FOIA) litigation (Judicial Watch v. United States Department of Health and Human Services (No. 1:21-cv-00625)).
COVID-19-related content on Google, Facebook, Twitter, Instagram, LinkedIn, and YouTube may be the subject of any communication between CDC officials and/or employees and the employees, agents, or representatives of the companies. COVID-19 disinformation advice and instructions are examples of such records.
A Facebook official presents the "FB coronavirus narrative" to the CDC in an email conversation beginning January 26, 2020, with the subject "Data for Good | CDC intros."
This email exchange allegedly demonstrates the CDC and Facebook's growing message cooperation.
Over $3.5 million in free advertising was granted to the CDC on Facebook, Twitter, and YouTube.
A Facebook official gave the CDC ad credits totaling $2 million, according to an email dated March 8, 2020, to boost "message related to coronavirus."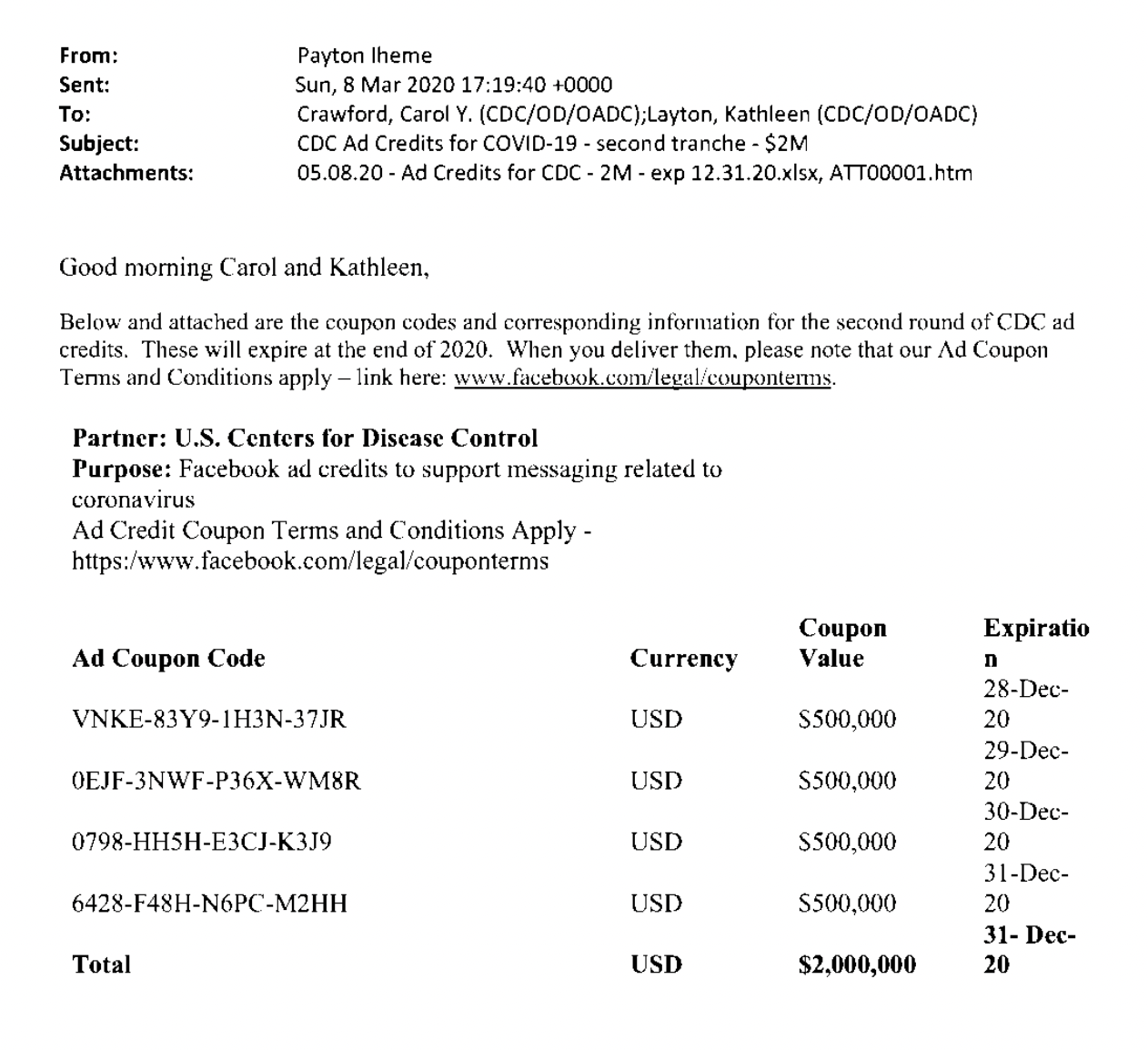 Sherri Berger, then-CDC Chief Operating Officer and Chief Strategy Officer sent an email to Facebook on March 14, 2020, thanking them for the $2 million; this was what she had to say.
"On behalf of the Centers for Disease Control and Prevention (CDC) and by the authority delegated to me through Section 231 of the Public Health Service Act (42 U.S.C. Section 238), as amended, thank you for Facebook's non-monetary gift of advertising credited with an estimated value of $2,000,000. The gift will be used by CDC's COVID-19 response to support dissemination of critical public health messaging. Thank you!"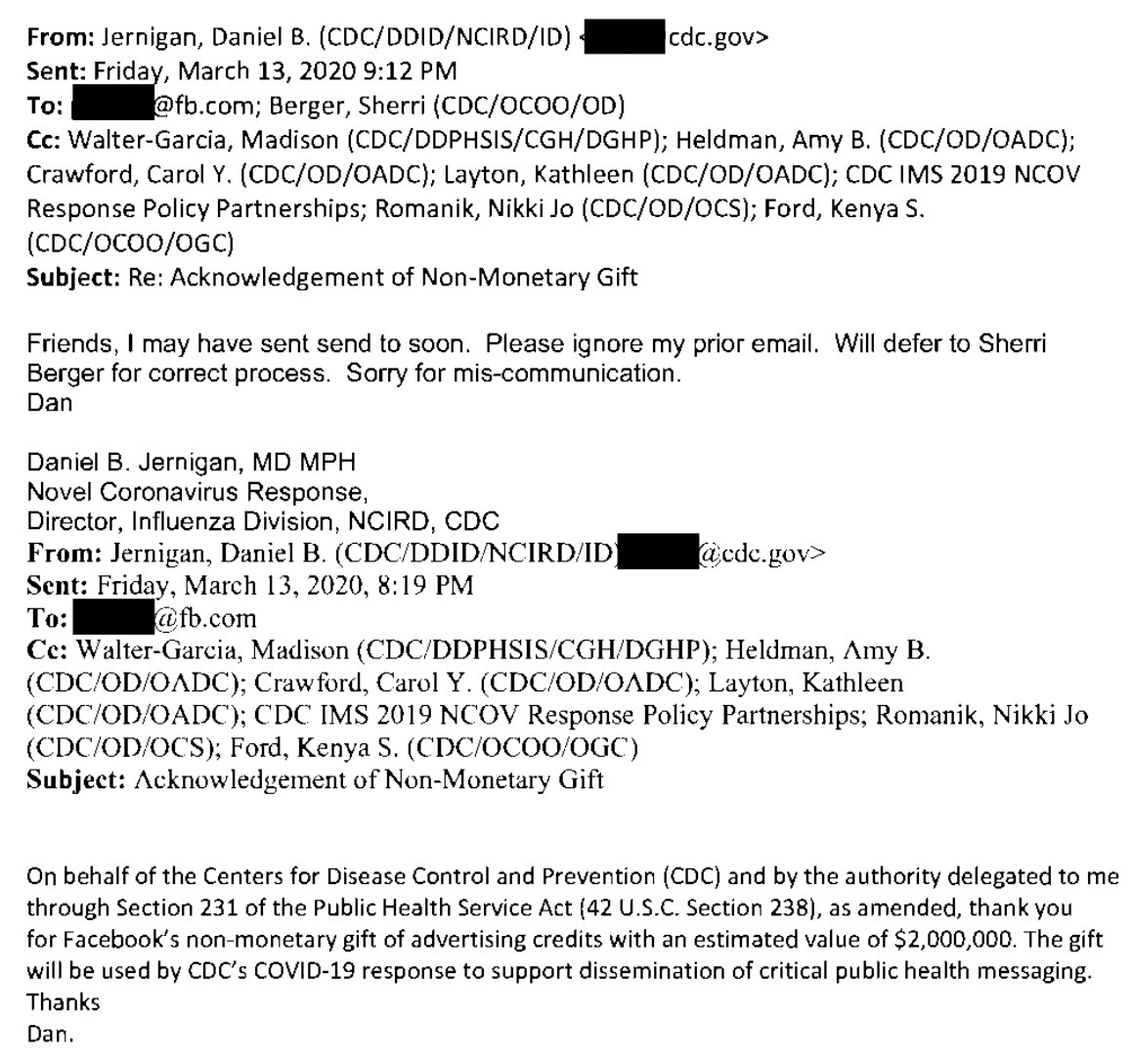 Berger thanked Facebook for another $1 million in ad credits in an email exchange between August 10-11, 2020, with a message similar to the one she sent on March 14, except she adds: "This gift will be used by the CDC's COVID-19 response to distribute scientifically accurate data, guidance, and risk communication information on COVID-19 to a broader audience."
In an email exchange dated August 25, 2020, Facebook informed CDC authorities that $529,207.42 remains from their recent contribution of $1 million in ad credits.
A Facebook representative offered to put CDC authorities in touch with WhatsApp to set up auto-responses to coronavirus FAQs in that messaging platform in an email dated February 27, 2020.
"These documents show that Facebook and the CDC are joined at the hip on managing the ever-changing Covid-19 'narrative' – which includes censorship of alleged 'misinformation'," stated Judicial Watch President Tom Fitton.
Previous anti-censorship lawsuits against Big Tech platforms such as Facebook have failed as the judge ruled that there wasn't any evidence of collusion between the government and Facebook.