Google Play has booted a third-party app for BitChute, one of the most popular free speech focused YouTube alternatives, from its app store as part of another contentious crackdown on an alt-tech competitor.
The app was created by Hexagod and had over 100,000 downloads before it was removed. Google cited violations of its "Webviews and Affiliate Spam policy" as the reason for taking the app down.
Specifically, Google claimed the app was in violation of the rules because its "primary purpose is to drive affiliate traffic to a website or provide a webview of a website without permission from the website owner or administrator."
But BitChute has disputed this characterization and tweeted: "Contrary to the message below there was never any affiliate deal and permission was given."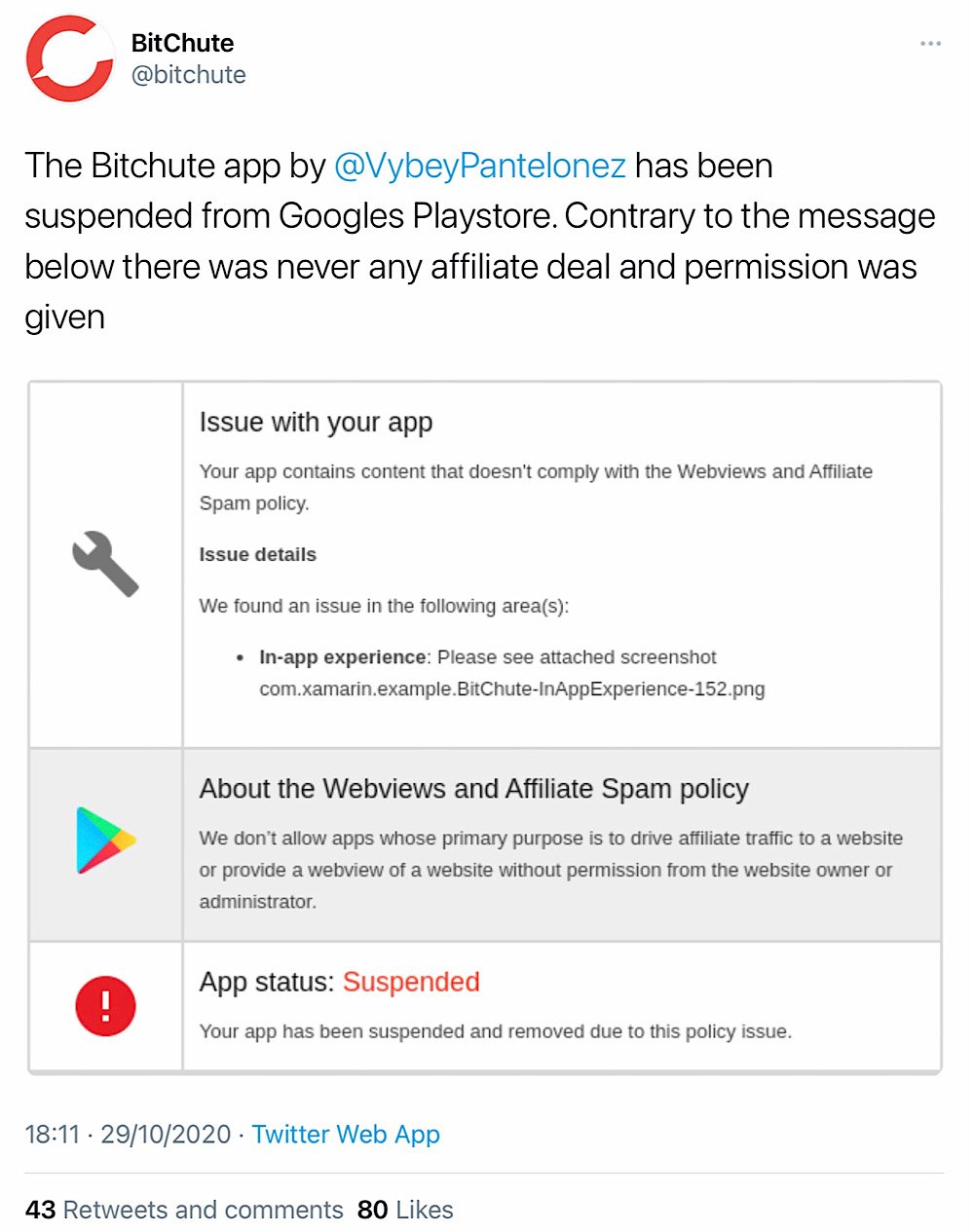 BitChute was founded in response to the increased levels of censorship and demonetization on Google-owned YouTube. It has proven to be a valuable platform for creators who have been banned by YouTube and viewers who want to access videos that have been censored by YouTube.
BitChute is also one of the most popular YouTube alternatives with over 26 million monthly visits, according to SimilarWeb.
But now Google is suppressing an app for the main YouTube competitor and preventing this from being distributed via the Google Play Store, which is the main app distribution platform on Android and used to download over 28 billion apps per quarter.
Not only is this BitChute app losing access to a major distribution channel but the existing 100,000+ users of the app will no longer be able to receive updates.
Related: ? How Big Tech uses its stranglehold to stamp out alt-tech competitors
Google Play's crackdown on this BitChute app follows it booting another YouTube alternative, LBRY, from its store last month. In this instance, Google claimed that a comedic scene from a short film with no nudity violated its "Sexual Content and Profanity" policy. The app was eventually reinstated but Google insisted that LBRY filter the comedy sketch in order for its app to return to the Play Store.
Google Play isn't the only Big Tech platform to restrict BitChute. Twitter has also censored all links to the platform and warns that BitChute links "may be unsafe" whenever users attempt to open them.