Lin Wood, one of the lawyers representing Kyle Rittenhouse, plans to sue Twitter and CEO Jack Dorsey after his account was temporarily locked following him advocating for his client on Twitter.
Twitter claimed his account "glorified violence" then later reinstated it and admitted it was mistakenly suspended.
17-year-old Kyle Rittenhouse is in jail in Illinois, charged as an adult with two counts of first-degree murder.
Cell-phone footage from witnesses shows him opening fire on pursuers in Kenosha during a riot. He shot and killed Anthony Huber and Joseph Rosenbaum, and injured Gaige Grosskreutz.
However, according to his lawyers, he is innocent and acted in self-defense. Lin Wood started tweeting about raising funds for the defense of Rittenhouse. As a result, he had his account briefly suspended for "glorifying violence."
After his account was reinstated after a nine-hour suspension on Tuesday night, he wrote: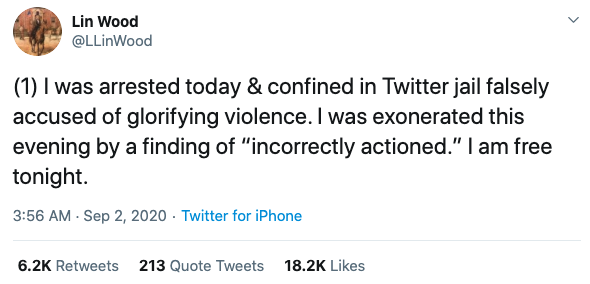 "I was arrested today & confined in Twitter jail falsely accused of glorifying violence. I was exonerated this evening by a finding of 'incorrectly actioned.' I am free tonight."
"Kyle Rittenhouse was arrested on 8/26 & is confined in Illinois jail falsely accused of murder. Kyle will be exonerated when truth is revealed by a finding of 'incorrectly actioned.' Kyle will be free soon," Wood continued in his series of tweets.
Speaking to Fox News, the lawyer said that the suspension is just more proof that Twitter silences conservatives' voices. He plans to sue Twitter and its CEO Jack Dorsey.
"I'm going to take Jack Dorsey's ass down.
"He has been abusing the First Amendment of this country for his own agenda," Wood explained.
Wood continued to say he expected Twitter to try and shut him down for supporting Rittenhouse so he was extra careful to follow Twitter's community standards and policies.
He then said that he has been gathering evidence to prove that Twitter suppresses free speech.
A spokesperson for Twitter told Reclaim The Net, "This account was incorrectly actioned. This has been reversed and the account reinstated," but didn't elaborate further.