Mailchimp, a widely-used automation and marketing service for mailing lists and email campaigns, has continued suspending crypto-related content.
These deplatforming decisions are affecting individual creators and media, reports say, while the apparent policy Mailchimp is implementing is not new.
One of the outfits Mailchimp has decided to suspend is Messari, which provides in a tweet sarcastically "thanking" Mailchimp for deplatforming what he said are several most reputable brands in the crypto world.
These include Edge, a crypto wallet, and the Decrypt news website. "You're proving our point," Selkis wrote. "Mailchimp – and all speech censors – must be destroyed."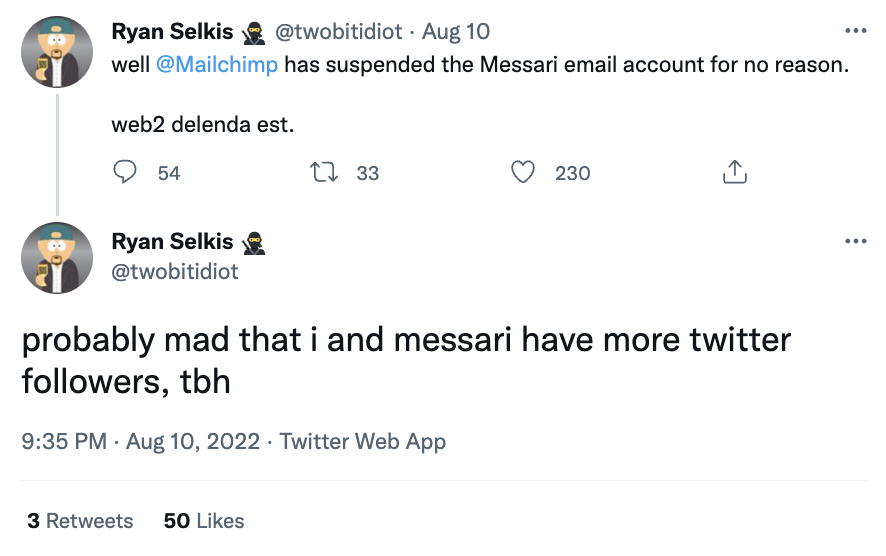 Mailchimp appears to be suspending these accounts often without any prior warning and without explanation – following in the footsteps of Big Tech's censorship mechanisms. And so it isn't entirely clear at this point what prompted the service to take this direction.
However, NTF collection Cryptoon Goonz founder Jesse Friendland shared on Twitter that when he was banned earlier in the month Mailchimp sent him an email saying that the company cannot allow businesses to use its platform if they are involved in "the sale, transaction, trading, exchange, storage, marketing, or production of cryptocurrencies, virtual currencies, and any digital assets."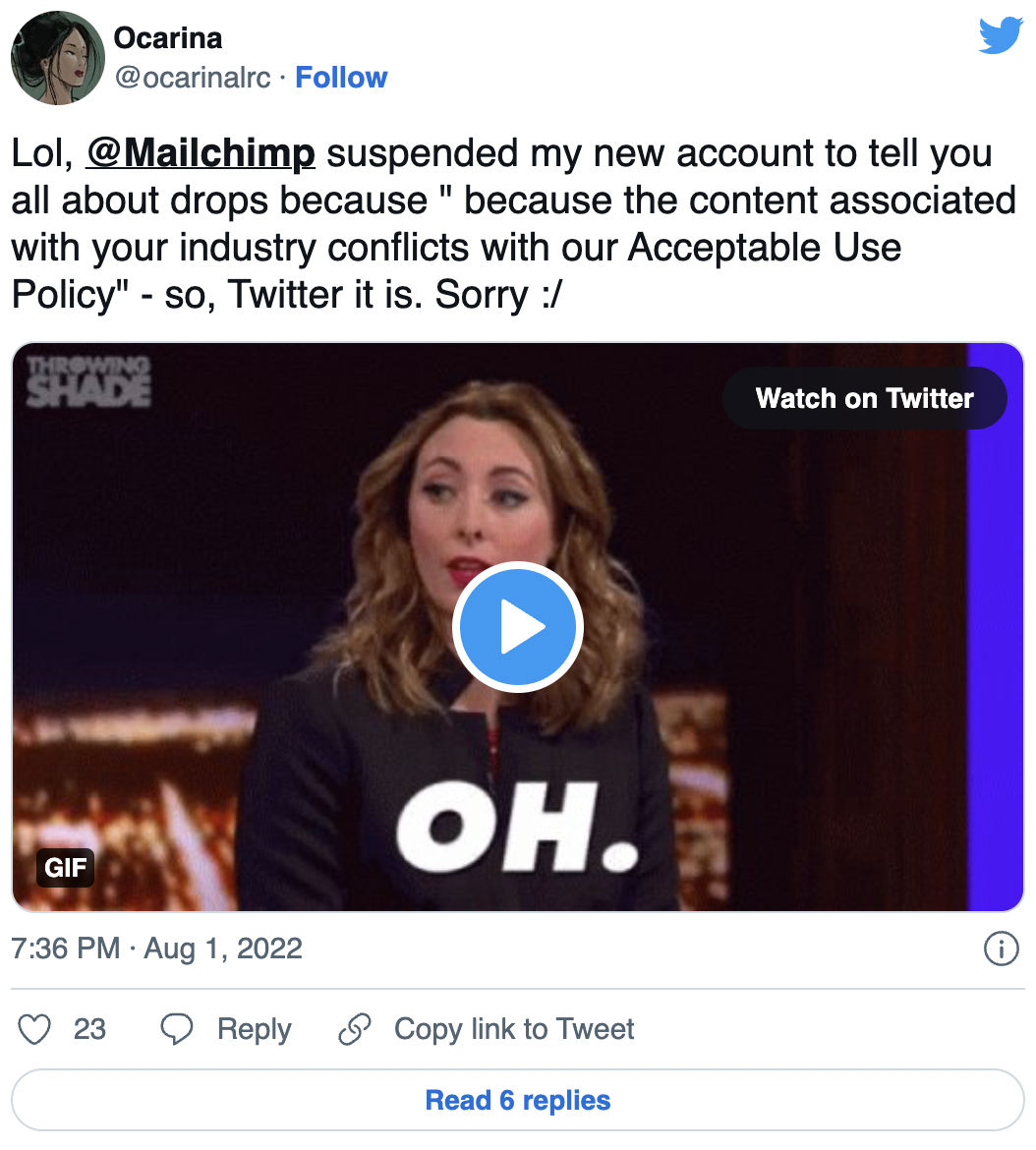 And whether or not this latest surge of censorship has anything to do with the US authorities' recent decision to sanction Tornado Cash also presently remains a subject of speculation.
But Paul Puey, founder of Edge, one of Mailchimp's recent "victims," thinks that this is unlikely given the transparent and public nature of email that doesn't lend itself well to illegal activity.
Puey's guess is that there may be an influential figure at Mailchimp who simply "dislikes" crypto – and in any case, the Edge founder described this direction taken by the service as "incredibly short sighted."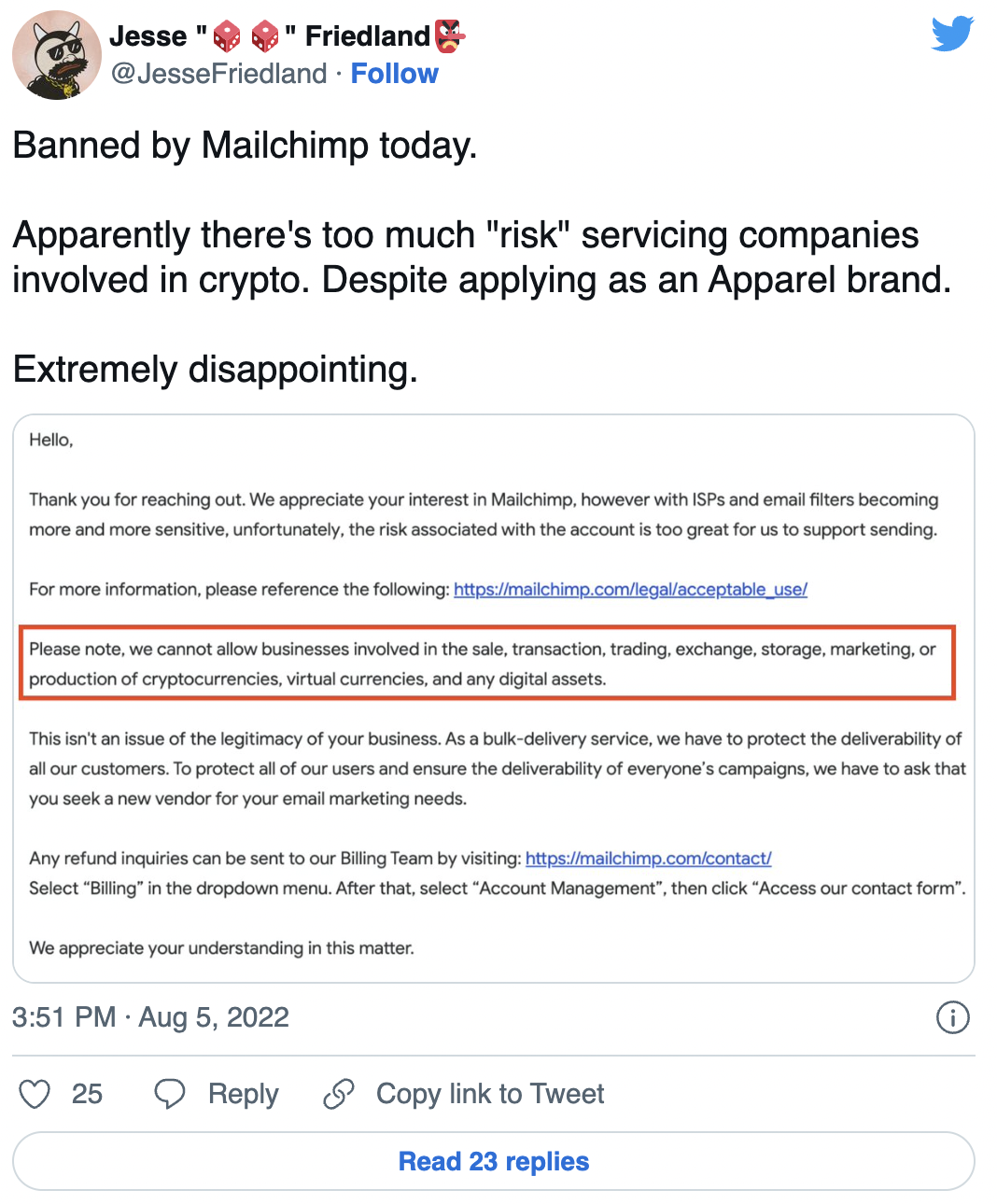 Others that Mailchimp has targeted are creators like NFT artist Ocarina who announced the ban on Twitter on August 1, and in this case the email marketing service did offer some explanation. Ocarina was told that the content associated with "the (NTF) industry" clashes with Mailchimp's Acceptable Use Policy.
As of Thursday, Mailchimp was yet to respond to Decrypt's inquiries. When banning crypto accounts in 2018, the company said that information about cryptocurrencies isn't "necessarily" banned – but emails from those involved in "the production, sale, exchange, storage, or marketing of cryptocurrencies" are.