Live streaming software company Streamlabs has terminated the account of popular YouTuber and podcaster Matt Christiansen without notice and refused to refund his payment for a year of service that he will no longer receive.
Christiansen had been using Streamlabs Prime, a paid version of the software, to accept donations on the live stream of his politics and culture podcast, Matt & Blonde Show, which he co-hosts with YouTuber Blonde in the Belly of the Beast.
But days before his most recent live stream, Christiansen tweeted that Streamlabs had deleted his account without notice. He added that Streamlabs cited "terms of service violations" as the reason for the account closure but provided no explanation of how he violated the terms.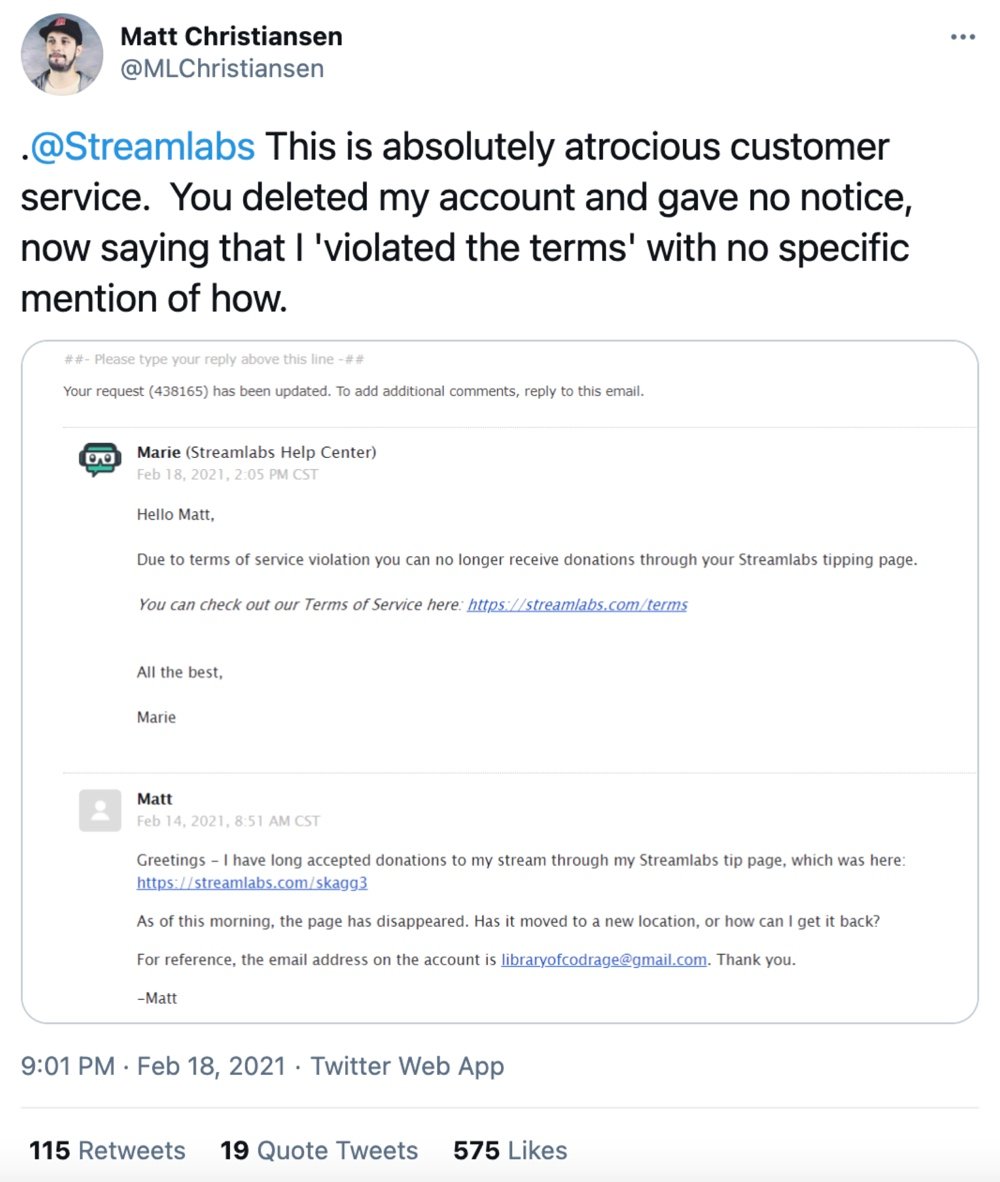 Not only will Christiansen be unable to use the service to accept donations but Streamlabs has also denied his request for a refund of his annual Streamlabs Prime payment which he made days before the account was terminated.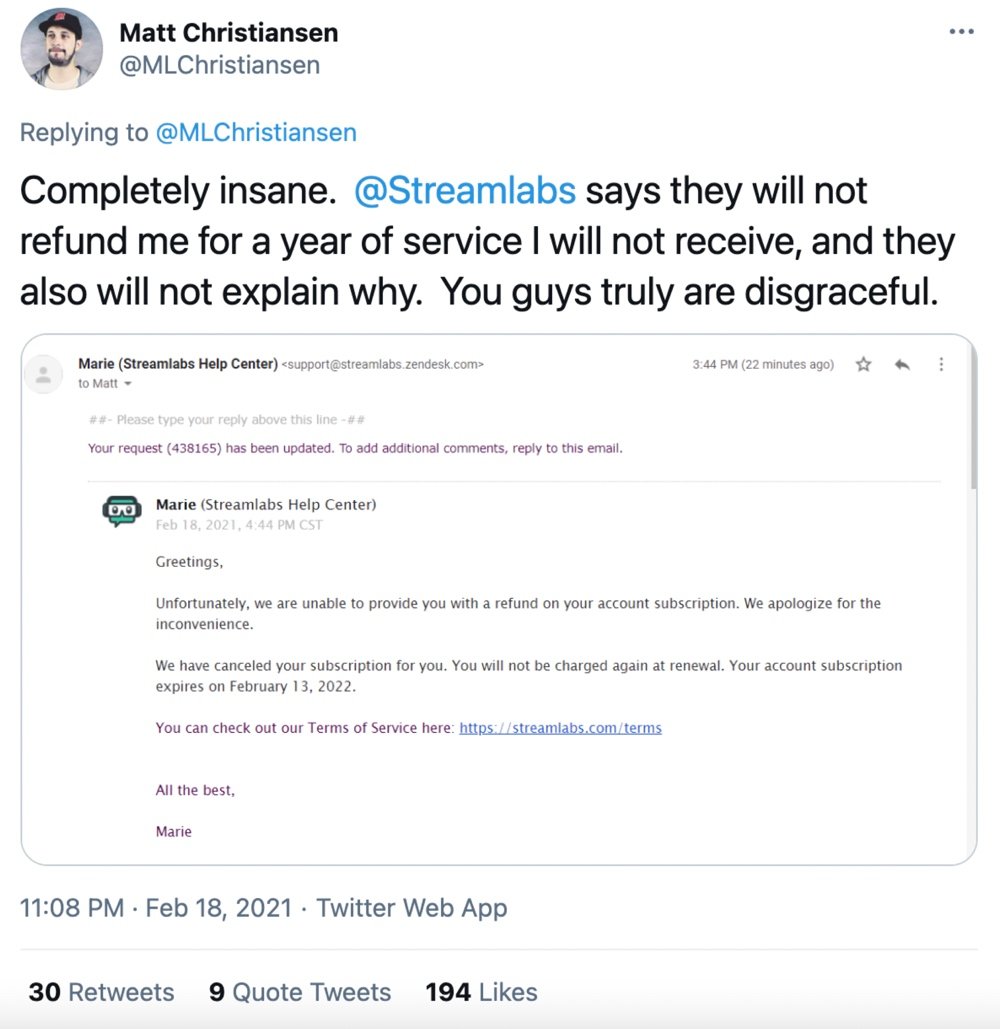 "You take my money and delete my account, ending service with no explanation of why?" Christiansen tweeted. "Completely outrageous."
Christiansen also noted that one of the features of Streamlabs Prime is VIP support but when he tried to use this support to get his account restored, he was told it's only for "tech help, like game capture issues or not being able to go live."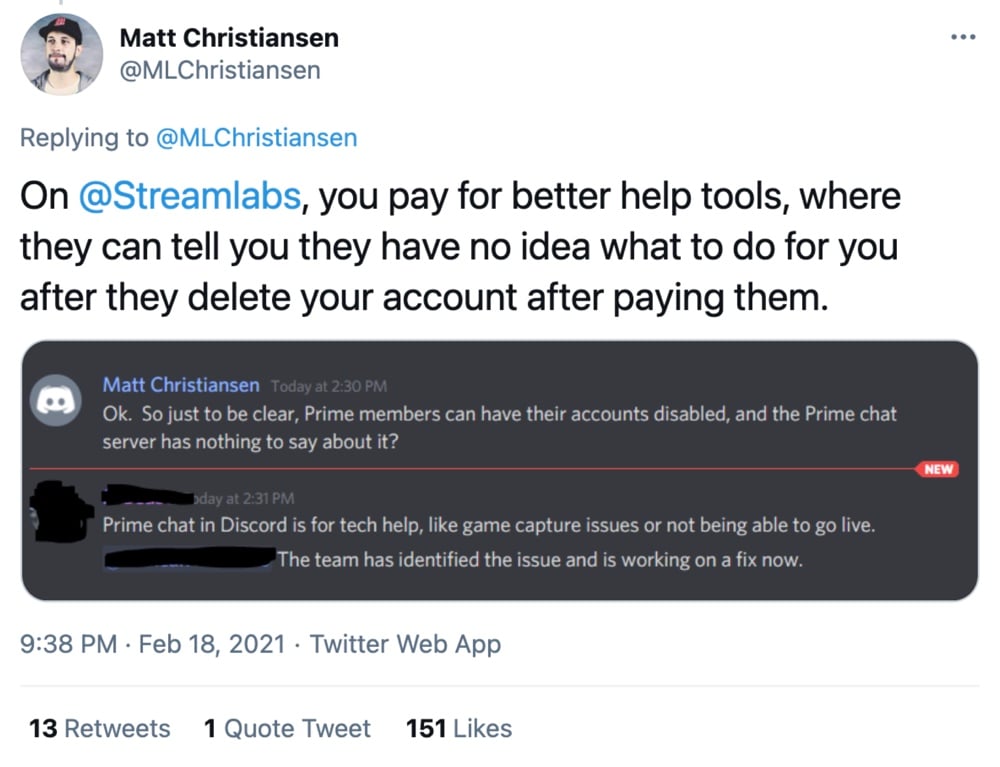 While Streamlabs didn't elaborate on how Christiansen violated its terms, Christiansen suspects that the company closed his account "because of something *someone else* said in chat."
"What am I supposed to do, be their moderator? How?" Christiansen added.
Streamlabs' deletion of Christiansen's account follows a recent wave of demonetizations on YouTube which targeted the accounts of several independent commentators and journalists.
YouTube's growing restrictions on which channels can monetize and accept donations during live streams via YouTube's native Super Chat feature have meant that for creators, finding alternative services to accept donations is becoming increasingly necessary.
While Christiansen is no longer able to use Streamlabs for donations, he still accepts donations via his website, the membership platform SubscribeStar, and the live stream tipping service TippeeeStream.