Of late, Netflix has been facing several accusations that it has been censoring TV shows and movies listed on its platform, depending on the country they are being aired. The popular Vikings show, for instance, had been censored in a few scenes in India, whereas the same has not been the case with other countries. A recent tweet pointing out this disparity drew attention to this issue.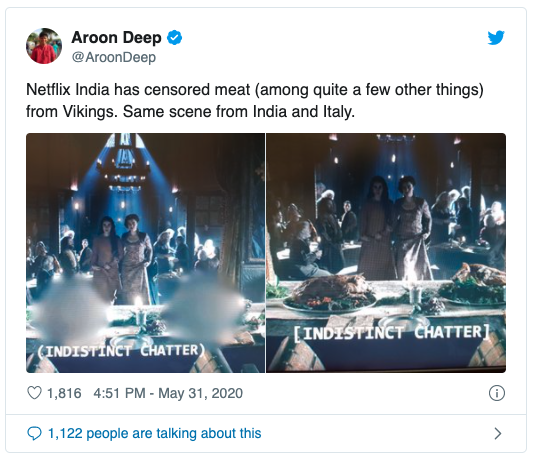 It is worth noting that Vikings, which primarily aired on History TV18, has always censored meat and nudity when the show aired on Indian television. That being said, Netflix seeking such a censored copy for the streaming service, instead of putting up an uncensored international one, is getting pushback.
Considering that several TV series and movies with violent and nude content are already available to Indian audiences on the platform, censoring scenes which contain pig meat, for instance, doesn't seem logically sound. Based on what Twitter users from India say, it was found that such deletions and censorship was observed since the beginning of this year.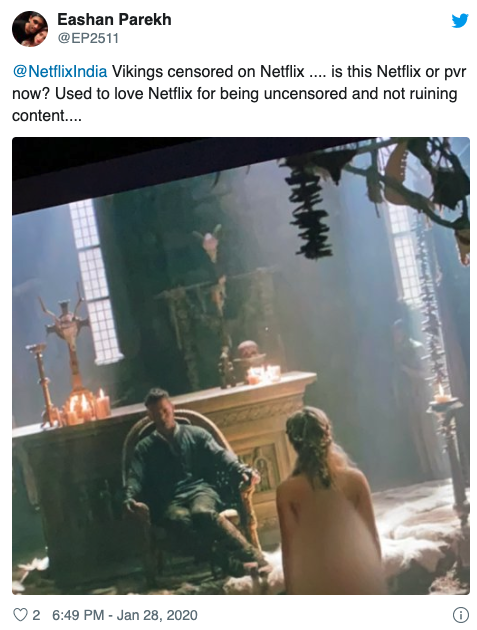 Ironically, Netflix did not censor images containing pig meat in UAE, a nation dominated by Muslims who are against the consumption of pork.
Furthermore, several Indian Netflix users commented on Twitter saying that they would revoke their Netflix subscriptions if the streaming platform would continue censoring shows for India.
As to why the censorship was enforced in the first place, here's what Netflix had to say, in a reply to the said photojournalist's viral tweet: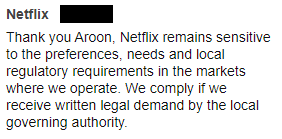 It is, however, not the first time that Netflix has censored a show. The streaming platform has previously censored an episode about the Jammu and Kashmir issue from comedian Hasan Minhaj's show.