The New York University School of Law (NYU Law) thought it had a problem when one of its academic and educational videos posted on YouTube (in two versions), exploring the nature and the finer details of US copyright law got flagged – for copyright infringement.
But then, this leading educational institution had an even greater hurdle to overcome: to try and explain how, and why that turn of events was even possible; what it means when it comes to fair use rule interpretations and applications; and how – and if – anyone can really fight false copyright notices these days.
The report posted on the NYU Law website's Engleberg Center now looks at two points. "How fair use still suffers online," and "what it takes to pushback when a video is flagged."
The fatal mistake the NYU Law made as far as the longevity of their videos on YouTube is concerned was including short clips of two songs, as part of content recorded during a law school conference debate.
These audio clips were there only to illustrate how fair use may be established in court according to the "substantial similarity" requirement – that thing, that is, which, when present, makes the difference between legal and illegal use of a copyrighted piece of music, or any other content.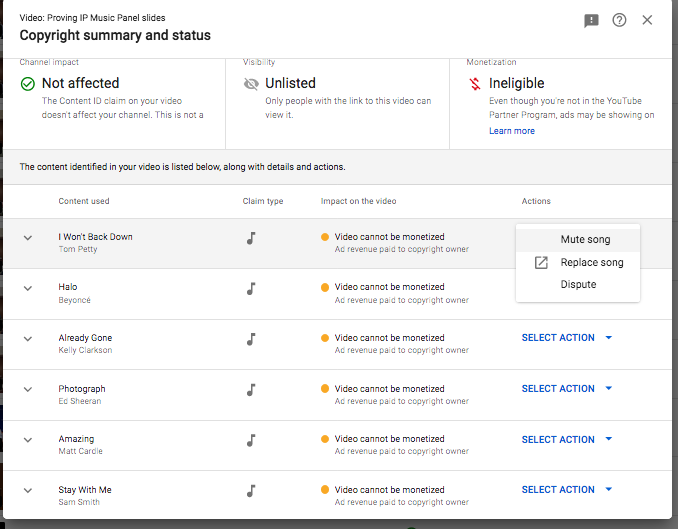 But the music industry reared its head on YouTube pretty quick and, using YouTube's Content ID system, struck the videos down with takedown notices. The short audio files used in it – merely to show how copyright infringement works – infringed copyright, the industry ruled.
Given the context in which the audio was used, "we were confident that our use of the songs were covered by fair use, and disputed the claims using YouTube's internal system," NYU Law writes.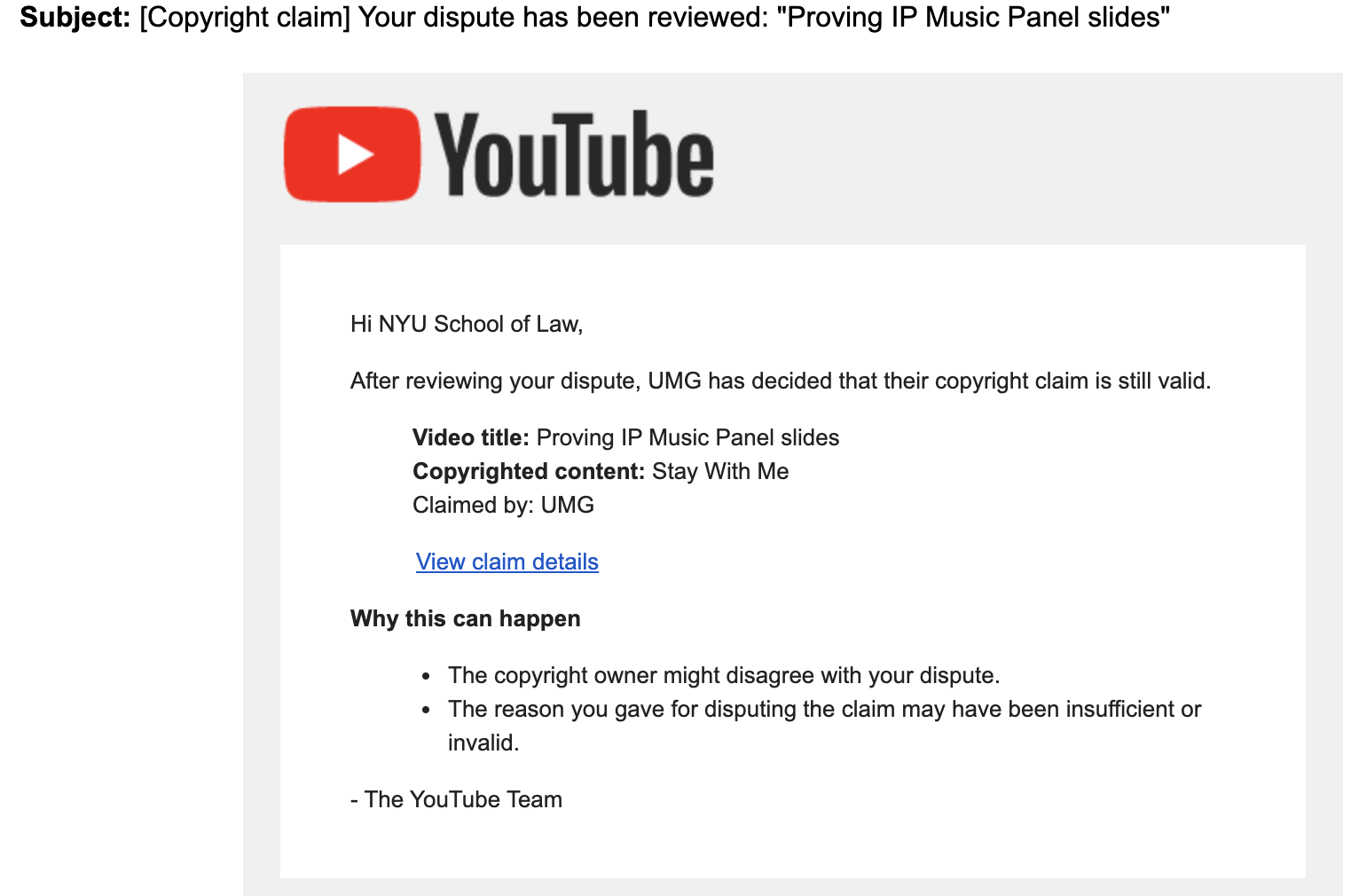 Welcome to YouTube, NYU Law – and indeed, welcome to the internet. The copyright holder ignored the school's counternotice arguments. And then, while considering how to proceed, the school discovered YouTube's three-strike rule.
"One misstep could wipe NYU Law's entire YouTube presence off the internet," they write, adding:
"We reached out to YouTube through private channels to try to get clarity around the copyright strike rules. While we never got that clarity, some weeks later we were informed that the claims against our video had been removed."
In other words, YouTube didn't even dignify NYU Law with an answer. The problem just got "solved." Not even "private channels" and the high public – and even industry – profile of the channel and the institution could elicit a semblance of transparency and human reaction from YouTube.
(Take note, "ordinary" YouTube creators.)
NYU Law admits as much – their experience is described as highlighting "how challenging it can be for users with strong counter-arguments to dispute an allegation of infringement by large rightsholders."
Then there's the issue of "imperfect" automated content filters that do away with human review only to end up making unchallengeable errors.