The official Call of Duty YouTube channel has scrubbed the original two-minute teaser trailer for Call of Duty: Black Ops Cold War from public view by setting it to private.
The move came after the trailer, which features one second of Tiananmen Square footage, was censored in China and replaced with a shorter one minute version that removed the brief footage of the 1989 Tiananmen Square protests.
Thousands of pro-democracy protesters were massacred during the Tiananmen Square protests after China's People's Liberation Army opened fire on them. Discussion of the incident has since been heavily censored by the Chinese government which acts as if it never happened.
Ironically, both the original and censored trailers contain the slogan, "Know Your History or Be Doomed to Repeat It," and the censored trailer which purges this historical moment is even titled, "Know Your History." Yet, it's history that Activision is deleting.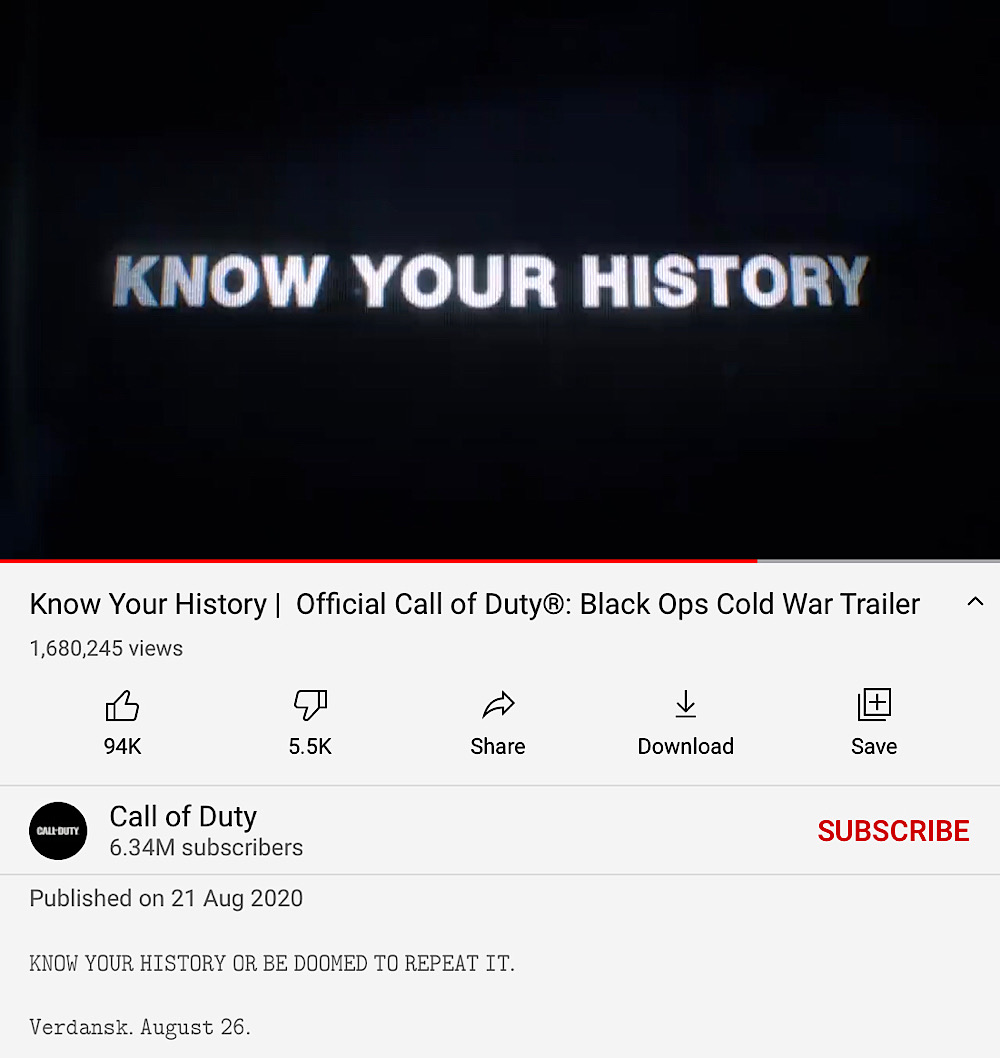 The original two-minute trailer for Call of Duty: Black Ops Cold War with Tiananmen Square footage visible around 1:05 is still being hosted on YouTube by other channels.
However, the official Call of Duty YouTube channel has hidden this trailer and the only version that's publicly visible is the short one minute version with no Tiananmen Square footage.
The censorship of the Call of Duty: Black Ops Cold War teaser trailer in China was the latest of many examples of the Chinese Communist Party (CCP) attempting to purge all references to the Tiananmen Square massacre from the internet in mainland China.
However, the subsequent censorship of the trailer worldwide on the official Call of Duty YouTube channel is reflective of a more recent trend where the censorship rules China applies to its domestic internet are being exported to internet users globally.
The Chinese social media apps WeChat and TikTok have been used to censor US citizens when they discuss or post about other topics that the CCP doesn't approve of such as the Hong Kong protests.
And some US-based users have even being sanctioned when they discuss Tiananmen Square on US tech platforms.
In June, Zoom temporarily closed the account of a group of US-based Chinese activists after they held a Zoom event to commemorate the 31st anniversary of the Tiananmen Square massacre. Last year, Reddit also censored a photo of Tiananmen Square before eventually restoring it after facing massive backlash from users.
Tiananmen Square isn't the only topic that's frowned upon by the CCP and has been censored by US tech companies.
Google has been caught auto-censoring phrases that criticize the CCP on YouTube and censoring phrases about Falun Gong, a practice persecuted by the CCP, in its Google Voice Typing service.