Video sharing platform Rumble has offered the world's biggest podcaster Joe Rogan $100 million over four years to bring all of his old and new episodes of The Joe Rogan Experience (JRE) podcast to the platform and promised that there will be "no censorship" of his content.
"We stand with you, your guests, and your legion of fans in desire for a real conversation," Rumble CEO Chris Pavlovski said. "How about you bring all your shows to Rumble, both old and new, with no censorship, for 100 million bucks over four years? This is our chance to save the world. And yes, this is totally legit."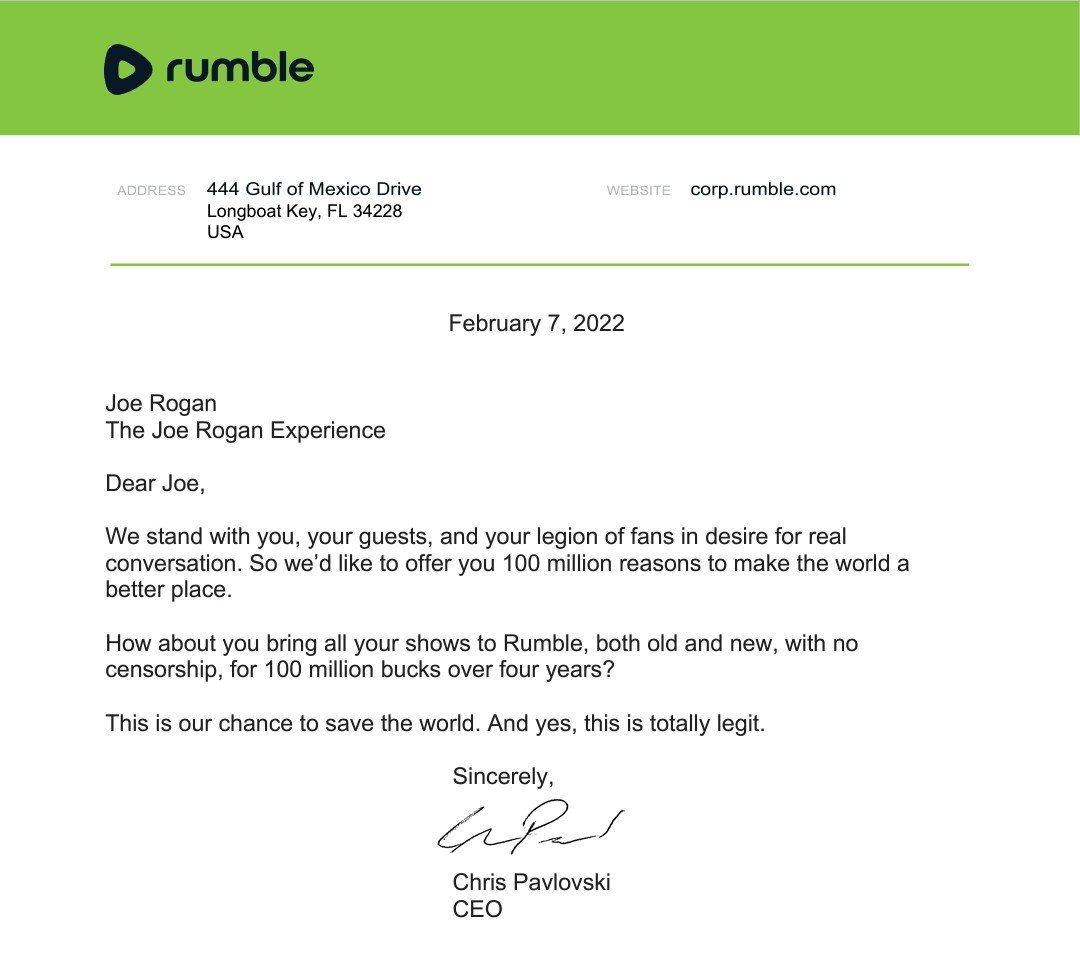 The offer follows Rogan facing multiple cancel campaigns over the last few weeks. These campaigns began with a letter from 300 purported doctors (it was later revealed that only a third of those who signed the letter were doctors) who demanded that Spotify censor Rogan and claimed that his podcasts contain "misinformation." This misinformation talking point was amplified by singer-songwriter Neil Young, singer-songwriter Joni Mitchell, the US Surgeon General, and others.
Spotify initially refused to censor Rogan, but days later it made a concession and started adding "content advisory" labels to podcasts that discuss COVID-19, despite the outrage doing little to affect its user numbers.
Following this concession, The White House praised Spotify's labels but insisted that "there's more that can be done."
A new campaign calling for Spotify to cancel Rogan over old clips from his podcasts also began. Rogan subsequently removed 113 episodes of his podcast from Spotify and apologized.
Rogan currently has a multi-year licensing deal with Spotify which is reportedly worth $100 million. It began in September 2020 and places all of his JRE podcasts behind Spotify's walled garden.
When the deal was announced, Rogan said: "It's just a licensing deal, so Spotify won't have any creative control over the show. They want me to just continue doing it the way I'm doing it right now."
However, when Spotify was quizzed on Rogan's "controversial guests and subject matter" after announcing the deal, it said: "All shows on Spotify are subject to our content policies."
Spotify employees reportedly called for Rogan's censorship within the first month of the licensing deal. Rogan later admitted to Spotify censorship and more than 40 of his episodes were censored before the recent cancel campaigns.
Despite the persistent complaints from Spotify employees and censorship of his content, Rogan's podcast remained number one.
As Rogan has faced increased censorship on Spotify, Rumble has embraced viewpoint diversity and promised to foster "dialog debate and opinion."
When brands have attempted to cancel creators on its platform, Rumble has stuck by its creators and ditched the brands. For example, when an ad network tried to censor conservative commentator Dan Bongino, one of the most popular creators on Rumble, Rumble ditched the ad network and put out a statement supporting Bongino and open debate.
Rumble has been growing rapidly and recently announced record monthly watch time and uploads and significant user growth. In addition to growing its usage stats, Rumble is consistently bringing popular creators to the platform.