After having its YouTube channel blocked for a week and facing a government investigation, Sky News Australia has been pressured into deleting videos on YouTube and its website that include what mainstream outlets say is COVID-19 misinformation.
Former Australian Prime Minister Kevin Rudd shared screencaps of recordings that had been removed from the Sky News Australia website and replaced with a "page not found" message on Sunday.
Rudd tweeted, "Murdoch is quietly scrubbing incriminating Covid-19 misinformation videos from websites ahead of a grilling by the Senate on Friday. Dozens of videos have vanished with no correction or apology for spreading dangerous lies."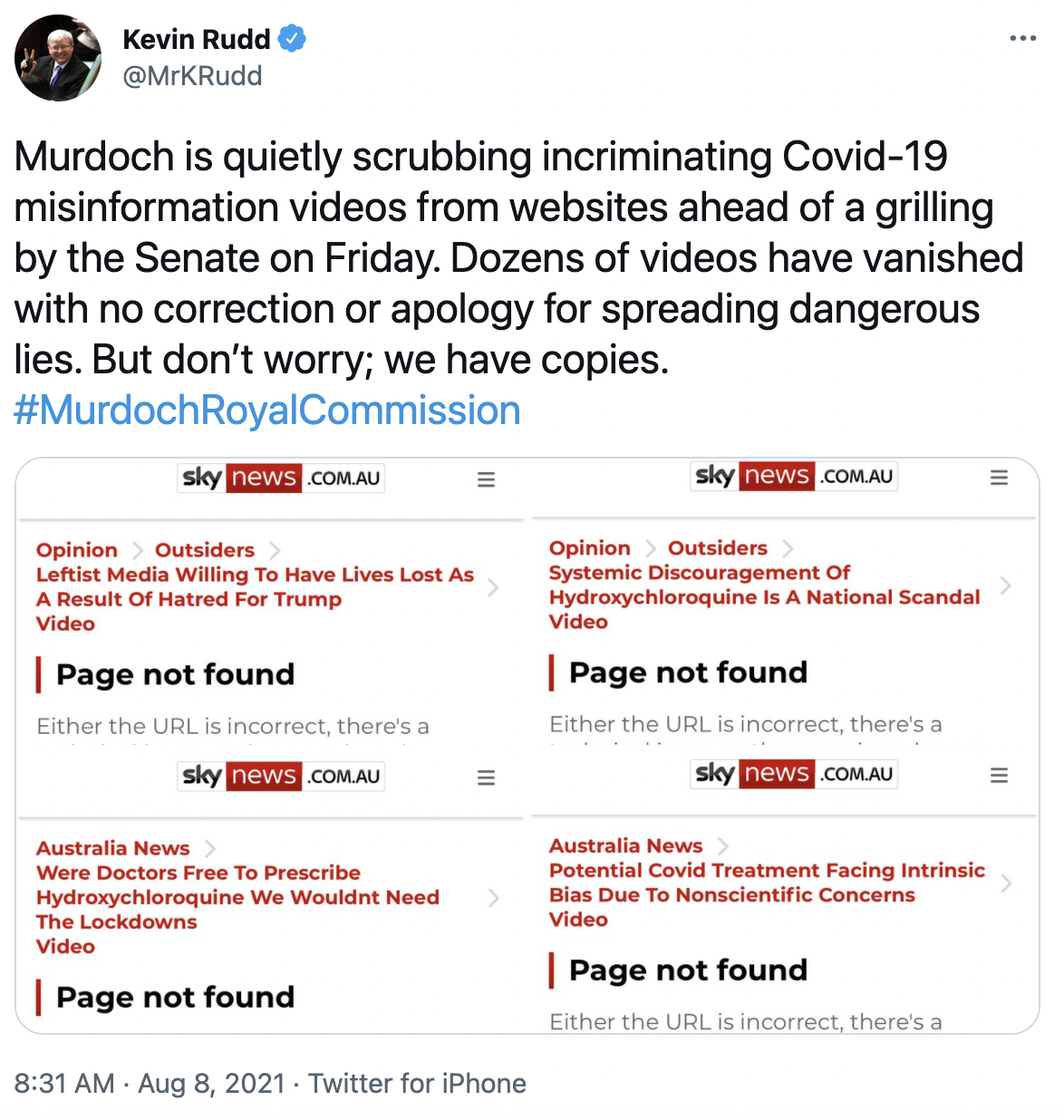 Guardian Australia and other local outlets reported the titles of the taken down videos were coincidental with those removed from the news network's YouTube channel after the news network received a one-week suspension for violating the platform's rules about COVID-19 misinformation.
"Systemic discouragement of Hydroxychloroquine is a 'national scandal," according to one video, and "Leftist media 'willing to have lives lost as a result of hatred for Trump," according to another, in which the "Outsiders" hosts claimed that Trump critics were endangering the public by opposing hydroxychloroquine.
A video of Andrew Bolt discussing with Australian gastroenterologist Prof Thomas Borody on the use of ivermectin in the treatment of Covid was also removed.
In addition to Sky News Australia, YouTube, Google, and the Australian Communications and Media Authority(ACMA) are being summoned to the government inquiry that takes place this Friday, to answer questions regarding the deleted videos and the channel suspension, as well as why ACMA has left it to Silicon Valley companies to take action against content that goes against the main COVID-19 narrative.