After picking and choosing which channels are allowed to monetize coronavirus content since early March, YouTube is finally allowing all creators to monetize the topic…with a few big exceptions.
There are three main exceptions and the biggest of these is that videos containing what YouTube deems to be "medical misinformation" won't be eligible for monetization.
YouTube defines medical misinformation as "content that misinforms users about health matters related to COVID-19" and this can include "non-medical tests or exams for COVID-19" and making "false/unsubstantiated claims" about the cause, origin, or spread of the coronavirus that "contradict scientific consensus."
YouTube also encourages users to fact check their work by using "reputable sources from organizations such as the World Health Organization (WHO), Centers for Disease Control (CDC), and National Health Service (NHS)" which suggests that coronavirus videos that challenge the narratives of these health groups are at a high risk for demonetization.
The inclusion of the WHO as a source of truth for claims about the cause, origin, or spread of the coronavirus is somewhat confusing considering that it infamously amplified Chinese propaganda in January which stated there was "no clear evidence of human-to-human transmission of the novel coronavirus)."
Another big exception is "distressing footage" which YouTube defines as "people visible suffering due to COVID-19" although it notes "shots of hospitals or people coughing do not limit monetization, so long as they are fleeting and are to provide context to a story."
This suggests that on the ground reporting about the impact of the coronavirus is also a high risk for demonetization if it includes footage of people who have contracted the coronavirus.
The final exception is "pranks and challenges" related to the coronavirus that promote "medically dangerous activities" and this appears to be part of YouTube's wider crackdown on pranks related to the pandemic.
It's unclear whether these exceptions will apply to the legacy media outlets that YouTube deems to be "authoritative sources" and gives preferential treatment to in its search and recommendation algorithms.
Legacy media outlet CBS News was recently caught using footage from an Italian hospital to describe conditions in New York City which would seemingly be an example of misinforming users about health matters related to the coronavirus.
The footage from the Italian hospital can be seen in this Sky News video published on March 19:
And the same footage can be seen in this CBS News video about the coronavirus in New York published on March 25:
The CBS News video is still on YouTube and appears at the top of search results for "Governor Cuomo ventilators."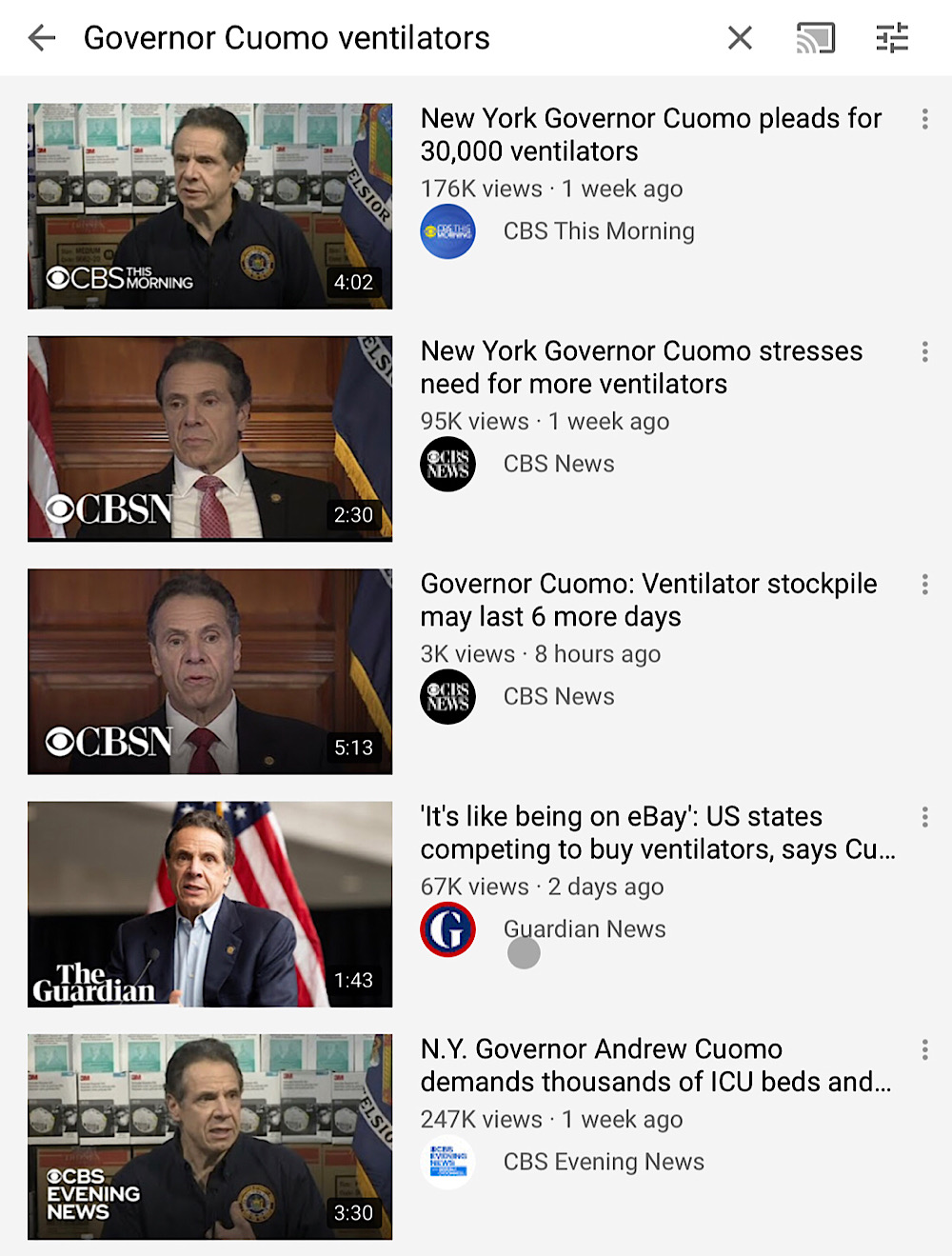 But it's not clear whether the video is monetized.