A recently published email has provided more evidence of President Joe Biden's administration asking tech platforms to censor content that challenges the federal government's Covid messaging.
The email shows the Biden White House's Digital Director for the COVID-19 Response Team, Clarke Humphrey, requesting that Twitter remove a tweet from environmental health lawyer and author Robert F. Kennedy Jr.
"Wanted to flag the below tweet and am wondering if we can get moving on the process for having it removed ASAP," Humphrey wrote to Twitter in the January 2021 email. "And then if we can keep an eye out for tweets that fall in this same ~genre that would be great."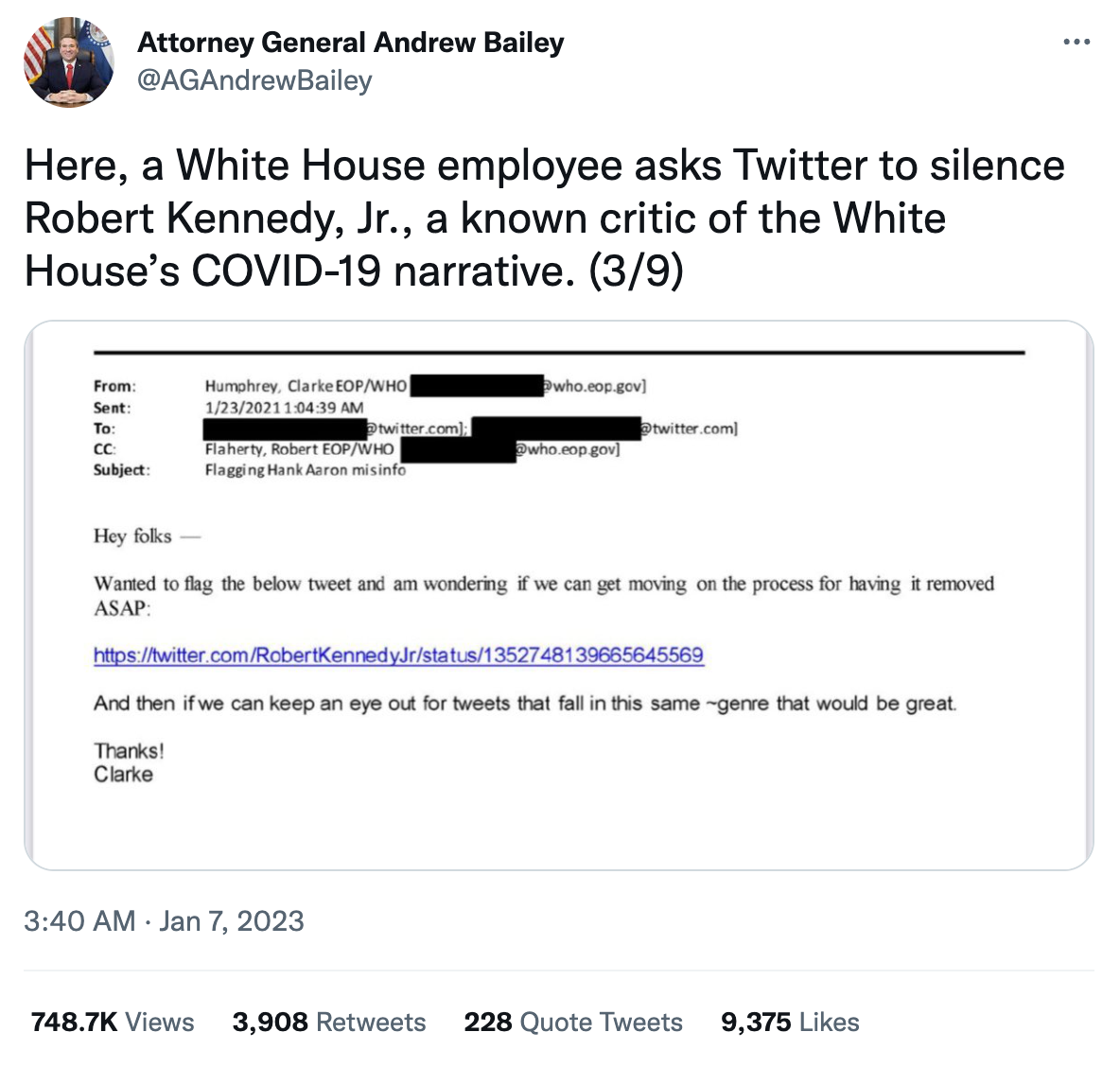 The tweet that Humphrey was eager to have removed linked to an article about the death of former professional baseball player Hank Aaron 18 days after he received his Covid vaccine. Kennedy Jr. tweeted that Aaron's "tragic death is part of a wave of suspicious deaths among elderly closely following administration of #COVID #vaccines."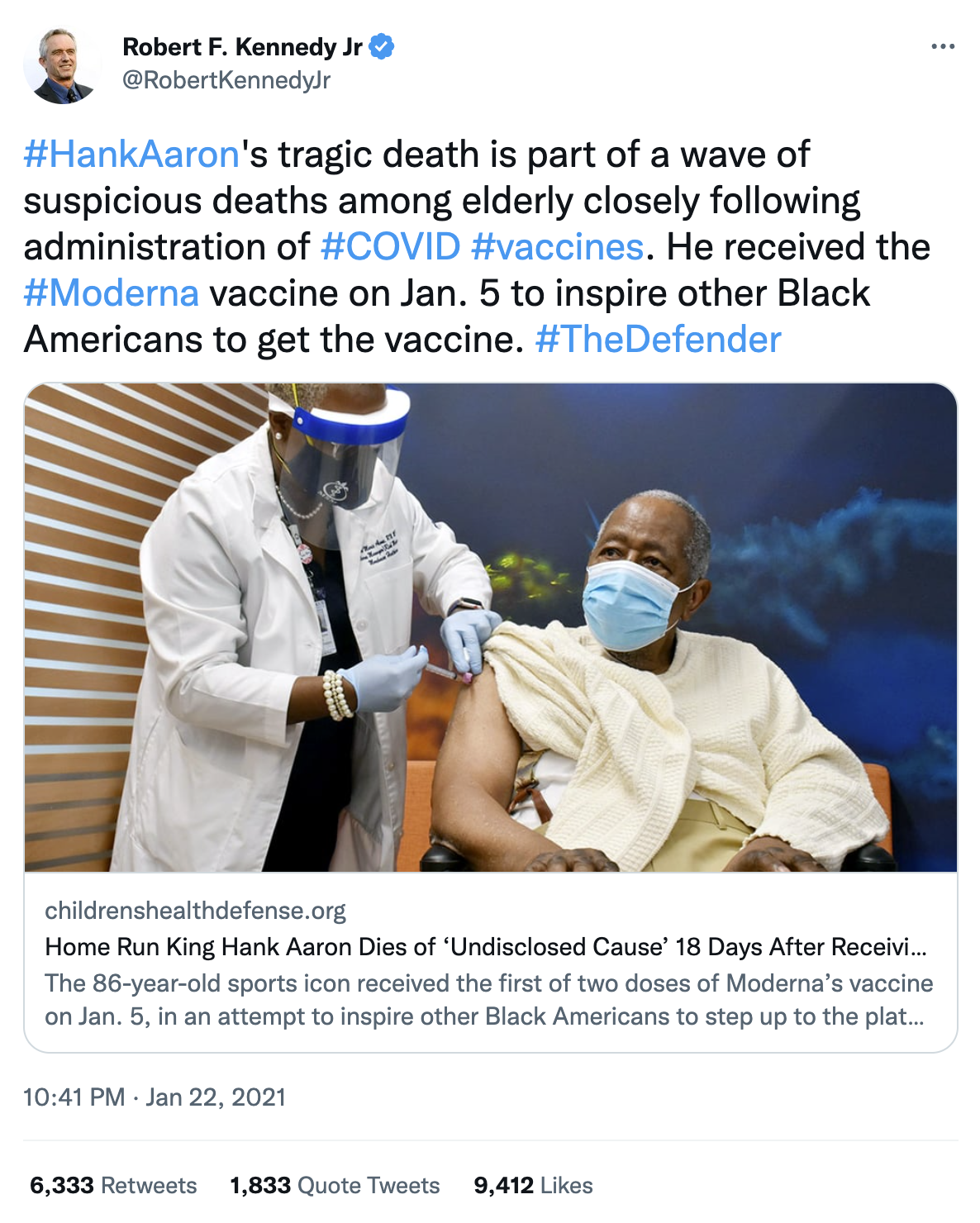 Twitter seemingly rejected the censorship request and the tweet is still available.
The email was published by Missouri Attorney General (AG) Andrew Bailey and is one of many documents that have been released as part of a lawsuit that the Missouri and Louisiana AGs filed against the Biden administration in May. The lawsuit alleges that the Biden admin has illegally violated the First Amendment by colluding with Big Tech on censorship.
Louisiana AG Jeff Landry published another document which he said showed "Facebook telling the White House how they can censor [Robert F. Kennedy Jr].
This document appears to show Facebook describing how it can "utilize a spectrum of levers" against content from the website of the Children's Health Defense fund — a non-profit that was founded by Kennedy Jr. Some of the actions that are mentioned in the document include "reducing the posts' distribution, not suggesting the posts to users, limiting their discoverability in Search, and applying Inform Labels and/or reshare friction to the posts."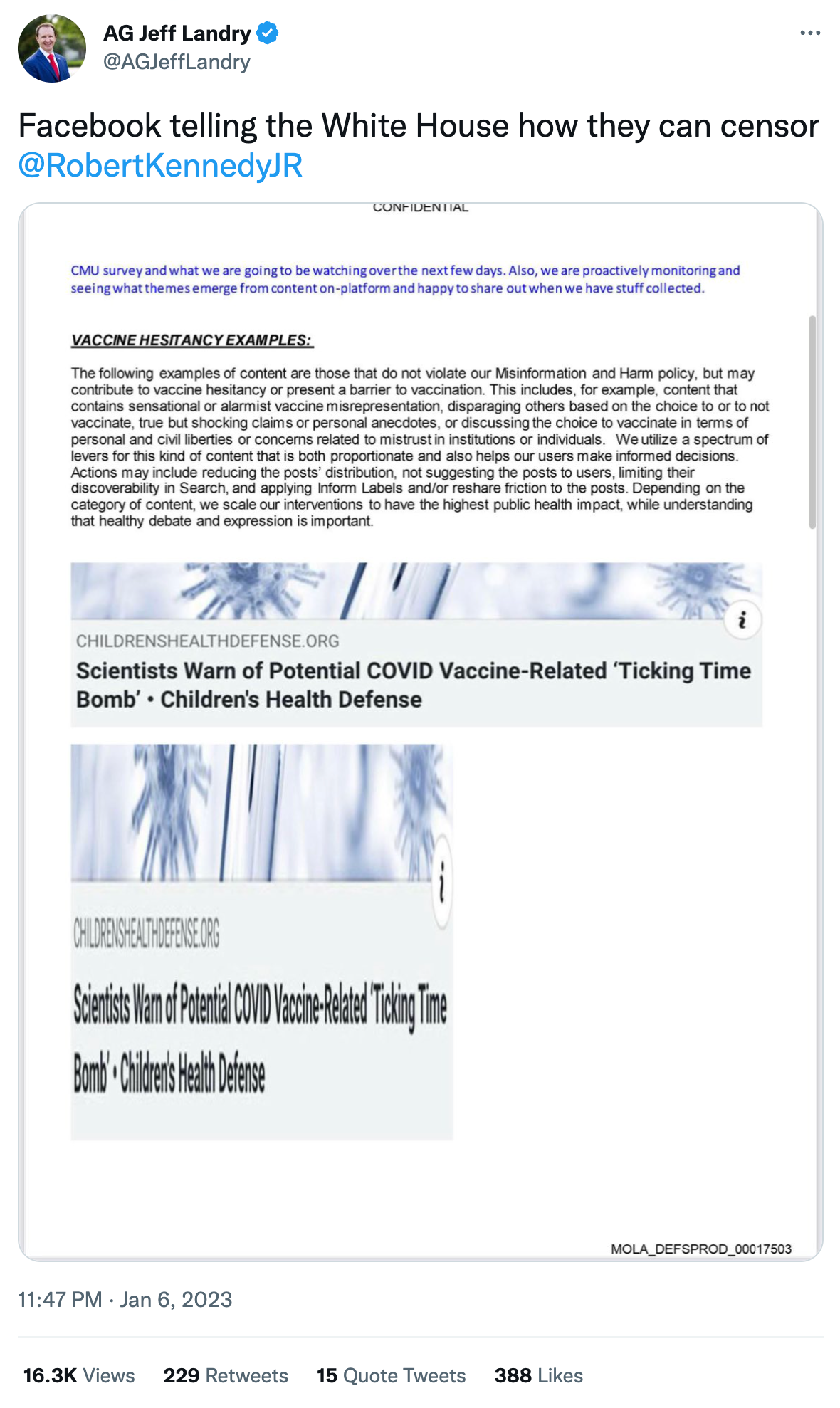 The Biden admin has told tech companies to remove many accounts and posts that criticize or satirize the White House's messaging on Covid vaccines and other Covid measures by claiming that such statements are "misinformation." Some of the accounts and posts that have been targeted by the Biden White House include those of journalist Alex Berenson and parodies of former White House Chief Medical Advisor Anthony Fauci.
"These emails confirm what we've known all along, the Biden Admin has been colluding with social media companies to stifle opposing voices," Bailey tweeted. "I will continue to push back against this blatant attack on the 1st Amendment with every tool at my disposal."
Kennedy Jr. contrasted Biden's approach to that of his uncle, former President John F. Kennedy, by pointing to one of Kennedy's quotes about censorship:
"No official of my administration, whether his rank is high or low, civilian or military, should interpret my words as an excuse to censor the news, to stifle dissent, to cover up our mistakes or to withhold from the press and the public the facts they deserve to know."
Kennedy Jr. also described the Biden admin's censorship demands as an "existential threat to free speech and our Republic."