Bing, a search engine owned by Microsoft, is censoring search results for journalist and author Alex Berenson's "Unreported Truths" website and newsletter that he hosts on the free speech publishing platform Substack.
Reclaim The Net tested multiple Bing queries with the search operator "site:alexberenson.substack.com."
"site:alexberenson.substack.com" is a search operator that is supposed to return search results from Berenson's Unreported Truths Substack which lives on a subdomain. If a website returns no results when the "site:" operator is used, it means that the domain isn't indexed at all by Bing's search engine.
We searched for both general terms related to the name of Berenson's Substack (such as "Alex Berenson" and "Unreported Truths") and more specific terms related to the topics that Berenson writes about on his Substack (such as "Twitter" and "vaccine.")
Bing returned a "There are no results" message for most of the queries and data from governments and health authorities for the "vaccine" query. None of the queries returned any links or references to Berenson's Unreported Truth's Substack. This means that Bing isn't indexing Berenson's Substack at all.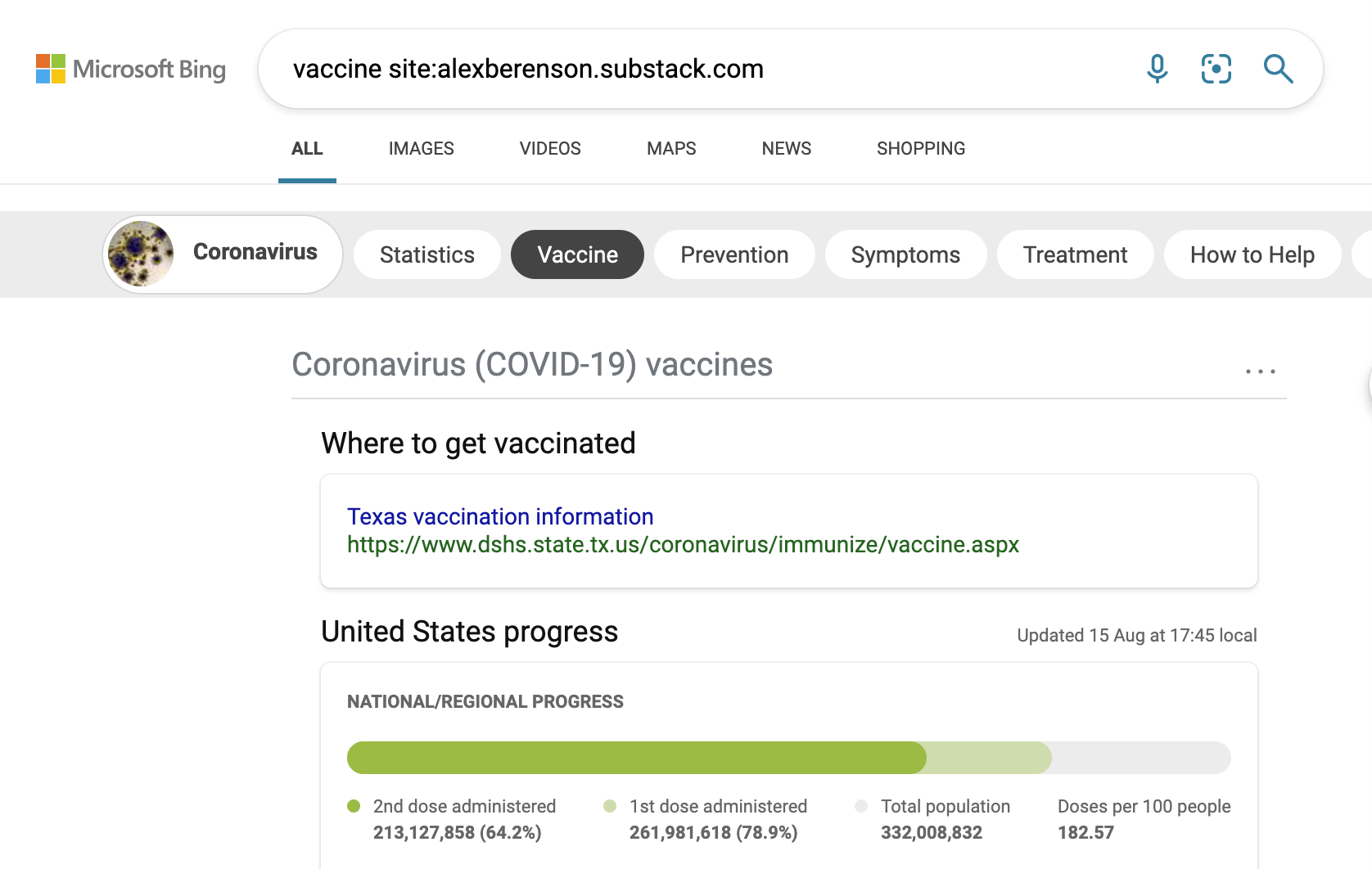 We tested the same queries on the private search engine DuckDuckGo (which uses Bing's search index) and it returned a "No results found" message for each query.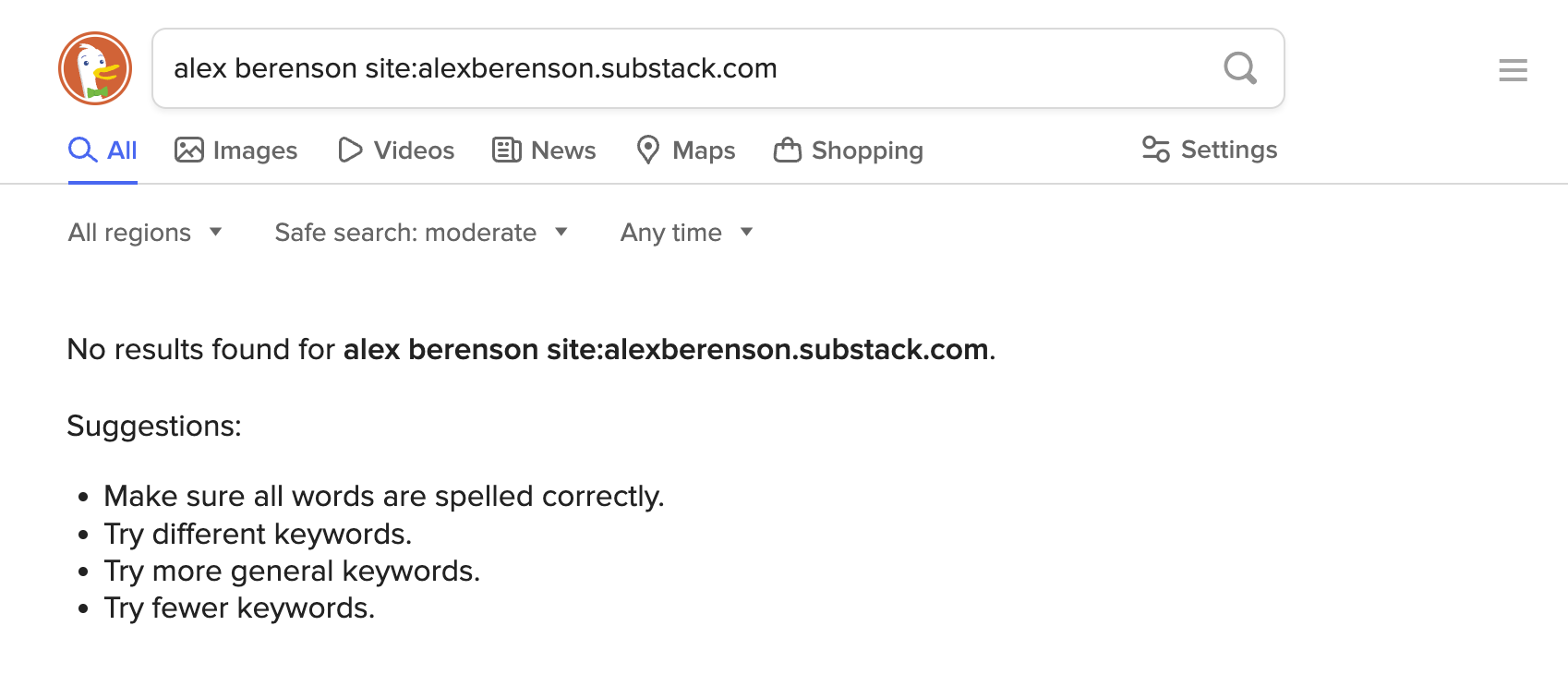 We also tested the same queries on the private search engines Mojeek, Startpage, and Presearch and they all displayed a result from Berenson's Unreported Truth's Substack as the top result.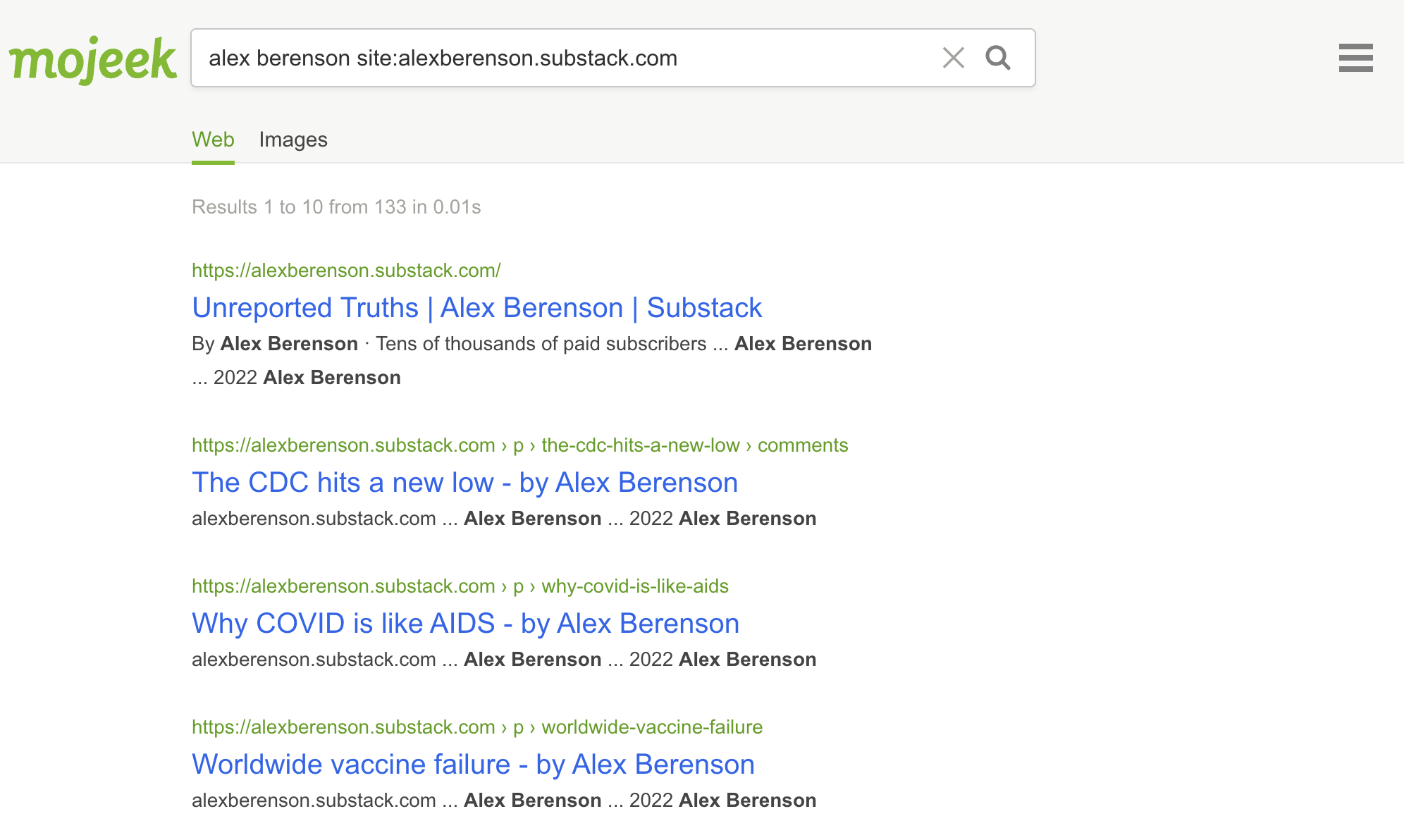 Related: Private search engines
When testing without the "site:" parameter, Substack's own website has a profile of Berenson that appears as the top result but, as Berenson's content on the subdomain alexberenson.substack.com is not indexed, his own articles will never appear in the search results.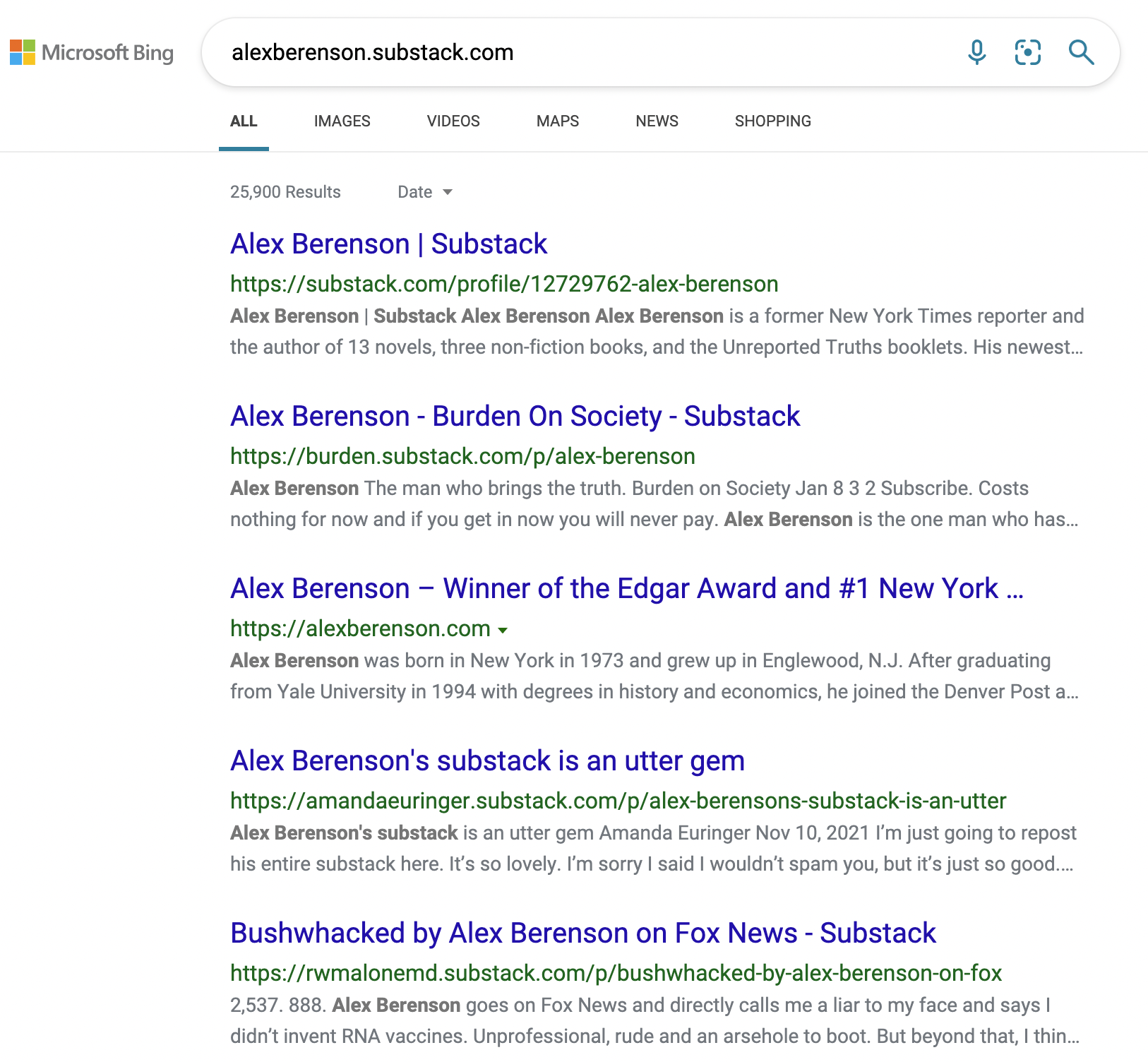 Private search engine Mojeek told Reclaim The Net that "discovering legal digital content from writers with important evidence and non-consensus views is vital."
Mojeek added: "This emphasizes the value of the independent, anti-censorship search engine Mojeek. Free speech matters but so too does the freedom to seek."
Bing has previously censored Chinese political names and the image results for "tank man" on the anniversary of the Tiananmen Square massacre. Microsoft's professional networking service LinkedIn has also censored users, links, and interviews.
Newly released internal messages between Twitter staff show them discussing an April 2021 meeting with the White House where the Biden administration reportedly pushed for Berenson to be booted from the platform before Twitter banned him.
Berenson was banned from Twitter for violating its "COVID-19 misinformation" rules four months later in August 2021. Berenson responded by suing Twitter in December 2021, with the lawsuit accusing the tech giant of acting "on behalf of the federal government in censoring and barring him from access to its platform." Berenson's account was subsequently reinstated in July 2022 after both parties settled the censorship lawsuit.