The government in Cuba has switched off internet access in an attempt to quash protests mounting in the country.
Thousands took to the streets in several cities in Cuba in protest of the authoritarian communist government. The pandemic has worsened the already-difficult situation in Cuba, with the protesters calling for more vaccines and food.
On Sunday, thousands of Cubans took to the streets in several cities in the country including Havana and Santiago de Cuba, and even smaller towns such as Guira de Melena and Palma Soriano. The protesters were demanding an end to the communist dictatorship while chanting "freedom" and calling for President Miguel Diaz-Canel to resign.
Facebook videos of the protests showed angry crowds walking, cycling, and riding motorbikes, and others even overturning police vehicles, while chanting calls for the end of the communist dictatorship such as "Down with Communism," "Freedom," and "Patria y Vida" (Homeland and Life). In Santiago de Cuba, local police joined the protests.
Cutting off the internet, as well as mandated social media censorship, has become a go-to technique of authoritarian regimes and is becoming increasingly common.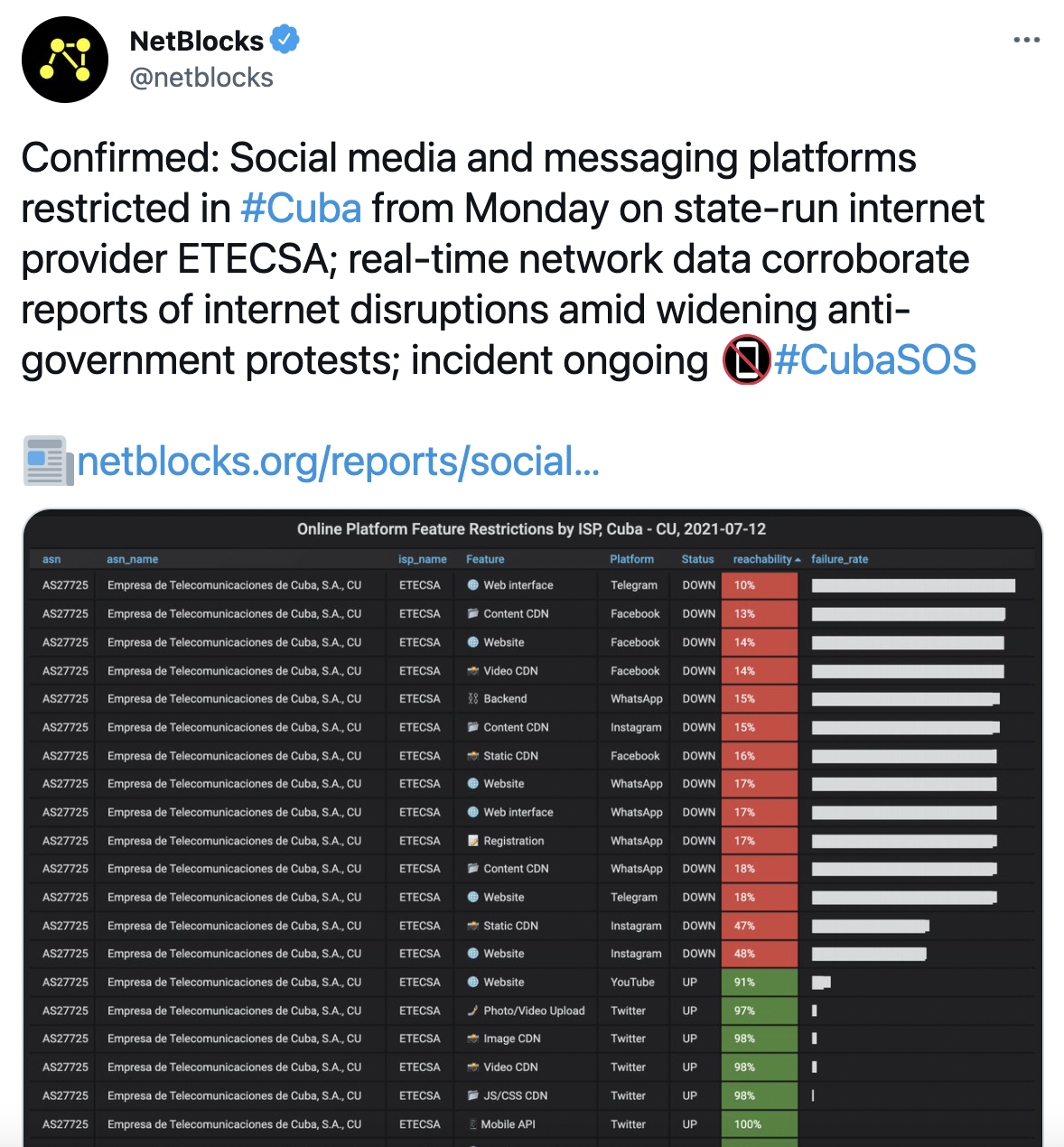 In countries such as Nigeria, internet shutdowns have been used to quash protests, with varying success.
Following the coup in Myanmar this year, the military also cut off the internet, reducing the effectiveness of public dissent.
Cuba is experiencing its worst ever economic contraction since the '90s, caused by a government whose policies have slowly paralyzed the country's production, especially the agriculture sector.
US leaders took to social media to show their support for the protests.
Republican Rep. María Elvira Salazar wrote on Twitter: "We've never seen anything like this before. The Cuban People are determined to be free." She added that the Cuban government was "shutting off the internet" in an attempt to prevent the rest of the world from seeing what was happening on the island.
Rep. Mario Diaz-Balart, in a statement, called on the US and the international community to support Cubans in their struggle for freedom from the repressive regime.
"Now more than ever, the United States and the international community must support the Cuban people in their struggle for freedom. The humanitarian crisis Cuba faces right now is yet another symptom of the incompetence and absolute cruelty of the Cuban tyranny," he said. "We know what freedom means for the Cuban people, and now, while the regime uses savage violence against the people peacefully demonstrating in the streets, the world has the obligation to stand with the brave Cuban people."
Cuban-American GOP Sen. Marco Rubio said: "Frustration with the dictatorship's incompetence, greed, and repression is mounting rapidly." In another tweet, he shared a video of "Communist repression squads" and went on to accuse the US corporate media of largely ignoring the situation in Cuba.
Cuba's President Miguel Diaz-Canel, addressing the protests, insisted that the government would not cave to the demonstrations.
"We are not going to hand over the sovereignty or the independence of the people," said the Cuban president in an address to the nation. "There are many revolutionaries in this country who are willing to give our lives, we are willing to do anything, and we will be in the streets fighting."
He also blamed the US for the demonstrations, adding that, "Cuba and its streets belong to the revolutionaries."