A trove of Department of Homeland Security (DHS) documents and communications, which were obtained via leaks, Freedom of Information (FOIA) requests, public reports, and the ongoing Biden-Big Tech censorship collusion lawsuit, have shed new light on the DHS's ongoing efforts to police online "disinformation."
The documents, which were obtained by The Intercept, reveal the existence of a Facebook portal that the DHS and other government agencies can use to flag content to the tech giant, show evidence of the DHS flagging content to Twitter, document bi-weekly "election-related disinformation" meetings between tech giants and the DHS, and more.
One document shows that Facebook has created a special "Content Request System" for the DHS and other government agencies. According to The Intercept, government officials can use this portal to directly flag Facebook and Instagram content and request that it be throttled or suppressed. The login page for this Content Request System was still live at the time of writing.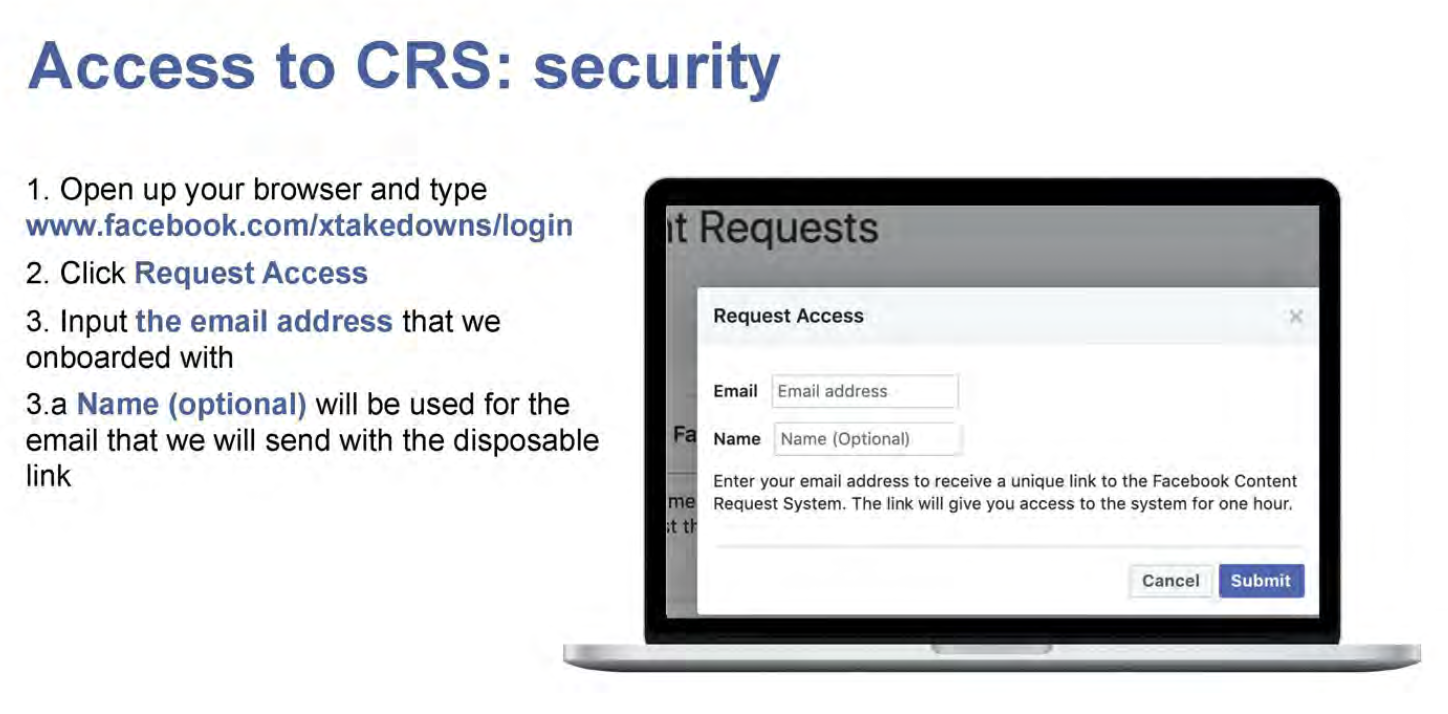 You can see a copy of the "Facebook Content Request System — Government Reporting System" document here.
An October 2020 email thread between DHS officials, Twitter, and the Center for Internet Security (CIS) shows that government officials were flagging content to Twitter in the run-up to the 2020 US presidential elections.
The government officials claimed that the accounts are "impersonating the Colorado state government" and that their Twitter bio URLs are taking users to the official Colorado.gov website "after passing through several other systems that could be [used to] harvest data or be more nefarious." The government officials also expressed concern about the accounts because of recent warnings from the Federal Bureau of Investigation (FBI) and Cybersecurity and Infrastructure Security Agency (CISA) about "impersonation accounts spreading false information about the election."
Screenshots of the accounts that were included in the emails show two of the flagged accounts stating that they're "parody" accounts in their bio and the third parody account saying it's the "official (unofficial) Twitter account of the State of Colorado" in its bio. The screenshots also show that the three flagged accounts collectively had just 139 total followers.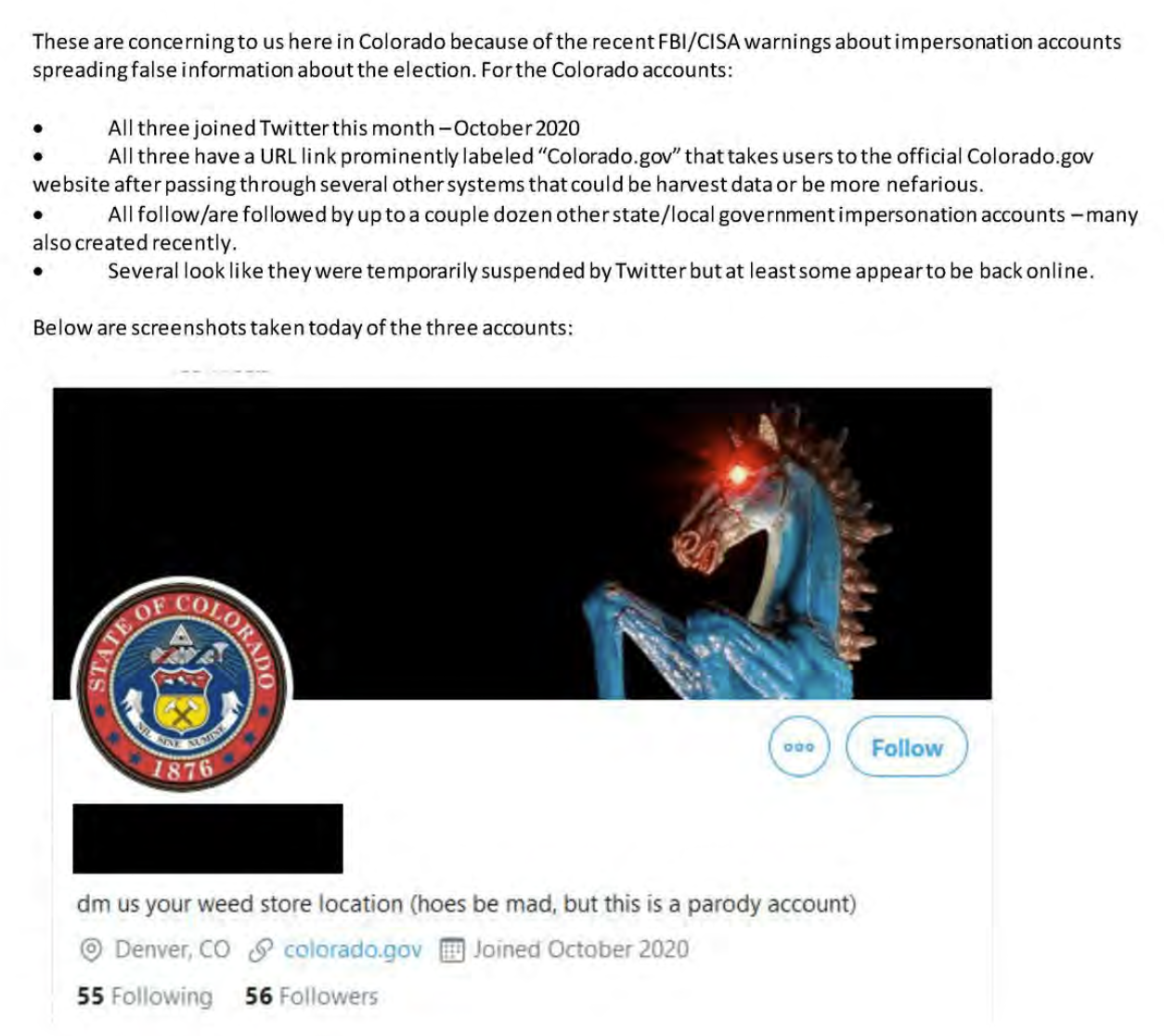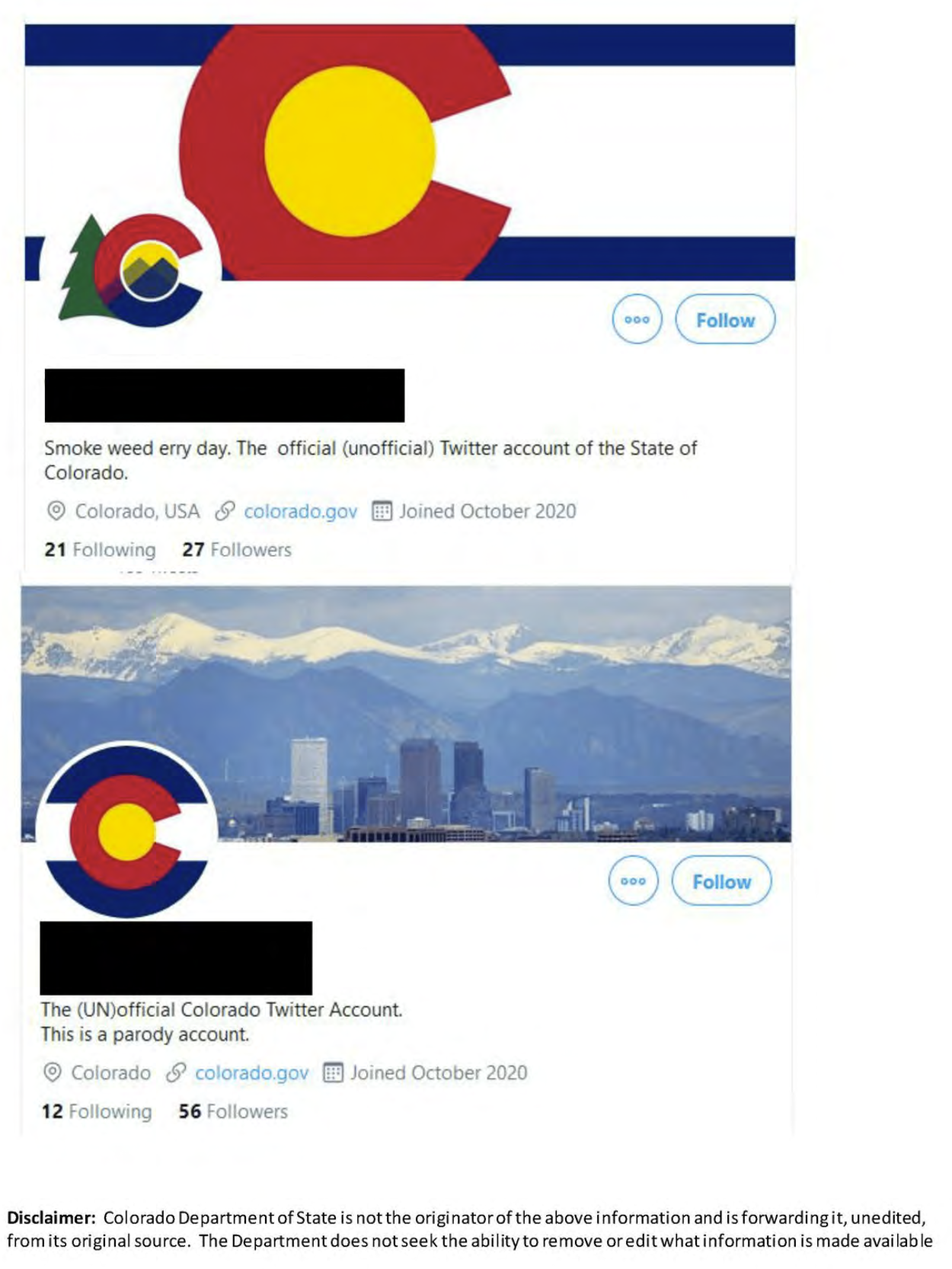 The accounts were flagged to Twitter on October 27, 2020 and in an October 29, 2020 email, a Twitter employee confirms: "We will escalate."
Each email in the chain contains the disclaimer that CISA "neither has nor seeks the ability to remove or edit what information is made available on social media platforms."
You can see a copy of this October 2020 email thread here.
Another email thread, which contains emails between DHS officials, Twitter, and the Center for Internet Security (CIS) that were sent in May and June 2020, discusses the tech platforms being called upon to "process reports and provide timely responses, to include the removal of reported misinformation from the platform where possible."
You can see a copy of this May and June 2020 email thread here.
A Twitter spokesperson told The Intercept: "We do not coordinate with other entities when making content moderation decisions, and we independently evaluate content in line with the Twitter Rules."
An August 2022 inspector general report titled "DHS Needs a Unified Strategy to Counter Disinformation Campaigns," states that CISA and the Office of Intelligence and Analysis (I&A) joined "weekly teleconferences to coordinate Intelligence Community activities to counter election-related disinformation" and that these teleconferences "continued to occur every 2 weeks after the 2020 elections."
We obtained a copy of this August 2022 inspector general report for you here.
Another notable revelation from The Intercept's reporting is that Vijaya Gadde, who was Twitter's Legal, Policy and Trust & Safety Lead until October 27, 2022, was appointed to a DHS advisory committee of CISA in December 2021. Gadde reportedly played a key role in banning former President Donald Trump from Twitter and censoring the New York Post's Hunter Biden laptop story.
A June 2022 report that was drafted by this DHS advisory committee of CISA called for the agency to expand its role in shaping the "information ecosystem" and monitor "social media platforms of all sizes, mainstream media, cable news, hyper partisan media, talk radio and other online resources." The report also suggested the agency should take steps to stop the "spread of false and misleading information."
You can see a copy of this June 2022 DHS advisory committee of CISA report here.
The Intercept also said it obtained a draft copy of the DHS's "Quadrennial Homeland Security Review" which outlines the DHS's plans to target "inaccurate information" on "the origins of the COVID-19 pandemic and the efficacy of COVID-19 vaccines, racial justice, U.S. withdrawal from Afghanistan, and the nature of U.S. support to Ukraine" in the coming years.
While most of The Intercept's reporting focuses on the DHS's flagging and censoring of so-called disinformation, it also describes how other government agencies, including Immigrations and Customs Enforcement (ICE) and the Secret Service (USSS), have expanded their scope to include disinformation.
In addition to providing documents, The Intercept also interviewed several FBI officials who spoke on the condition of anonymity. One of these officials said that during the 2020 George Floyd protests, he was reassigned from his normal job of countering foreign intelligence services to surveilling American social media accounts. Another official reportedly criticized the drift towards warrantless monitoring of Americans during the 2020 George Floyd riots and said: "Man, I don't even know what's legal anymore."
Free speech advocates have blasted the DHS and other government officials' attempts to pressure social media companies to censor content.
Former President of the American Civil Liberties Union (ACLU), Nadine Strossen said: "If a foreign authoritarian government sent these messages, there is no doubt we would call it censorship."
Adam Candeub, a professor of law at Michigan State University, said: "I would consider such actions, especially when it's bureaucratized, as essentially state action and government collusion with the platforms."
The publication of these documents and interview details is the latest of many examples of DHS initiatives to flag and censor content that it deems to be disinformation.
Earlier this year, the DHS introduced a controversial "Disinformation Governance Board." After being subject to legal threats, this board was paused in May and shut down in August.
But even after the shutdown, the DHS pushed for a continuance of its disinformation work and handed out millions of dollars worth of grants to combat misinformation, disinformation, and "conspiracy theories." DHS Secretary Alejandro Mayorkas even went as far as branding "radicalized" Americans who believe "false narratives" online as the new terror threat.