Payments company Discover has blocked its customers from donating to the Christian crowdfunding site GiveSendGo which is hosting a fundraising campaign for Kyle Rittenhouse's legal defense fund.
In an update on the campaign page, GiveSendGo wrote that "Discover is planning to cut off the ability of its cardholders to make payments to this fundraiser."
GiveSendGo added that other credit card companies are likely to follow "unless a strong message is sent to all of these globalist-controlled corporations that we are not willing to sit by while they erase our Freedom of Speech through their un-American accounting practices."
The crowdfunding platform also wrote that it "will likely be figuring out alternative ways to donate soon."
Additionally, GiveSendGo shared two images appearing to show an internal Discover email and a Direct Message (DM) from Discover explaining the decision to block donations to GiveSendGo.
The email states:
"Today Discover plans to terminate acceptance for a crowdsourcing merchant that is allowing fundraising for legal fees intended for the teenager who shot and killed two people in Kenosha last week.

The termination will occur without a proactive public announcement."
It also notes the possibility of "pushback from external sources," that "we are choosing not to reply on Social Media," and includes a recommended response for "Messaging Only."

The DM states: "The decision was based on the websites violations of our terms. We reserve the right to deny business with any merchant."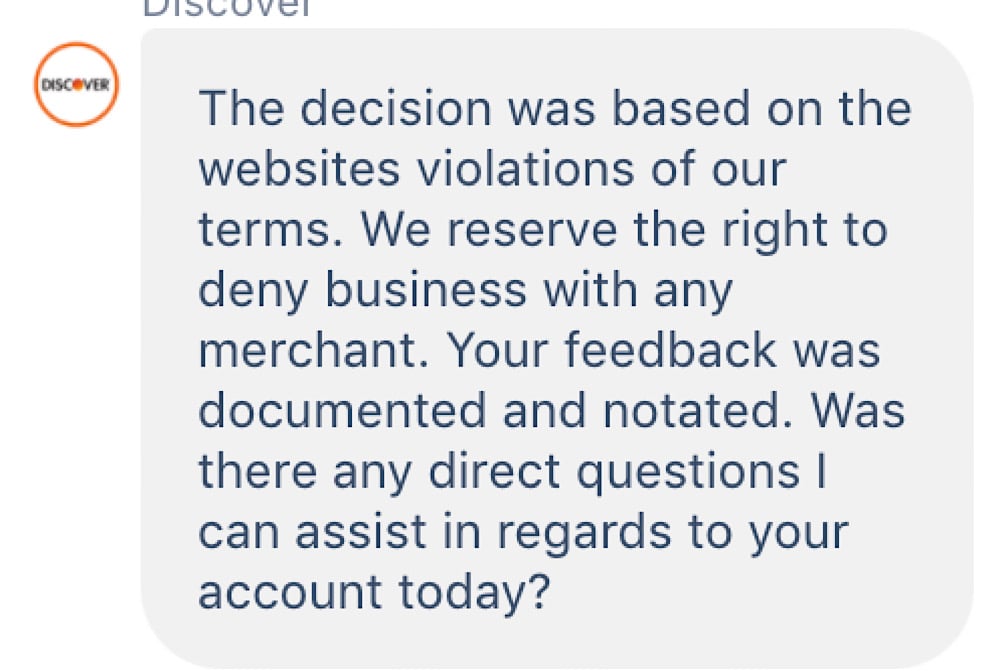 Discover confirmed the termination in an email to Forbes and wrote that it "terminated that merchant for operating regulation violations."
The GiveSendGo campaign has raised over $397,000 and states that all the donations will go towards paying for Rittenhouse's legal defense against murder charges that were brought after he shot men who were pursuing him during a riot in Kenosha, Wisconsin.
Rittenhouse's defense team argues that his actions were "100% self-defense."
John Pierce, the lead defense lawyer for Rittenhouse, responded to the news of Discover blocking donations to GiveSendGo by tweeting: "This is not going to end well for Discover, I can promise you that. We're gonna need more lawyers."
Discover's blocking of GiveSendGo is the latest development in what has become one of the biggest modern-day digital deplatformings with multiple large corporations censoring Rittenhouse, purging his supporters, and restricting his legal defense fundraising efforts.
Facebook has branded the Kenosha shooting "mass murder," removed Rittenhouse's Facebook and Instagram profiles, blocked search results for his name, banned statements of support for Rittenhouse, and blocked links to his GiveSendGo fundraising campaign.
Facebook also threatened to ban conservative author and media analyst Mark Dice after he shared a video showing Rittenhouse offering help to protestors.
On Twitter, many statements of support for Rittenhouse have also been removed and two of his defense lawyers, Lin Wood and Pierce, have had their accounts temporarily locked over the last two days.
Efforts to raise funds for Rittenhouse on the fundraising platform GoFundMe were also shut down with the platform allowing and amplifying campaigns for those who were shot in Kenosha.