The use of open-source home theatre software Kodi has suffered a blow as two repositories, KodiUKTV and OneNation, are being shut down after legal pressure.
Both KodiUKTV, as well as One Nation, ran a plethora of repositories that hosted downloadable addons for the open-source software. According to TorrentFreak, it was revealed that the brand and IP rights protection organization FACT is responsible for the shutdown.
The third-party Kodi addons and builds, while simply being tools and are not copyrighted materials, can give access to a slew of movies and TV shows, attracting the attention of copyright holders and lawsuits who argue that that alone is wrongdoing.
The UK wing of Kodi, KodiUK.tv tweeted on November 1st saying, "Something has happened this morning. Sorry." A few hours later, KodiUK.tv tweeted saying that the website was taken offline.

"We took our website offline 10 days ago closed our repo and the builds due to legal demands against us. We will say more when we can bring the site back up safely. But the builds & repo will not be back nor will we host any add-ons anymore for anyone," announced KodiUK.tv on Twitter.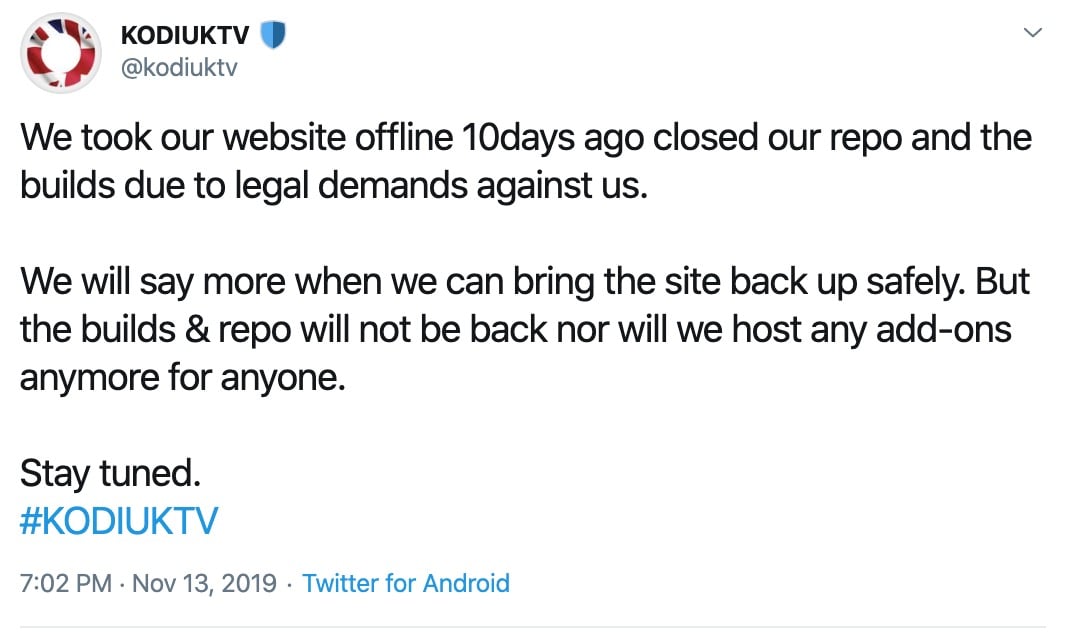 At the same time, even One Nation (a service offering Kodi builds and addon repositories) announced that it had to shut down due to legal pressures. One Nation wrote in a Facebook post stating that it had to shut down with immediate effect and that it had an "absolute blast" so far and that they were proud of not "robbing links from others" and accepting payment in any "shape or form."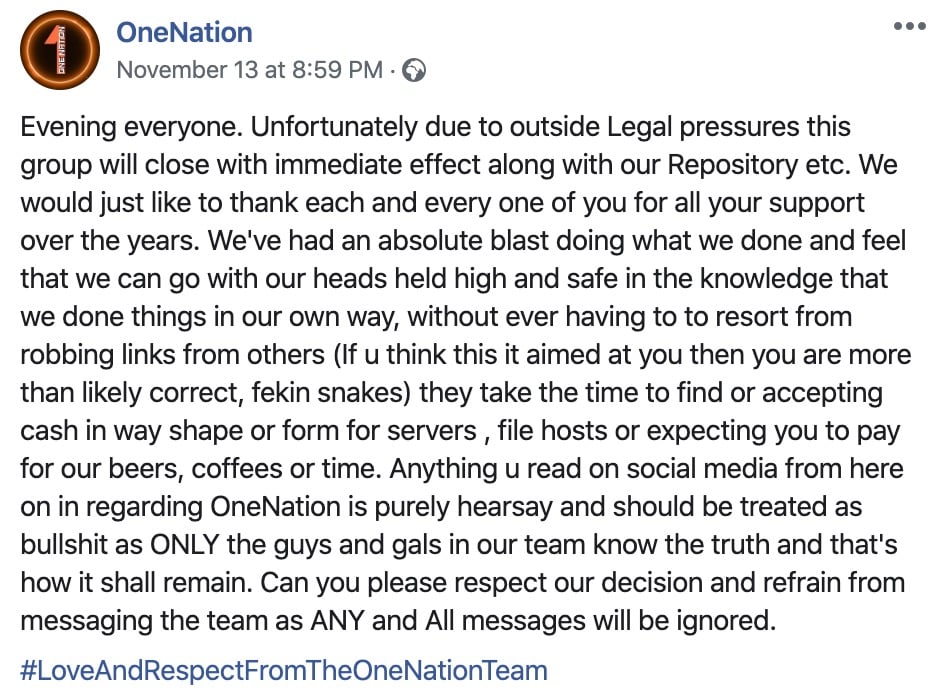 After TorrentFreak contacted FACT and asked if it was behind the whole affair, the IP rights protection organization confirmed saying it was behind the action and that it sent notices to several individuals involved in running such repositories and add-ons.
"Our message is clear and consistent; we will act to prevent pirated content appearing on illicit streaming devices. FACT continues to monitor channels used to advertise, market, sell, and distribute apps, devices, and streams and will take action against the supplies and operators. There is now more choice than ever for consumers to enjoy sports, movies, and TV and we encourage people to use legitimate services that are safe to use and also properly remunerate the creators of the content," said Kieron Sharp, CEO of FACT.