Demonstrating its commitment to upholding principles of free expression, Twitter recently affirmed that it would continue to financially support comedian Russell Brand, refusing to be swayed by mere accusations leveled against him. Elon Musk has promoted the position of not penalizing account holders unless they deviate from the platform's guidelines or violate local laws.
Detailing its stance in a letter addressed to Dame Caroline Dinenage, who chairs the Commons Culture, Media, and Sport committee, and who was widely criticized for asking platforms whether they would allow Brand to earn a living from online platforms, the company explained that its resolution to allow Brand's financial pursuits on the platform aligns with its intent to protect free expression.
The company said: "X is not able to provide confidential commercial information relating to individual accounts, including for privacy reasons."
It added: "We do not take action on accounts where they have not violated our own rules or local laws. This is essential to protect free expression on the service. In order to ensure that all people can participate in the public conversation freely and safely, all content on X, including monetised content, is subject to our User Agreement and the X Rules."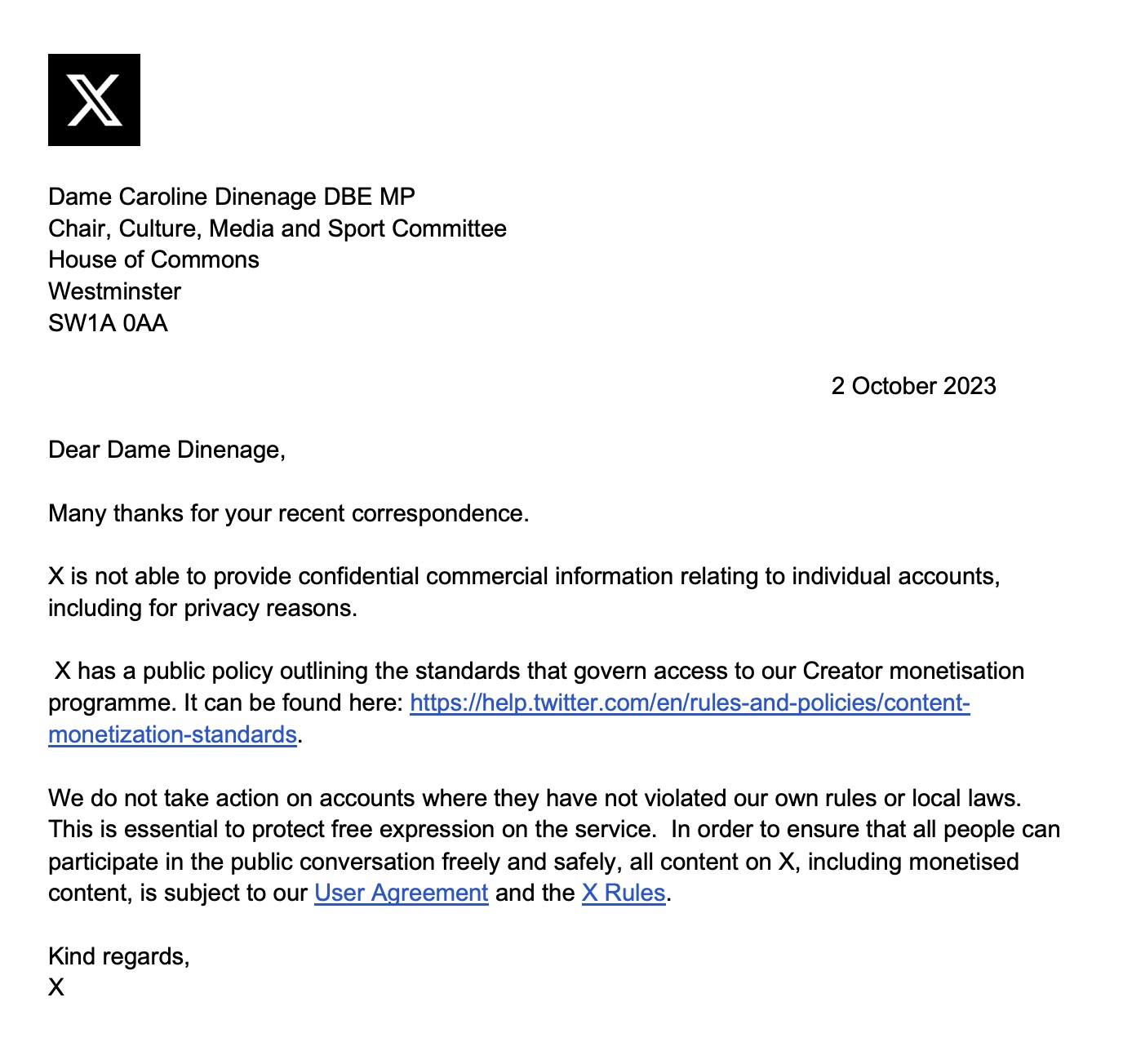 X's chosen course of action resonates with perspectives against encroachments on free speech and accentuates the necessity for platforms to observe impartiality, without resorting to knee-jerk reactions based on unproven insinuations.
This development comes after YouTube barred Brand from generating revenue from his account in the wake of allegations implicating him in incidents of sexual assault, which purportedly transpired between 2006 and 2013. This was based on allegations alone, despite Brand not being convicted, or even charged with such offenses.
Consequently, Dinenage had sought an audience with Linda Yaccarino, X's CEO, expressing apprehensions regarding the comedian's ability to monetize his content on the platform amid the accusations.
She also queried whether Musk had influenced the decision-making process pertaining to Brand's case, given the billionaire owner's public defense of the comedian.